Following Food Standards Agency (FSA) testing three batches of Sci-Mx Nutrition Ultra Muscle Strawberry Flavour protein powder have been recalled from sale in Home Bargains stores over excessive, unsafe caffeine levels.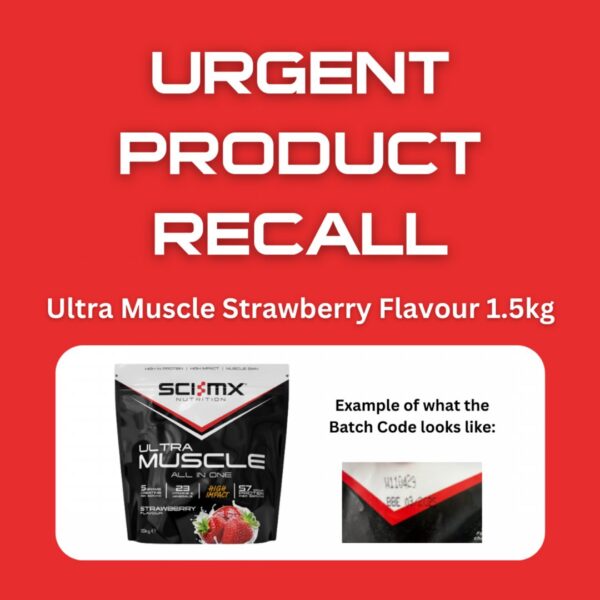 FSA tests of the 1.5kg pouches detected over 5,000mg (5g) of caffeine per serving, equating to 'potentially lethal' amounts when following the on-pack advice to consume two helpings a day (over 10,000mg, or 10g).
The FSA notes that for most people 10g of caffeine can be 'a lethal dose', but in certain individuals doses as low as 3g have had lethal consequences. The advice for pregnant and breastfeeding women is no more than 200mg a day.
We will be rigorously reviewing … our processes
"This makes the product unsafe to consume. Some of these products were found to contain levels of caffeine … that could be fatal." says the FSA, noting that excessive amounts of caffeine can also cause 'anxiety, sleeplessness, agitation, palpitations, diarrhoea and restlessness'. "Individuals with a mental health condition … can experience worsened psychosis and result in the need for higher amounts of medication. Caffeine can reduce how well your antipsychotic medications work."
In a post on Facebook, SCI-MX Nutrition said it is continuing to liaise with the FSA. "We deeply regret the incident and sincerely apologize to all our customers. Whilst we believe the incident is isolated we will be rigorously reviewing … our processes to ensure we retain the trust and confidence of our customers."
The brand confirms the affected batches as W110429, W110430 and W110431 – all with a BBE date of 03/2025.