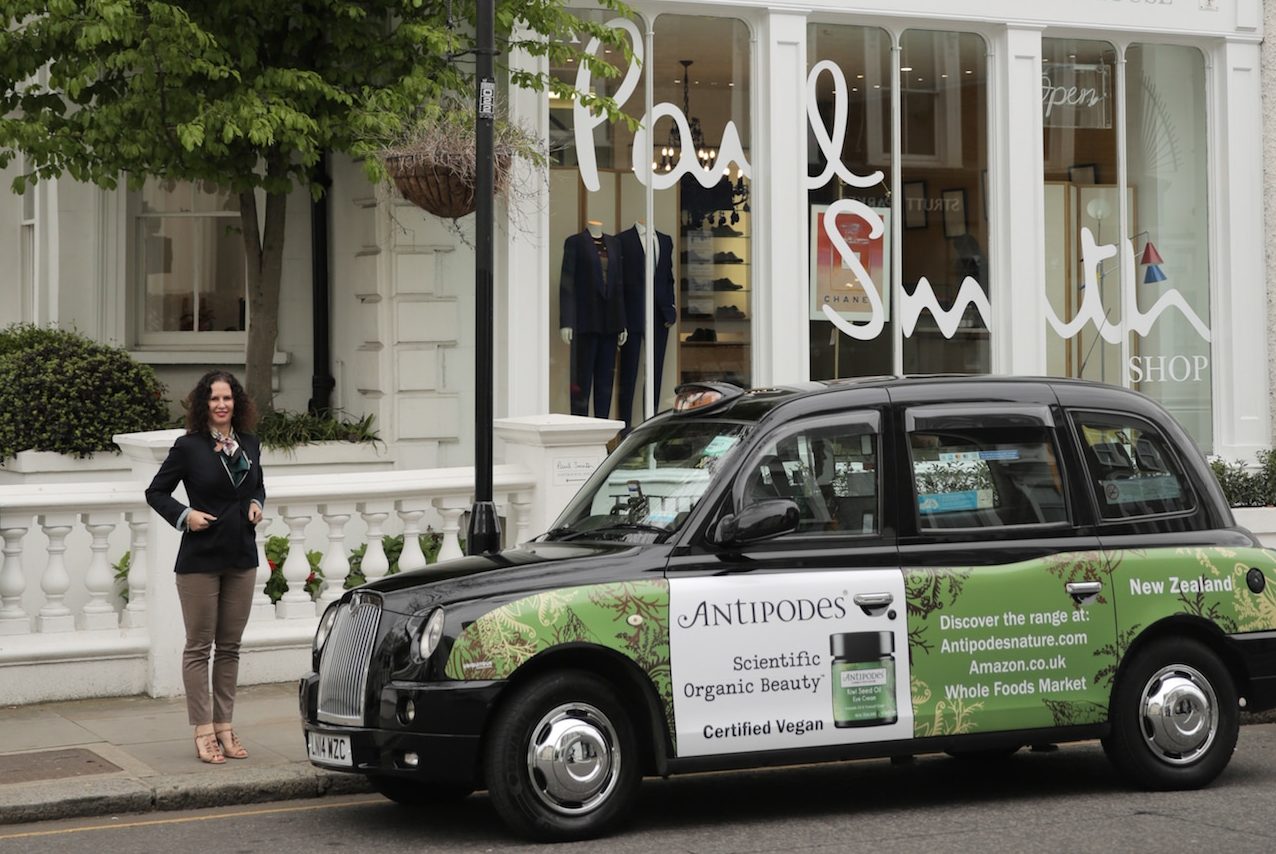 Rosie Greenaway sits with Antipodes founder Elizabeth Barbalich on the Kinetic stand at Natural & Organic Products Europe to discuss Manuka honey, online marketplaces, self-care and how her favourite form of London transport inspired the brand's latest publicity stunt
Spend any time with Antipodes founder Elizabeth Barbalich and it will quickly become clear that the driving force behind her brand's growing success is her focused, energetic approach to beauty and commerce. Passion for natural living aside, her business acumen shines through. But no woman is an island, and Barbalich recognizes that she is surrounded by a highly skilled team of specialist staff who help keep Antipodes 'ahead of the game', who think 'way outside of being a skincare company' and who are expanding the brand into new markets.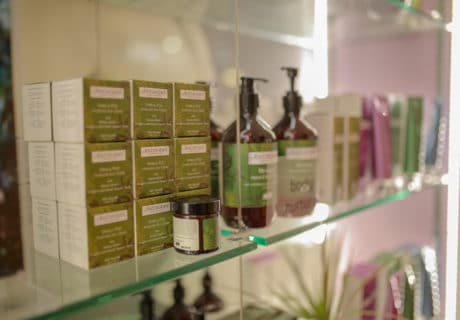 "We've got an in-house team of people who used to work for Amazon … We're doing a lot of forward-thinking. I'm not a techie person but I'm quite interested in all that. I'm learning, and I've got the people around me who can do it better than I can." She's referring a specialized team in charge of data mining, high-level digital innovation and taking Antipodes into online retail. "The world's changing, right? Retail is changing. Offline stores will become destinations, more experiential. Not everyone is going to survive. Online retailing is hard work as well. We want to be in the right places and we want to know how they [online stores] work so we can offer them something," explains Barbalich.
The structure of this staff has also contributed to the blossoming success of this 12-year-old New Zealand-born beauty brand. "We're agile; I've got 46 staff. We're not top-heavy, we're privately owned, so we can move really quickly. We don't have to go through layers of management to make changes. We'll design and workshop something, make a decision and actually move on it really quickly. That's the key to success; you've got to be super agile, especially in the digital space. We've got a full-time researcher who just looks at customer profiles and shopping behaviours. We've got six people in design, including video and motion graphics. In digital we've got six people; we're pumping out flat lay images, YouTube clips, video clips, WeChat applications all the time – we're constantly pushing content. This market is not so developed in that space. For our online business in China, content is king."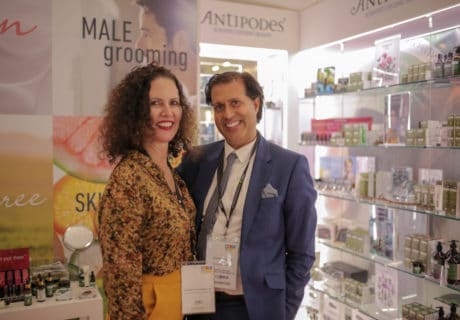 And that digital strategy in China is working. The country's 'demanding' consumers are hungry for natural products, thanks to a lack of nature in their daily environment. "They equate nature with luxury. They don't see enough trees, so for them a New Zealand brand is a major coup. We're looking at an anti-pollution serum at the moment; it's been a trend and now it's becoming more mainstream. In the Asian markets, it's big."
Efficacy is the key reason a woman would move from her synthetic brand to a natural. It can't be the same, it's actually got to be better for someone to make the switch
While the brand is still considering what level of in vitro testing it would do on such a product, Barbalich is clear on the individual markets it would be aimed at: China, The Philippines, Taiwan and Malaysia. While she finds these countries culturally and historically interesting, Barbalich says the inescapable pollution levels can be 'quite depressing'. "Hong Kong can be pretty bad but go into Beijing and on a bad or average day, you wouldn't see a few metres. It's frightening. It's in the food chain, it's in the water, it's in the air you breathe outside, it's in the air conditioning units."
Barbalich maintains 'a lot goes into getting it right' and one of the key components of the brand's success is the quality of its ingredients. With new products originating from New Zealand every year, Barbalich discusses the role that biodiversity plays in the country's constant beauty innovation. "I think it's definitely related to the plants and ingredients that are grown in New Zealand. We're surrounded by water, we're isolated, we're at the other side of the earth. There are so many great ingredients in New Zealand that we don't have to look outside of the market to get the best bioactive ingredients; the plants that are grown there – Manuka honey, kanuka, kawakawa, harakeke – aren't found anywhere else worldwide. Our soils are reasonably nutrient-rich so they tend to be quite dense in terms of antibacterial, antimicrobial and antioxidant properties."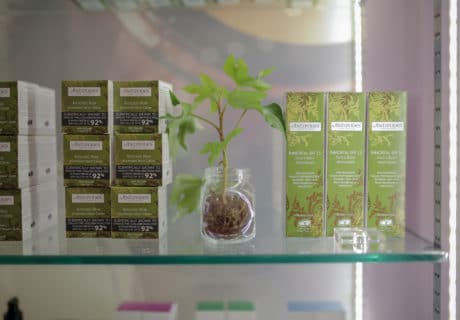 But this rich biodiversity does not necessarily guarantee international success for a beauty brand, she explains. "There are lots of skincare brands in New Zealand; a lot of them don't make it globally. You've really got to look at the global market when you're trying to develop a brand." Her personal goal was always to take Antipodes far and wide: "My mission was to create a niche lifestyle brand that would be global and would compete with Dr Haushka, REN and synthetic brands as well. So that was the goal: to become a household name not just in New Zealand but globally in skincare."
Barbalich's aim to 'convert' women from synthetic to natural products and to become serious competition for mainstream beauty brands relies on extensive in vitro testing. "We've invested NZ$2 million in scientific investigation over the last ten years. It's given us a real edge in terms of product claims. Brands need to get a lot more technical in how they formulate products. They need proof behind claims, they need to profile their customers, do focus groups, they need to look at what the big brands are doing to give consumers confidence – that's what's missing in a lot of natural brands. I'm not saying they're bad, I'm saying a lot of natural skincare is 'salad dressing'. I think that's the challenge: moving into more technical formulations but staying true to natural."
Positive word of mouth is also crucial. "The proof is in the anecdotal use; does the product make my skin look better or not? Efficacy is the key reason a woman would move from her synthetic brand to a natural. It can't be the same, it's actually got to be better for someone to make the switch. Some women are never going to switch from a synthetic product because they think that's the only thing that's going to help them. It's a hard customer to win, but once you've got them over, they'll stay," she adds.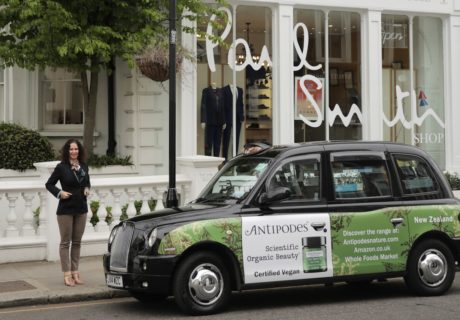 One of the ingredients that keeps consumers faithful to Antipodes is the high-grade wild-harvested Manuka honey with which it has become synonymous. "Manuka is such a good ingredient for skincare because it's antibacterial – it helps clear blemishes, helps keep the skin bright and fresh – so that's where you see the differences in the product. We use Active 20+. It does cost a lot to harvest – it's an expensive ingredient, but if you want the results you've got to use good ingredients." Kiwi seed oil, too, keeps the tills of retailers both online and offline ringing loud. "Kiwi Seed Oil Eye Cream is our number one selling product; we sell one every 50 seconds which is phenomenal. Our run sizes are 300,000 units at a time; it's a huge amount."
The world's changing, right? Retail is changing. Offline stores will become destinations, more experiential. Not everyone is going to survive
Back on this side of the world, Antipodes' latest ingredient to success is its London taxi marketing campaign. "I travel to London twice a year and my favourite thing as soon as I arrive at the airport is get into a London cab. I just love the whole experience of it. So I started looking at opportunities to do some brand awareness on the cabs and it's actually quite cost effective but a good way of getting the Antipodes pattern out there." With ten cabs circulating the central London area over three months, Antipodes is giving passengers a chance to tip the driver and receive a sample-sized Hosanna Skin Plumping Serum. "It's a great way for people to try one of our top selling products. It's a lot of fun." While she's not certain if the idea will be rolled out across other cities, Barbalich says the campaign may be repeated later this year, promoting a different product.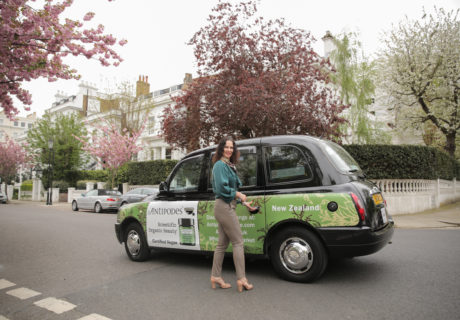 A rigorous travel schedule frequently takes the Antipodes founder back and forth across the world, but self-care is something Barbalich takes seriously and when she returned to New Zealand after Natural & Organic Products Europe, a slower pace of life awaited her. "I don't have much spare time, or time for me – just having a coffee on my own is like going on holiday for a week! I've got 46 staff and three kids, so the last ten years have been manic – every single second accounted for. But I love it." When she's not working, good nutrition and proper rest take priority, as does spending time in the natural environment which inspired her products. "I'm really focused on lots of sleep. This year I went vegan from January with the exception of eggs. I feel so much better. I have a veggie garden and grow my own herbs. One key thing for me is that I have to live somewhere with trees around, because the birdsong in New Zealand is fantastic. We live near a wildlife sanctuary so we get the dawn chorus – all these amazing kakas and massive tui birds. I really like that aspect of where we live. You don't hear it anywhere else in the world."
Antipodes products are distributed by Kinetic Enterprises.