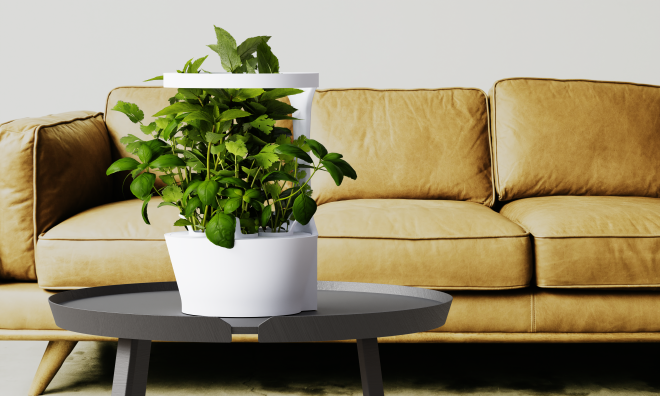 British business Vitæ – which is on a mission to reinvent urban agriculture – has created the Vitæ Halo, an innovative indoor garden that grows fresh, tasty herbs 'whenever or wherever you need them'.
"Vitæ was born from the idea that agriculture shouldn't be destroying the environment, but sadly it is currently the second most polluting industry in the world, and the most water consuming," says company co-founder and CBO, Arthur Georges. "To help fix this, we wanted everyone to be able to easily grow organic food at home, even if they lived in crowded city centres or are not a green thumb."
The Vitæ Halo smart garden makes growing food at home easier, more sustainable and entirely autonomous, says the company, adding that herbs grown in the device also have a 30% richer taste, 40% higher nutritional value, and are 100% natural. Made from 100% bioplastics, it also uses 90% less water than soil-based agriculture.
The system comes with a set of five plant pods, with over different plant varieties to choose from which are grown from Smart Seeds (100% organic).
Vitæ is currently crowdfunding on IndieGogo and aims to build bigger and more refined units that can be used domestically and commercially in urban spaces as well as putting a variety of spices and leafy greens into production. It is also planning to open urban shops for customers to buy pre-grown herbs to use in their Halo smart gardens.