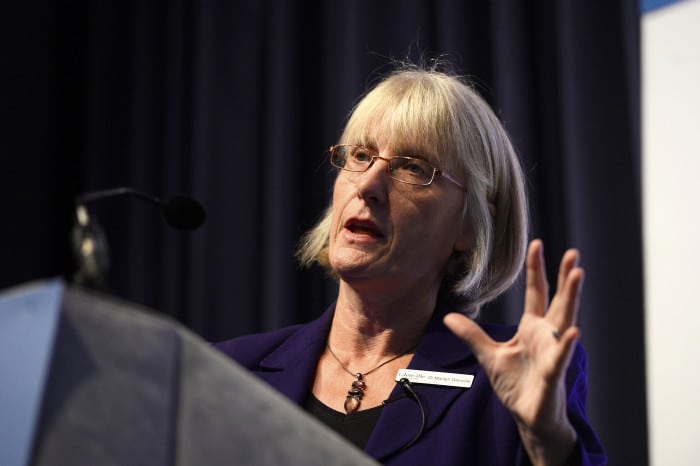 Nutrition is taking centre stage at this year's camexpo, with the introduction of a new dedicated Nutrition Theatre, sponsored by Revive Active.
The new line-up, featuring leading nutritional experts like Dr Marilyn Glenville, Miguel Toribio-Mateas, Dr Alex Richardson and Dr John Ogden, includes 17 CPD-accredited sessions running throughout the weekend of 26-27 September, at London's Olympia.
According to the World Health Organisation's website 'good nutrition…is the cornerstone of good health'.  Research linking eating well with good mental and physical health is well documented, and ever expanding.  Yet despite much media coverage over the years, there are still concerns over the lack of detailed public knowledge; whilst BAPENS' Nutrition Screening Week (NSW) Reports last year suggested that nutritional support services in many of the UK's primary care units also had room for improvement[1].
By comparison, it's a subject that many complementary and integrated health practitioners are already well-versed, with nearly 40% of camexpo's 4,000+ attendees citing 'diet and nutrition' as their main business sector.  And although this is the first year that it gets its own camexpo theatre, nutrition has been the topic of countless Keynotes, demos and workshops since the show launched in 2002.
The Nutrition Theatre programme is available to view at www.camexpo.co.uk/education/nutrition-theatre.  Highlights include:
Dr Marilyn Glenville: The truth about supplements
Top women's health nutritionist Dr Marilyn Glenville (pictured), the former president of the Food and Health Forum at the Royal Society of Medicine, has been a regular speaker at camexpo for over ten years and is known for attracting standing-room-only crowds.  She is firm advocate of an integrative approach to health.  Saying that it's important that practitioners "educate" patients on all the options available to them so they "can make informed decisions" about their own healthcare.
"My passion is nutrition and it is wonderful to see how more research and evidence is emerging as to the impact diet and lifestyle has on peoples' health, and especially for women; which is my special interest.  And this beneficial effect is not only on their present health but in terms of prevention as well," says Dr Glenville
Dr Alex Richardson: Long-chain Omega-3 for better mood, behaviour and learning
"I love the fact that my work is relevant to everyone.  Because everyone has to eat – and yet most people just don't know how much our dietary choices really do matter – not just for our physical health, wellbeing and performance, but for how we feel, think and behave," says Dr Alex Richardson, a senior research fellow at the University of Oxford, and founder director of the charity Food and Behaviour (FAB) Research.
"Most people still seem to think in terms of 'nature' (genetics) versus 'nurture' (environment).  But the real truth is that environmental factors – and that particularly includes nutrition and diet – actually shape and influence gene expression.  And what we eat is not only critical to making the most of our own genetic inheritance: it also affects future generations yet to be born.  So this message really needs to get through to everyone, not just researchers and health professionals – but policy makers and the general public."
Dr Elisabeth Philipps: Beating fatigue! Naturopathic approaches to optimising energy
 Dr Elisabeth Philipps, who will be using her session to present some of the latest research into key areas of cellular energy production and translating it into effective nutritional protocols for clinical use.
The confirmed line-up also includes:
Dr Robert Verkerk: Whole food, food state or synthetic nutrients – which is best? & 'Keto-adapt' your clients in three months in eight easy steps
Dr Daniel Jones: Combating osteoarthritis with nutrition
Ben Lewis: The truth about nutrition trends
Dr Nina Bailey: Personalising omega-3 treatment for optimal results using a biomarker-based approach
Katie Pande: Turmeric, dispelling the Myths
Erina MacSweeney: Cardio Pulse Wave Screening and targeted nutrition, a series of case studies
Dr Randall Merchant: Dietary supplementation with Sun Chlorella A helps overcome vitamin B12 deficiency in vegans and vegetarians
Dr Britt Cordi: Juicing for health
Further speaker information, including an ongoing series of exclusive Q&As, is available on camexpo's new blog at www.camexpo.co.uk/category/speaker-qas.
Big name supplement exhibitors
Just seven weeks until doors open, the show's exhibitor list already includes a host of returning VMS brands.  Among them are G&G Vitamin Centre, Revive Active, Pure Health, BANT, Pulsin', Nature's Plus, Nutrigold, The Really Healthy Company, Springfield Nutraceuticals, Bionutri, The Institute for Optimum Nutrition, Sun Chlorella, Symprove, Mag365 – ITL Health Limited, Pavilion Ayurveda Healthcare, and CherryActive.
New exhibitors include Wiley's Finest UK, The Organic Protein Company, The Bite Outlet, Ingeneius – Nutritional Genomics, SCiOTEC, Just for Tummies by Linda Booth, Synergy Natural Products – The LP Partnership, and NADH Handels.
Save the date
camexpo returns to Olympia, London, on 26-27 September 2015.  Entry to the Nutrition Theatre, Keynote Theatre, Demo Theatre and Business Clinic, is included with all tickets (space permitting).  The show's 48 Taster Workshops, sponsored by Balens, are priced at £19.50 (incl VAT) per session.
To book an entry ticket, please visit www.camexpo.co.uk/register-to-visit-camexpo-2015.  Use priority code CMXP580 to register in advance for £7.50 before 25 September (tickets are £10 without a priority code, or £20 on the day).