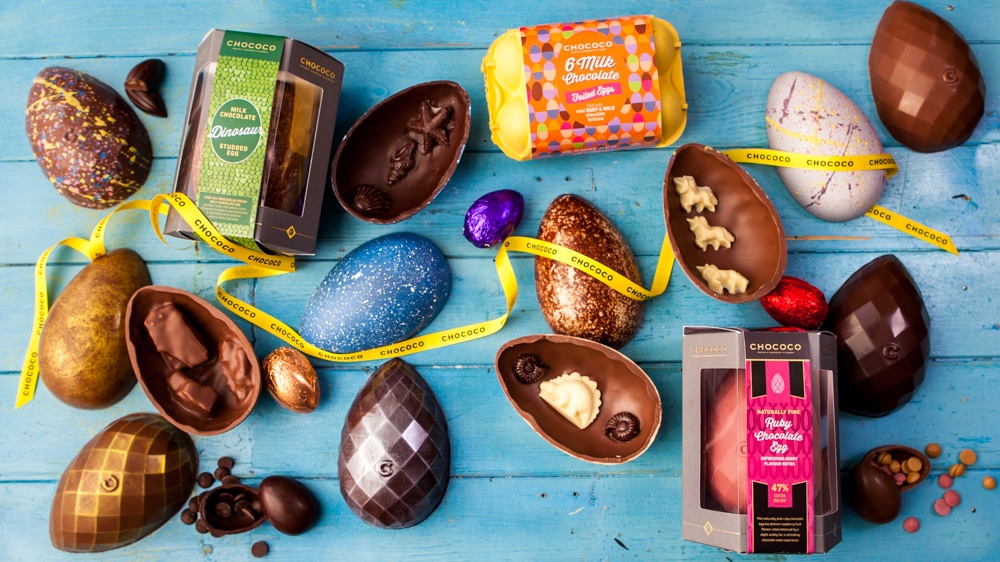 Dorset-based artisan chocolatier Chococo has unveiled its collection of handmade Easter Eggs for 2019, featuring new designs for all the eggs, new packaging and new varieties of origin chocolate.
There are two different collections: the Fine Collection and the Fun Collection:
The Fine Collection includes a Madagascar single origin 65% Mega Milk Low Sugar Egg, a Madagascar single origin 85% Mega Dark Low Sugar Egg, a Madagascar Totally Dark 100% Sugar Free Egg, a Vegan Milc Egg, a Sea Salt Caramel Egg and a Ruby Chocolate Egg.
The Fun Collection includes a Milk Chocolate Honeycomb Studded Egg, a Dinosaur Studded Egg, a Seaside Studded Egg, a Unicorn Studded Egg, and Milk and Dark Chocolate Foiled Eggs.
Both the cardboard and plastic elements of the egg cartons are recyclable, with the plastic inner sleeves produced from a 70% recycled material, which is again recyclable. Chococo has also switched away from plastic cellophane bags to fully compostable wood pulp bags.