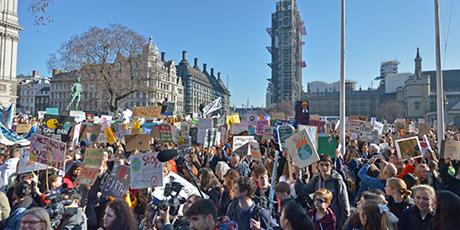 On Wednesday, the House of Commons saw MPs pass a motion to declare an environment and climate change emergency in the UK, after Jeremy Corbyn opened an Opposition Day debate on the subject.
"Today the House must declare an environment and climate emergency," said Corbyn. "We have no time to waste. We are living in a climate crisis that will spiral dangerously out of control unless we take rapid and dramatic action now. This is no longer about a distant future; we are talking about nothing less than the irreversible destruction of the environment within the lifetimes of Members."
Referring to the student climate change protests and action by groups such as Extinction Rebellion, Corbyn said that this was an opportunity to listen to young people, who he said were 'ahead of politicians' on the issue, and demonstrate that they had been heard.
He called on the Government to "increase the ambition of the UK's climate change targets under the Climate Change Act 2008 to achieve net zero emissions before 2050 and to increase support for and set ambitious, short-term targets for the roll-out of renewable and low carbon energy and transport."
Earlier in the day, addressing climate protestors from the top of a fire engine in Parliament Square, Corbyn said: "This can set off a wave of action from parliaments and governments around the globe. We pledge to work as closely as possible with countries that are serious about ending the climate catastrophe and make clear to US president Donald Trump that he cannot ignore international agreements and action on the climate crisis."
Michael Gove, Secretary of State for Environment, Food and Rural Affairs, didn't go as far as backing Labour's demand, but did state: "The environment belongs to all of us. The cause of climate change is a fight which unites us. All of us in the House have a common humanity that we need to defend."
The motion, which was approved without an official vote, makes the UK Parliament the first in the world to declare a climate change emergency.