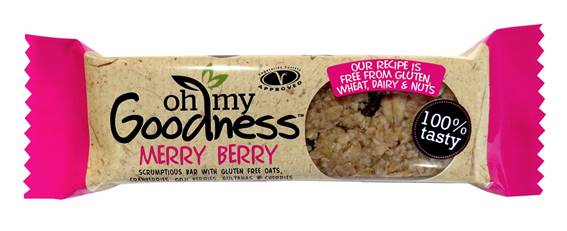 Yum Yum Bros has introduced five new gluten-free cereal bars to its Oh My Goodness brand to capitalize on the gluten-free on-the-go snacking trend.
The new offer comprises: Appletastic Bar containing oats, sultanas, apple and cinnamon; Merry Berry Bar combining oats, cranberries, goji berries, sultanas and cherries; Buttery Oat Bar; Fruity Oat Bar comprising oats, sultanas, cranberries and blueberries; and Chocolate Brownie.
Approved by the Vegetarian Society, the bars are low in saturated fat, gluten-, dairy- and wheat-free (apart from the Brownie) and come in eye-catching wrappers.