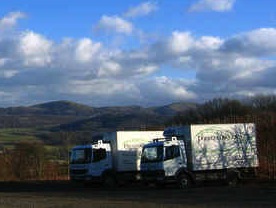 Phoenix Organics Ltd will celebrate 10 years in business at the end of May with a trade open day on Friday 25th May.
The Soil Association registered company – based in Bromyard, Herefordshire – is a wholesale supplier of organically grown fresh fruits and vegetables. Phoenix specialises in supplying home delivery schemes and independent retail shops.
Directors Geoff Mutton and Steve Tomkins took the decision at the outset to establish a business supplying small, independent retailers focusing on customer service and to build trust with suppliers through honest trading practices. They say that this philosophy has benefitted the company during the recession, when customer loyalty has enabled the business to remain stable while others have struggled. Phoenix, with its experienced and dedicated staff, is now well placed to enjoy further success as confidence returns to this specialist market.