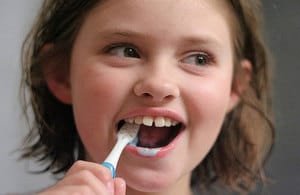 In the wake of recent headlines about the amount of sugar consumed and its negative health effects, a survey by Public Health England (PHE) has revealed that 12% of children already have tooth decay at the age of three.
The research, the first national oral health survey of three-year-olds in England, checked the teeth of nearly 54,000 children at nurseries, children's centres and playgroups found a dramatic variation of tooth decay prevalence ranging from 2% to 34% across the country. The 12% who had tooth decay were found to have an average of three teeth that were decayed, missing or filled.
In some cases a particular type of decay called 'early childhood caries' was found by the survey. This affects the upper front teeth spreading rapidly to other teeth and is related to the consumption of sugary drinks in baby bottles or sipping cups.
The findings of the survey will now form a baseline from which Public Health England can continue to collect data.
Dr Sandra White, director of Dental Public Health at PHE, said: "While there have been significant improvements to the nation's oral health, some areas still experience problems with tooth decay among young children. Tooth decay is an entirely preventable disease, which can be very painful and even result in a child having teeth removed under general anaesthetic, which is stressful for children and parents alike."
The survey follows the launch by Soil Association of a public consultation on a proposal from the Food for Life Catering Mark Standards Committee to adopt a new standard designed to significantly reduce the prominence and availability of both sugary and artificially sweetened drinks in the hundreds of hospitals, care homes, leisure venues, universities and progressive workplaces that are adopting the catering mark.