Launched on 28 January during morning rush hour, Canary Wharf became the first location to feature Holland & Barrett's (H&B) new menopause adverts, which won a competition by Transport for London (TfL) and City Hall tackling diversity in advertising.
In the chain retailer's 'landmark health campaign' entitled Me.No.Pause. the lives of real women going through the menopause are depicted in an effort to end 'clichéd stereotypes' and bring more diversity to ads displayed throughout the capital and across digital platforms. The short adverts show women 'asserting their identity and purpose despite the challenges of menopause', according to H&B.
"Basically it's a sentiment of 'life doesn't stop so you shouldn't have to either'," Caroline Hipperson, chief marketing officer for H&B, told NPN on the morning of its launch.
Menopause seems to be one of these last taboo topics that nobody really talks about in everyday life, but every woman goes through
The catalyst for the campaign, she explains, was a piece of research conducted by University College London which showed that 'women were made to feel awful' by the advertising they encountered across the city, citing menopause as a largely unrepresented subject on billboards and digital advertising screens. The research – The Women We See – uncovered dissatisfaction among women at the amount of 'wrinkle cream' adverts displayed in comparison to information about the realities of the menopause, leaving menopausal and perimenopausal women feeling overlooked and unrepresented.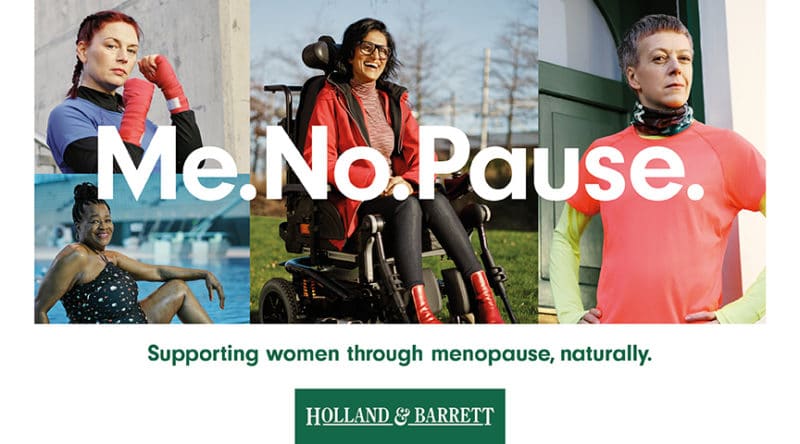 "We are quite a big retailer when it comes to menopause relief products … we already had lots of women coming to us so we thought this is a really good opportunity to get the conversation out in the open. Raising awareness of menopause is something we feel very passionate about," says Hipperson.
Life doesn't stop so you shouldn't have to either
Explaining the message behind the campaign, she continues: "As the leader in health and wellness we feel it's very important that we take the role of shining the light through all the myriad of information there is around health and wellness topics, and interestingly menopause seems to be one of these last taboo topics that nobody really talks about in everyday life, but every woman goes through. It's as natural as having your first period or trying for a baby, but somehow it's filled with stigma and misinformation, and women are being talked about rather than owning the conversation. That is what we'd like to change. We hope this campaign will give all these amazing women the confidence to talk about what they are going through and seek advice or tips on how to alleviate any symptoms if needed."
Developed by creative agency Pablo, each digital asset profiles 'five real women going about their daily lives' and will be shown across the TfL networks over the next three weeks, covering 'just over 30 million journeys'. "That's just to spark conversations. If we see the stigma coming back we'll have to do it again," says Hipperson.
Men play a hugely important supportive role in this; it's just as much for them as it is for women
The ads will be further 'amplified via social media' in a digital strand to the campaign supported by TV personality Andrea McLean. "She's one of the few women who has in the past brought this up for debate. She's a really good spokesperson for other women," says Hipperson.
"We are taking this seriously in store too; we have invested in training for all our store colleagues on the topic so we hope women experiencing the menopause come in and speak to us." But Hipperson says the conversations women have with each other are just as important and she hopes a more open public dialogue between the sexes will generate some 'relief'. "Men play a hugely important supportive role in this; it's just as much for them as it is for women. They shouldn't be feeling any embarrassment at all."
Watch the campaign here: