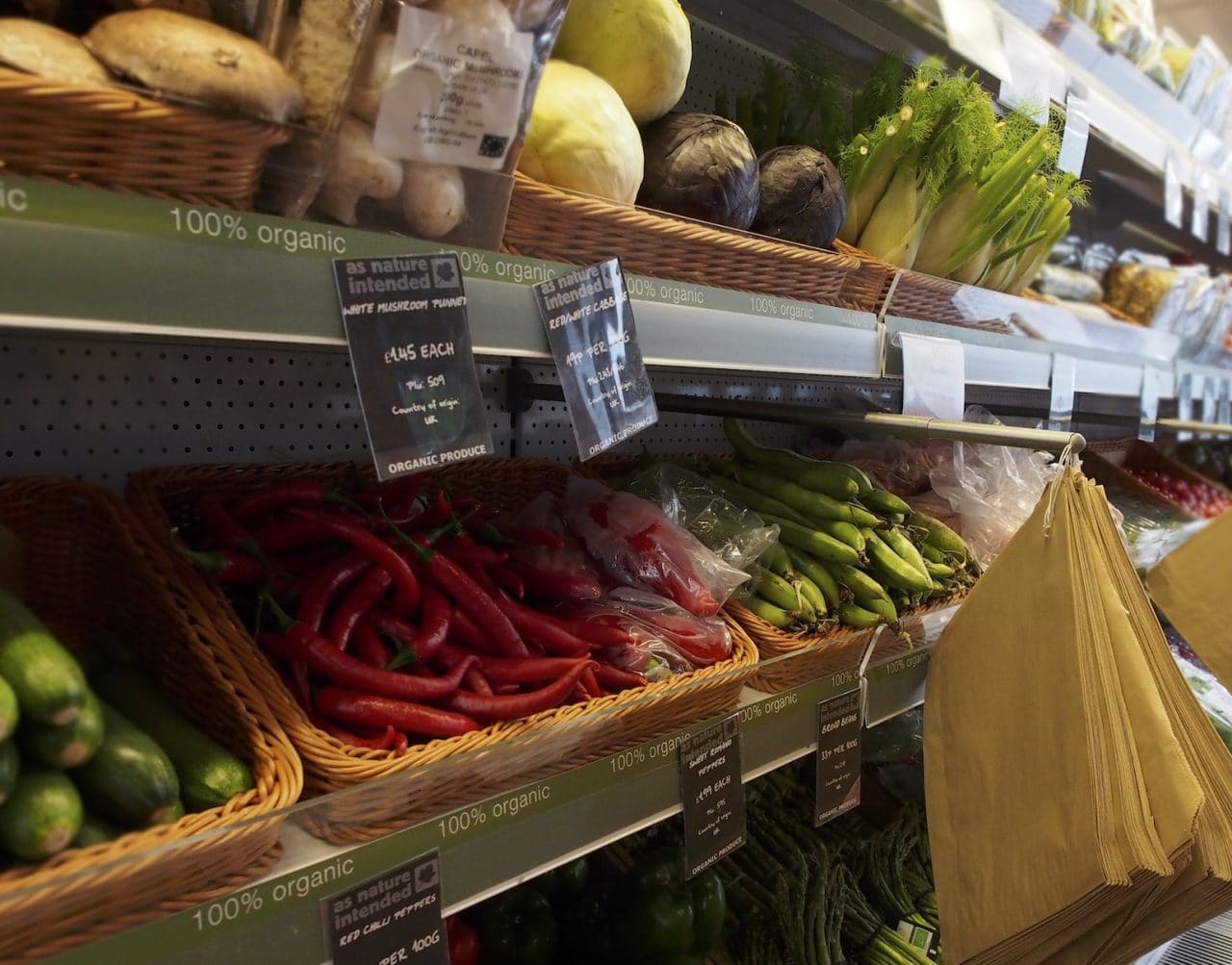 Professional food and drink buyers visiting this month's Natural Food trade Show will be able to source more certified organic products than ever before, following the announcement that a record number of Soil Association licensees will be exhibiting for 2015.
Part of Natural & Organic Products Europe, which takes place at the new venue of ExCeL London, on Sunday and Monday 19-20 April, this year's sold out show will feature over 600 exhibitors from 40 different countries. In addition to nearly 70 Soil Association symbol holders showcasing their latest organic food and drink innovations, there will also be a wealth of organic produce bearing certification marks from the Organic Food Federation, Organic Farmers & Growers, Demeter, Ecocert, EU Organic (Euro Leaf), and USDA Organic, among others.
"Our exhibitors include some of the most innovative manufacturers and suppliers working in the organic market today. They are constantly evolving and developing their products to keep their customers coming back for more. So whether visitors are travelling from a mile away or all the way around the world to attend, they'll find more of the best quality, certified organic products here than at any other trade show in the UK this year," says event director Carol Dunning.
"We are thrilled that a record number of Soil Association licensees will be exhibiting at this year's Natural & Organic Products Europe," comments Finn Cottle, trade consultant at Soil Association Certification. "Over 90 Soil Association licensed companies from across the food and drink and health and beauty sectors will be showcasing their products, a new record for 2015, which further endorses the buoyancy of the organic market. Confidence in the organic market continues to build, with an increase in organic sales of 4% in 2014, and 7% reported from Soil Association symbol holders."
"We have lots of new and innovative companies certifying with us, and this show gives them a platform for profiling their amazing new products. Natural & Organic Products Europe is a fantastic opportunity for demonstrating the range within the organic sector and has to be the main event on every organic manufacturer's and retailer's calendars," says Cottle.
The fantastic "range" of organic on show this year covers every food category – from slow food to vegan from snacks to charcuterie. Following its successful launch last year, the Soil Association Organic Chiller (stand H10) will feature Acorn Dairy, Natural Vitality, Plenish, Coco Zumi, and Brown Cow Organics. Riverford Organic Dairy, Gaia Superfoods & ZenValley, Jollyum, 10 Degrees C – Dr Martins Organic Green Coco Juice, and Praana Organic Herbal Tea are also exhibiting on the adjacent Soil Association Pavilion.
Clearspring, Queenswood Natural Foods, OVIO Wellness, Marley Coffee, Booja-Booja, and Of The Earth Superfoods have reserved their stands in the Organic Trade Board's Pavilion; while Jeeva UK, Sun & Seed, Nom Foods, The Raw Chocolate Company and Creative Nature Superfoods are located in the Vegan Society's Pavilion for 2015.
This year's Natural Food Show will also feature the following Soil Association licensees:
Atlantic Kitchen
Atreea
BIG OZ INDUSTRIES
Bio-tiful Dairy
BodyMe
Carley's of Cornwall
Chi
Chia UK
Clean Foods
Clipper
Cocofina
Community Foods
H. Worlée & Co. (UK)
Ei Wellness
Goodness Gracious Foods
granoVita UK
Gusto Organic
Higher Living & Kromland Farm
Hodmedod
Infinity Foods
James White Drinks
Juiceman
Laurie's 'Tummy Loving' Foods
Marigold Health Foods
Meridian Foods
MightyBee Company
Mr Organic
Natur Boutique
Ombar Chocolate
Organic Herb Trading Company
PharmaCare Europe – Bioglan Superfoods
Planet Organic
Primrose's Kitchen
Pukka Herbs
Pulsin'
Rainbow Wholefoods
Rainforest Foods
Suma
Supernutrients
Tazaki Foods
The Anglesey Sea Salt Company
The Health Store Wholesale UK
Tree of Life UK
Wedderspoon Organic
Yogi Tea
As well as an impressive range of exhibitors, Natural & Organic Products Europe will host two full days of seminars (in the Natural Products Talks Theatre) and live cooking demonstrations (in the Natural Food Kitchen).
The 2015 line-up includes eco-chef Arthur Potts Dawson, Slow Food UK Ambassador Andrew Jones (executive chef at Chamberlain's of London), Andrew Kojima (MasterChef 2012 finalist), and organic pioneer Craig Sams. There will also be two exclusive Soil Association presentations discussing market trends and opportunities, including the organisation's new campaign which supports independent retailers to further grow the organic market, on Monday 20 April from 2pm onwards.
Organic market intelligence – insights revealed from the Soil Association 2015 Organic Market Report (presented by Clare McDermott, business development director at Soil Association Certification, and Paul Moore, chair of the Organic Trade Board).
Working together for growth in the independent sector (hosted by Lee Holdstock, trade relations manager at Soil Association Certification, with Catherine Fookes, campaign manager at the Organic Trade Board, and three expert industry panelists).
For further session details and timings, please visit www.naturalproducts.co.uk/natural-products-talks or www.naturalproducts.co.uk/the-natural-food-kitchen.
Representatives from Waitrose, Ocado, Tesco, Sainsbury's, Abel & Cole, John Lewis, Whole Foods Market, Planet Organic, As Nature Intended, Riverford, Nisa Retail, Fresh & Wild, Costco, Carrefour, BaxterStorey, Bidvest 3663 and Sodexo – are just some of the big names that have already pre-registered to visit. Over 10,000 attendees are expected this year.
Natural & Organic Products Europe takes place on 19-20 April 2015 at ExCeL London. For more information and to register in advance for a free trade only pass, please visit www.naturalproducts.co.uk (direct link: http://www.eventdata.co.uk/Visitor/NPE.aspx?TrackingCode=NP30).
###