Following a meeting with Defra, Anabel Kindersley, co-owner of Neal's Yard Remedies, has re-issued an industry-wide call to action to apply continued pressure on Government to protect Britain's biodiversity.
In the meeting, which took place at Defra headquarters in June, Kindersley sat in conversation with Mark Spencer, MP for Sherwood and Minister of State for the Department of Environment, Food and Rural Affairs.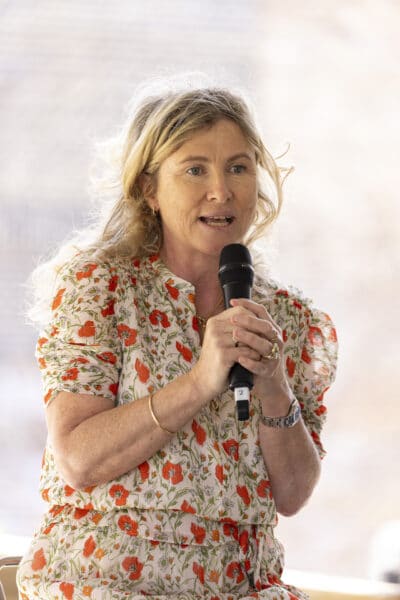 As an active campaigner for bees, Kindersley (pictured) had intended to instigate an 'open discussion' about pesticides and to impress upon Spencer not only the damaging effects of neonicotinoids on pollinators but their negative impact on business. Spencer was, she reports, less engaged than she had hoped and the meeting cast doubt on the Government's willingness to address pesticide use with any urgency.
Neal's Yard Remedies, like so many natural and organic brands, depends on a healthy ecosystem for the ingredients within its products. As such, Kindersley's Stand by Bees campaign has drawn support from a coalition of over 100 businesses and NGOs, united in their goal of cutting the use of hazardous pesticides to protect nature and the economy.
The Government's Sustainable Use of Pesticide: National Action Plan is yet to be published, and no follow-up conversations between Kindersley and Spencer were agreed.
"[I] really hope that the Minister will have the chance to reflect, post-our meeting, and wish to work with the wider business community – a collaboration of over 100 businesses across all industries, who care about nature and our bees. Our Stand By Bees campaign is asking to work with the Government towards a pesticide reduction target, to protect our bees and pollinators, before Britain's biodiversity is even further depleted," she tells NPN.
Neal's Yard Remedies is encouraging its customers to write to the local MPs and request the 'long-awaited pesticide reduction plan', and Kindersley now also repeats her previous call to industry to 'make its voice heard' and push the issue up the political agenda.
"We need to keep the pressure up and as a collective raise awareness of the critical need to protect our pollinators. After all, one in three mouthfuls of food depend on them."
Updated assets for the campaign can be downloaded here, for use in social media posts and newsletters.