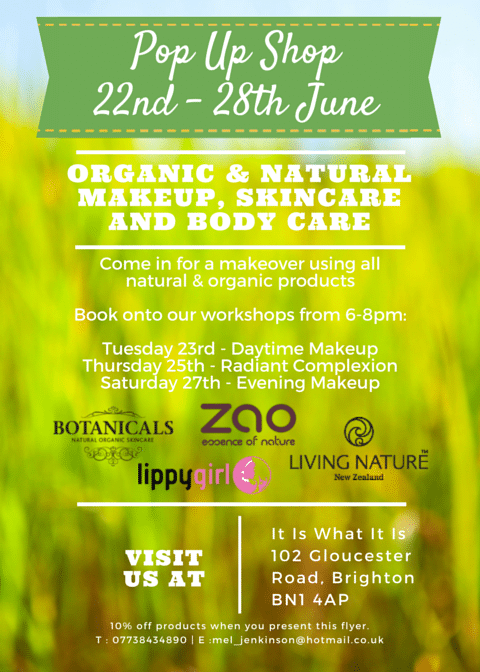 Glow Organic, a new natural and organic skincare and make-up boutique, is opening its doors from 22-28 June in Brighton's North Laines.
It will open as part of the Pop-Up Shop, a not-for-profit organisation set up in 2011 to create opportunities for young entrepreneurs and artists in the city, and will offer products from Living Nature, Botanicals, ZAP Makeup and Lippy Girl.
Freelance make-up artist and Glow Organic owner, 25-year-old Mel Jenkinson, commented: "The brands and products sold by Glow Organic have been chosen specifically for their use of high quality natural and organic ingredients, which are beneficial to both us and the environment. I want to support these brands for their sustainability, and for their dedication against animal testing."
Jenkinson will be hosting three beauty workshops from 6-8pm: Day Make-up on 23 June; Radiant Complexion on 25 June; and Evening Make-up on 27 June.
Mel goes adds: "I decided to start Glow Organic when I realized how many harmful ingredients go into beauty products used by both men and women on a daily basis. I was shocked by the amount of possible side effects that these non-natural beauty products can cause, particularly as our body absorbs up to 60% of the ingredients used."
Glow Organic will be open at the Pop-Up Shop from 10am-6pm at 102 Gloucester Road.