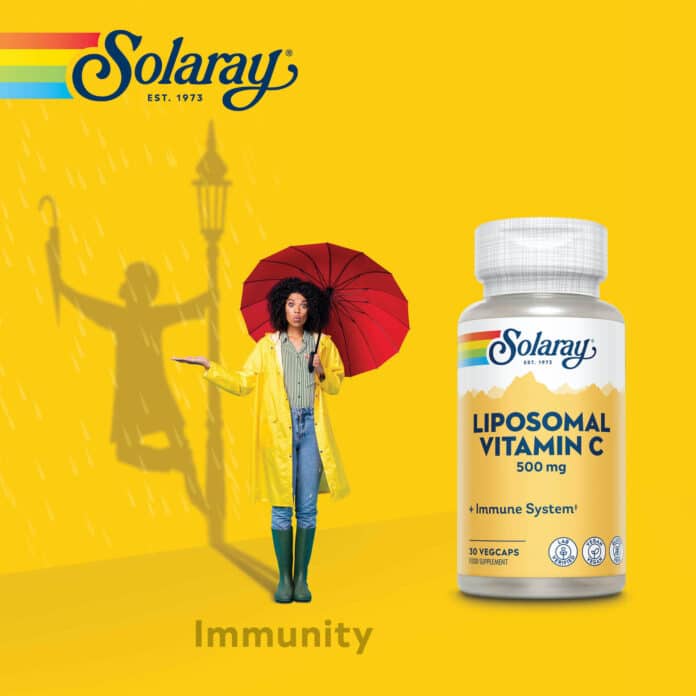 US VMS brand Solaray has unveiled a brand refresh with defined categories, new products and a focus on supporting independent health food stores.
Keeping the brand's 'Live Brighter' message at the heart of the rebrand, the new strapline 'Solaray, supporter of your ambitions' aims to position products as preventative rather than curative and promotes a vibrant, active and happy lifestyle for everyone, whatever their aims and ambitions.
The brand's seven categories – beauty, active, specialty, immunity, mental, physical and digestion – are identified in POS and advertising materials via a range of individuals on colour-coded backgrounds, flanked by a shadow representing their personal ambitions.
New-look, 100% PCR recycled packaging sports a heritage-inspired take on the logo, featuring a simplified rainbow and wordmark reflecting the original hand-drawn version created by the company's founder in 1973.
Solaray's relaunch incentives and products are available exclusively to independents
Clear product name positioning, functional benefits and an icon system which better informs consumers are also layered over the silhouette of the Wasatch Mountains in the brand's home of Utah.
The brand refresh will also see 23 new products added from September and a sales campaign by Natural Trade Brokers to independent health food stores, offering financial and marketing incentives to help retailers increase margins. The campaign launched in July and will be available until the end of September.
"Our refreshed Solaray brand and range offers a new proposition in what can often be a crowded marketplace," explains Martin Watson, country manager for Solaray. "We aim to appeal to customers who see vitamins, minerals and supplements as an intrinsic part of their lifestyle, a way of supporting their ambitions rather than curing or addressing their ailments.
"We also know that now, more than ever, independent retailers … need support from the brands that they stock, which is why Solaray's relaunch incentives and products are available exclusively to independents. It is also the reason why our campaign also includes POS, sustainable merchandise, marketing and education support – to allow independent retailers to realise their growth ambitions too.
"By also continuing to work with Natural Trade Brokers as our external sales team, we are able to build on their existing relationships to put this fantastic opportunity in the hands of every independent across the UK and Ireland."