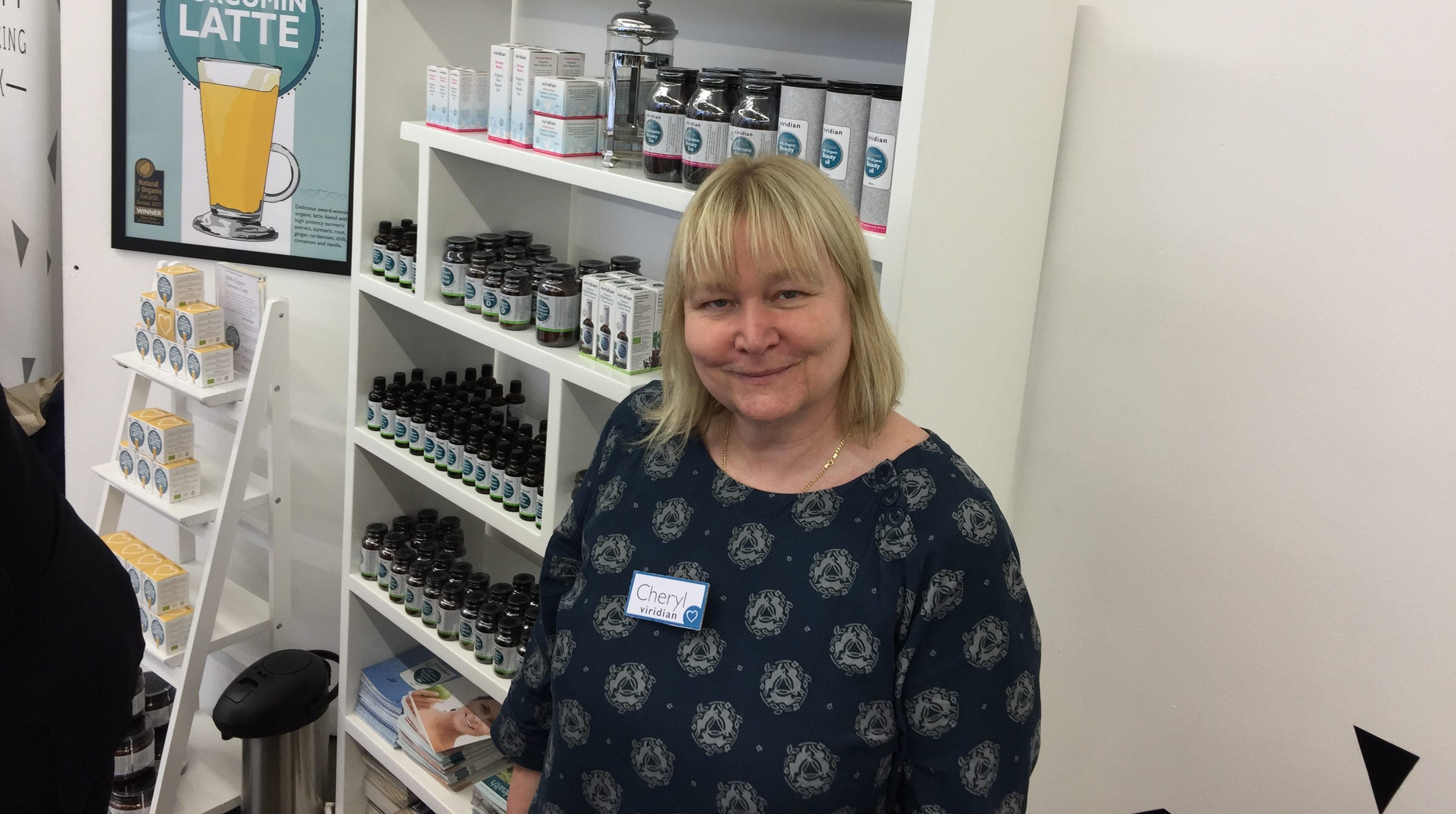 Cheryl Thallon, founder of Viridian Nutrition, has been in the natural products sector since she was 21, working in health stores, health publishing, as a supplier and, more recently, as a bricks and mortar retailer. She is also the winner of this year's Natural Products Outstanding Achievement Award. Here she reflects on the industry with Diane Millis
What are some of the main changes you've seen in the industry?
Generally speaking, I see that retailing is more sophisticated than in previous years. A combination of specific influences, from Danny Wells, Planet Organic and Whole Foods Market, have seen independent stores reimagine themselves with drastically improved branding and merchandising especially. But the essentials of retailing have changed little, with the principled commitment – to education, to helping people – as strong as ever.
On the supply side, the main change has been ownership with many, if not most, companies now owned by much larger pharmaceutical and food giants.
Opportunities and challenges from technology are the most obvious change and not just for the natural products sector. The technological revolution will be viewed historically as being as profound as the Industrial Revolution, if not more so, with the ramifications unfolding over the century.
For our industry, tighter stock control and fiscal management have enabled stores to do more with less. For our consumers, wider access to information has been empowering, but has also over-exposed them to wacky claims and some very poor quality products.
The health food retail sector is becoming ever more professional and dynamic. Are these qualities reflected by the National Association of Health Stores (NAHS)?
It's a very exciting time for the NAHS and the Health Food Institute (HFI). Both organizations are attracting new committee members and building strong three-year plans to meet the needs and further the interests of the specialist sector.
Viridian Nutrition belongs to and supports all the industry trade associations, and I am personally on the committees of both the NAHS and HFI. I would strongly recommend all retailers belong to the NAHS and all suppliers support (as a minimum) the HFI, NAHS and the Health Food Manufacturers Association. Join in, and find out what's going on. Your industry needs you.
What impact are online retailers and brands having?
The Internet has been challenging for the supplements sector, with a race to the bottom on price, but it has also enabled the public to access information. Health store shoppers are more educated than ever; they are also better able to discern between brands, searching out ethical and clean products.
The most successful health food stores are also those most committed to education, able to provide evidence-based solutions and a warm, caring, interesting and fun environment for customers.
Just like the mail order catalogues of the 20th century, so the Web-based providers will find their market in the 21st. But the 'experience' of visiting and the feeling of belonging in the specialist health food store can't be replaced.
In the US, pharmacy chain CVS Pharmacy is vastly expanding its natural supplements and beauty offering as it transitions from 'sick care' to 'self-care'. Are we likely to see UK pharmacies follow suit?
Integrative medicine is not a new concept – a good number of UK pharmacies are embracing prevention and self-care products – and it is to be broadly welcomed to widen the influence of the natural health sector and better serve the public.
Inevitably though, a large pharmacy chain that transitions to other more complementary health products, misses the emotion, education, specialization and theatre of what the best independent health food stores have to offer. When the mass-market 'encroaches' on the specialist sector, the specialist sector simply evolves further to embrace new and upcoming brands and trends.
What will Brexit's impact be on your business?
The long-term impact is impossible to predict. Short-term, the exchange rate has led to a sharp increase in international sales – they make up 15% of our business, and are growing at 70% year-on-year. But we've also seen price increases on various ingredients.
Ingredients for a 200-plus range of supplements like ours come from all over the world, and a weak pound means increased costs. Fortunately, our UK and international growth has enabled us to mitigate many of the increases, and we haven't required a price rise for more than three years, but this summer we plan a 4% increase. We invest heavily in new product development, education and marketing, and need to maintain our margin to maintain this commitment. Our health store stockists also experience financial pressures and the need to maintain margins, and increase their turnover, so a price increase can help them
And what will be the impact on the regulatory environment for supplements?
Brexit or no Brexit, I believe that legislation and regulations will slowly but surely move in a more positive direction for our sector. There are more people, more elderly, more chronically ill and higher health expectations – needs that the NHS cannot meet. Preventative health and the gentle treatment of chronic conditions is what the natural products sector does best.
As the NAHS, HFI and HFMA further strengthen the health food store's position as the hub for all things healthy – a respected and trusted pillar of healthcare – so the regulatory authorities will work with us in a more positive way.
Viridian Nutrition is supporting this year's Organic Beauty and Wellbeing Week. How important is beauty for the company?
Skincare and anti-ageing are huge categories. The rise of botox and surgical procedures has reached saturation, and the proposition that good nutrition and lifestyle are the fundamentals of appearance is already understood.
The opportunity now is in marketing, merchandising, outreach and in-store eventing. This is where an attractive offer in a specialist health store can be very successful, as the atmosphere is so much more inviting than a chemist or supermarket.
You've recently launched a tea and a latte – are you becoming more food-focused?
Viridian Nutrition is already a food company. Most food supplement businesses position themselves between nutrition and pharmaceuticals – the nutraceutical category. I've always felt we have a natural place between nutrition and food. All our education places food and lifestyle at the heart of every protocol, adding vitamins and minerals to supplement a balanced and varied diet, and using herbs as short-term solutions while the body adjusts.
How has running an independent store helped further your understanding of the sector?
Retail really is the sharp end; you get to understand what the public really want and need from the store and suppliers, and what they don't want. Shaun (my husband) runs the store and is very fussy about additives, animal rights and efficacy, so this rules out the fads and thoughtless brands.
It has consolidated what I have always felt about the importance of a store being the hub of the community, connecting with other businesses and healthcare providers and filling the store with interest and excitement. Events have been our primary marketing activity, and have helped the store build a growing clientele drawn to us for education and quality, rather than price.
Daventry, in the East Midlands, isn't a posh town; it has a very mixed population and a newly opened Holland & Barrett, so we are getting a genuine reflection of the wider experience of health retailing – and we love it!