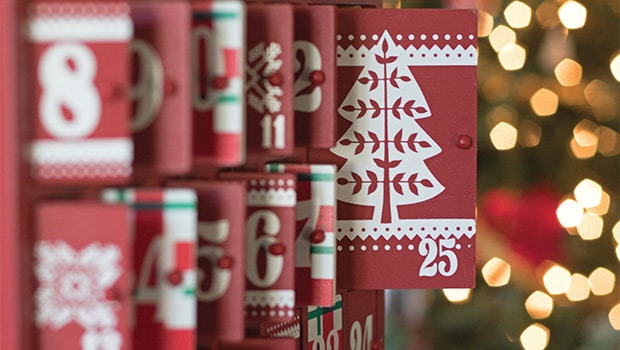 With so many unusual – and varied – advent calendars available, health-conscious and ethically minded consumers will be spoilt for choice this Christmas. Victoria Hattersley looks at what's available as the festive countdown begins
It's no secret that advent calendars have become a much more lavish affair than they once were. Long gone are the days when the most you could expect was a flimsy cardboard rectangle with a picture in each window. Many of today's calendars are so visually beautiful they're worthy of pride of place on the mantelpiece.
With this in mind, retailers will once again be looking to stock the most eye-catching varieties. While it's an inescapable truth that people are increasingly choosing to shop online, this does not mean that the days of the physical store are numbered. This is particularly true in
the run-up to Christmas, when the act of present-buying itself can be a festive occasion. According to the Deloitte Christmas Survey 2017, 62% of UK respondents intended to do some or all of their shopping in store as they
felt it provided the best shopping experience.
Here, we take a look at some of the unique items set to hit shelves this Christmas, encompassing all consumer appetites, from more traditional chocolate offers through to tea and beauty.
All about taste
We begin with what is still perhaps the most popular choice among Brits – the edible advent calendar. This year, festive chocolate innovation comes from Divine and Montezuma, with the latter offering its organic chocolate calendars in three versions: a children's calendar in milk and white chocolate; an adult milk chocolate one; and a vegan-friendly dark chocolate version. 
Importantly, choices for the UK's ever growing vegan consumer base are plentiful – and they don't end at dark chocolate. In Montezuma's dairy-free Like No Udder range, the team has created a milk chocolate alternative using rice powder instead of cow's milk to create the creamy taste. 
Like Montezuma, Divine caters to both children and adults, with its beautifully illustrated Fairtrade Milk Chocolate calendar featuring depictions of the traditional Nativity scene and the bean-to-bar journey from Kuapa Kokoo in Ghana to the UK, making it educational as well as tasty. But the particular stand-out item is the seriously grown-up Divine 70% Dark Chocolate vegan calendar – ideal for those who like an intense hit of cocoa. Beautifully illustrated with scenes of woodland life, each door opens to reveal a British wildlife fact.
The door to beauty
Not everyone is a foodie, so it's encouraging news that there has been a definite shift towards 'novelty' options such as beauty and health calendars. Take Holland & Barrett (H&B): following the sell-out success of its first-ever natural beauty advent calendar in 2017, this year it will be producing three separate calendars: The 25 Day Classic; The 25 Day Classic with a 'personalized touch'; and the Cleaner Beauty Christmas Special. 
Entirely free from SLS, parabens and microplastics, each variation is packed full of scents, scrubs, lotions,
nail polishes and more behind the doors from H&B's top-selling brands, including Dr Organics, Faith in Nature, Weleda, Beauty Kitchen, Sukin, Manuka Doctor, Trilogy and Pure Papaya. 
For those interested in a health-focused alternative, Pukka Herbs' offerings have also proven to be a hit over recent festive seasons. This year's calendar, designed in line with Pukka's instantly recognizable tea box designs, contains 24 carefully selected health-boosting herbal sachets to take tea connoisseurs from morning to night.
Stand out from the crowd
Elaine Melican, store manager of Open Sesame health store in Ennis, gives her perspective on this year's offer and which calendars her customers will find in store: "This year we will be stocking the ever popular Moo Free and Plamil Dairy Free and No Added Sugar.
I would also be interested in getting in the new Montezuma's dairy-free Like No Udder calendar – its chocolate is delicious – and the Protein Ball Co has an advent calendar this year that will contain a selection of its flavours. The Pukka Herbs tea advent calendar sold really well for us last year so we will definitely stock that again."
In fact, offering something a little different seems to be an important factor for independent retailers, and Rob Kneebone, from The Natural Store in Falmouth, says that point of difference is key: "We only stock advent calendars that you won't find in supermarkets. We also prefer those with minimal ingredients and with as little sugar as possible – which may sound like an oxymoron when it comes to advent calendars!"
A wider appeal
Advent calendars used to be targeted at children, but today – while the little ones are certainly still well catered for – brands have recognized the benefits of appealing to the adult consumer. While many novelty calendars are undoubtedly on the pricier side, the beauty themed
ones in particular do often provide great value on a per-product basis. Let's not forget that, according to PWC UK, Christmas is also the time of year when shoppers are 'increasingly spending more on treating themselves through experiences or products'.  
Melican confirms this: "The last few years' advent calendars have been aimed more at the adult market. People have always been willing to spend a bit more on the dietary-specific calendars, but the newer novelty ones on the market provide a fun way to sample a range of products from a brand at a reduced cost. For example, the Pukka tea calendar allows people to sample different teas from the range without having to buy lots of individual boxes."
Whatever a shopper's preferences, dietary requirements or ethical considerations, the industry is proving that behind every little cardboard door will be a treat to satisfy their tastes. 
Let the Christmas countdown begin…
Product Listings
Booja-Booja Chilled Six Truffle Packs
Booja-Booja
Tel: 01508 558888
E-mail: [email protected]
www.boojabooja.com
The new chilled Six Truffle range from award-winning chocolate maker Booja-Booja features striking new pack design and two brand new chocolate truffle flavours. Aimed at the personal treating market, the easy-access slide-open packs use less packaging, are largely recyclable and are presented in shelf-ready packaging designed to take up less fridge space. Dairy free, organic and vegan, like all Booja-Booja products, the range features bestselling favourites such as Hazelnut Crunch and Espresso alongside two exciting new flavours; Honeycomb Caramel and Toffee Strudel. Chilled for maximum deliciousness, the six packs have a new lower price point offering better value per box.
Flaya Organic Vegan Perfumes
Flaya GB
Tel: 07544 363345
E-mail:  [email protected]
www.flaya.co.uk
Attract new customers with Flaya's fragrances for women. From classic rose to sweet vanilla, powerful jasmine to tropical fruity aromas & oriental florals, there's a fragrance for everyone.
Handmade in Britain & designed for independent retailers, Flaya offers an ideal starter package including: • seven fragrances• POS pack • compact display unit• complimentary testers, gift bags & boxes
Luxurious & ethical, Flaya's perfumes contain 80-92% certified organic ingredients, are approved by the Vegan Society and endorsed by the Naturewatch Foundation. Available in a 10ml purse spray, 30ml bottle or presentation gift box. Stock up with Flaya for Christmas!
Figure Trim 8
FSC
Tel: 0800 083 0356
E-mail:  [email protected]
www.fscsupplements.com
The original formula giving short-term support for weight management.  The special combination of vitamins and herbal extracts in Figure Trim 8 capsules have been researched and chosen with great care to provide a balanced and effective aid to slimming. Figure Trim contains no artificial flavours or preservatives and is suitable for Vegetarians. As with all FSC supplements, Figure Trim is made in the UK with the finest ingredients and based on widely recognised scientific evidence of their health qualities. 
Pacifica – Body Butter & Hand Cream Duo Gift Set
Kinetic Natural Products Distributor
Tel: 08450 725 825
E-mail:  [email protected]
www.kinetic4health.co.uk
A beautiful set featuring full-size Hand Cream and Body Butter in the newest fragrance Sugared Amber Dreams!  The natural Body Butter is a highly effective moisturiser for even the driest skin. Vitamin E, kukui nut, macademia nut and rose hip seed oils combined with shea and mango butters provide nourishing and replenishing moisture.  Arnica, chamomile and cucumber invite the smoothest skin to appear.  Natural, super hydrating Hand Cream made with coconut water, floral stem cells and antioxidants to moisturise even the driest skin. 100% vegan and cruelty-free.  For more information or to order visit
www.kinetic4health.co.uk or call 08450 725 825.
Pacifica – Winter Dreams Perfume Roll-On Trio
Kinetic Natural Products Distributor
Tel: 08450 725 825
E-mail:  [email protected]
www.kinetic4health.co.uk
These travel ready companions are ready for whatever and contain three of Pacifica's signature blends with natural and essential oils.  The three beloved scents are: Indian Coconut Nectar, a warm blend of sultry fresh coconut, delicate vanilla and creamy vetiver; Island Vanilla, with Tahitian vanilla, loved for its fruity and slight floral aroma and anchored with rich bourbon vanilla notes and Tuscan Blood Orange with sparkling orange, spicy Italian mandarin and red raspberry notes.  All 100% vegan & cruelty-free.  For more information or to order visit www.kijaniliving.com/ email [email protected] or call 08450 725 825.
Gift Box
Mood Foods Ltd
Tel: 01223 884540
E-mail: [email protected]
www.ombar.co.uk 
Best. Gift. Ever. Four of Ombar's best-selling organic, vegan and fair trade chocolate bars, all in one lovely gift box. Made from the best raw Ecuadorian cacao, Ombar chocolate is all-natural, plant-based and free of refined sugar. Plus, Ombar uses only unroasted cacao and low temperature processing, keeping their products choc-full of the nutrients and rich flavours that nature intended. This is a gift you can feel good about giving!  Certified organic, vegan and Fair for Life, Ombar's gift box contains 1x Coco Mylk, 1x Coconut 60%, 1x 72% Cacao and 1x 90% Cacao.
Vegan Gravy with Red Miso
Tideford Organics
Tel: 01803 840 555
E-mail:  [email protected]
www.tidefordorganics.com
Tideford Organics are bringing the perfect vegan gravy to dinner tables everywhere this Winter. A delicious savoury stock of carrots, celery, onion and garlic with an umami hit of fresh red miso, this recipe is great with nut roasts, meat free meatballs, or a vegan cottage pie. It's also the ideal accompaniment for Christmas, whether serving up a veggie option or an entire vegan banquet. 
Get set for the cold season
Viridian Nutrition
Tel: 01327 878050
This potent partnership comprises Ester-C 550mg (30 capsules) and Beta Glucan Complex (30 capsules). Ester-C is a highly effective, patented form of vitamin C in a neutral pH presentation. Beta glucan in the 1,3/ 1,6 form alongside buffered vitamin C, zinc citrate and vegan vitamin D3. Vitamin C, zinc and vitamin D support normal function of the immune system. Vegan friendly. Promotional offers available, ask your Territory Manager. Part of the 200+ range from the ethical vitamin company, Viridian Nutrition, founded on the principles of Purity, Environment and Charity. Dedicated to the continued success of the specialist health food store. Price –  RRP £25.35
Salted Caramel Thins
Divine Chocolate
Tel: 0207 378 6550
E-mail: [email protected]
www.divinechocolate.com
These Dark Chocolate Salted Caramel Thins are the perfect dinner party gift to share with friends and family. These join our range of Thins, including Mint and Ginger. Divine Chocolate is proudly palm oil free. By purchasing this delicious gift, you are also directly supporting Kuapa Kokoo, a co-operative of smallholder farmers in Ghana who co-own Divine. 
Eat, drink, be merry this season
Viridian Nutrition
Tel: 01327 878050
An attractive gift box featuring two of Viridian Nutrition's best-selling supplements. High Potency Digestive Aid is a vegan combination of enzymes, betaine hydrochloride, peppermint and ginger to help promote a healthy, well-balanced environment for digestion to take place with optimum efficiency. In a base of alfalfa, spirulina and bilberry. Viridian's 100% Organic Milk Thistle is made with Silybum marianum seeds. Certified organic by the Soil Association. PR Toolkit and eye-catching POS materials available. Speak to your territory manager. Viridian Nutrition, founded on the principles of Purity, Environment and Charity. Dedicated to the continued success of the specialist health food store. Prices – RRP  £16.60
Pukka Herbs Christmas Calendar
Pukka Herbs
Tel: 0117 964 0944
E-mail:  [email protected]|
www.pukkaherbs.com
Celebrate the countdown to Christmas with Pukka Herbs. Inspired by nature, this calendar is a healthy and creative alternative to the modern-day chocolate-orientated advent calendar; perfect for people who would like to cosy up with a warming cup of herbal bliss. With 24 different organic herbal teas to try each day throughout the festive season, everyone is sure to find their new favourite blend.