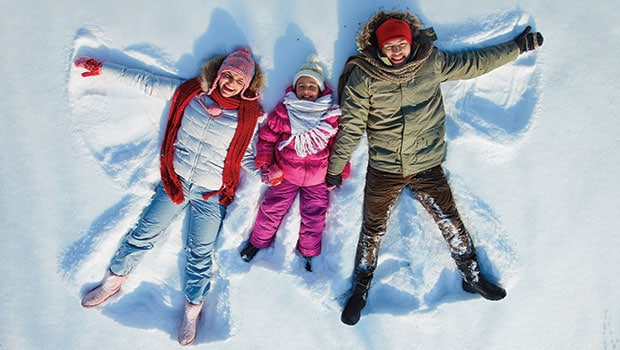 As the colds and flu season splutters into life, Matt Chittock finds out why people are increasingly turning to natural alternatives to stave off the winter sniffles
As the heady heights of summer disappear into sun-dappled memory, it's time for retailers to focus on the industry's natural autumn/winter sales warmers: cold and flu remedies.
The good news is that there's evidence this could be the biggest year for the category yet. High-profile problems around last winter's batch of flu vaccines mean that customers are likely to be more open to all kinds of natural alternatives this time around.
Self-help
Plus, as GPs advise cold and flu sufferers to stay at home and self-medicate rather than coming into their practices, or even A&E, there's plenty of opportunity to help develop shoppers' own self-care habits. When the NHS message is clear that (outside of high-risk groups like children and OAPs) doctors don't want to know, it's inevitable that customers will go elsewhere for advice.
So when does the open season for sniffles begin? For Matt Sage from Wild Honey in Oxford, sales start to soar as soon as the temperature drops after summer, especially when rain begins to lash against the shop's front door.
"It's when the weather starts to turn and we have a couple of rainy and cold weekends that it starts to really pick up – normally, I find, towards the end of October or beginning of November," he says.
"What we find is that most of the business we do in the category is about people reacting to cold and flu symptoms. Everyone is too busy to really look after themselves, so people will come into the store when they're on the edge of having an illness, or when they've already started sniffing and snivelling. It's rare you get someone who's really in tune with their body – and knows how to get themselves ready for winter."
This reflects official market intelligence on the subject. According to Mintel's latest report, shoppers don't tend to seek any help until symptoms start to show, especially those in the 18-34 segment – partly because of the fast-paced nature of their daily lives.
The big four
Perhaps unsurprisingly, the store's cold and flu business is based around the 'big four' of the winter remedy repertoire: vitamin C, vitamin D, echinacea and zinc. As Sage points out, all of these supplements have robust scientific evidence to back their use when seasonal sniffles strike.
Zinc especially is a bit of a category star, with a series of studies suggesting it can reduce the severity and duration of the common cold. And echinacea is not far behind, having become a recognized part of the natural medicine cabinet.
Because of their efficacy, these components are ubiquitous across a variety of suppliers' ranges, often packaged in potent combinations. So this means it's up to individual stores to choose the brands most likely to chime with their customers.
Sage says that at his store the brands chosen match the high quality ethos of the whole store and the customers who regularly shop there.
"We've positioned ourselves to be high end, not cheap and cheerful (as opposed to one mainstream High Street retailer that I could name!). So, everything in the shop is organic where possible and all our supplements are very high quality. My partner does all the buying and she insists on it.
"Across the store we concentrate on products from three brands: Viridian, BioCare and Terranova.
We'll also take customer recommendations if there's something we haven't got on the shelves."
"Zinc especially is a bit  of a category star, with  a series of studies suggesting it can reduce the severity and duration of the common cold"
Sage adds that he's incredibly keen not to "sell customers supplements they don't need". He maintains that navigating the category can be about steering them to specific ingredients they may be missing from their diet.
"As well as the usual cold and flu supplements we do a range of organic fruit and veg too," says Sage. "Sometimes the right ingredients, like lemon and honey, will help people get through if they dose themselves up with them. We also do organic turmeric root, which works well in the category."
Customer fit
Of course, how you choose to approach winter wellness will depend on your customer profile. Neil Freidman from Northampton Nutrition Centre concentrates on the sports nutrition end of the market, offering products and advice to help amateur sportspeople run a marathon, or succeed at rugby, for example.
As a nutritionist, he can also give customers tailored advice on how not to let a cold or flu ruin their training.
"I think it comes down to general health and well-being at the end of the day," he says. "If you exercise regularly, and eat healthily most of the time, you will get over winter colds quicker. You won't not get them,
because if they're in the air then it's going to happen. What it means is that you just won't get as debilitated by them as someone who is, say, pre-diabetic.
Take a break
"I tell my customers definitely not to train with a cold. You already have a temperature to fight off the bugs, and anything you do to increase your heart rate is only going to make you hotter. It's better to have a break and look after yourself."
Freidman also says that many customers believe keeping germ-free is important. However, he adds that,
ironically, this is creating a society that makes the cold and flu viruses far more virulent.
"Some parents clean everything down with anti-bacterial wipes," he says. "But then when kids grow up they're much more susceptible to colds and flu, because they haven't got the immunity to fight them off."
Inevitable or not, most switched-on customers don't need to be reminded that there are natural solutions for cold and flu out there, so the category doesn't require much promotion in-store.
"We really don't do much promotion around cold and flu," says Sage back at Wild Honey. "Though we might do something in the window, or put up posters around the changing seasons, it does tend to sell itself. Our customers come from a community that is educated about what's going on, and know when to come in-store."
Helping herbs
Sussed shoppers know that immunity is the key to combating seasonal colds and flu. And, as Katie Pande, senior herbal advisor for Pukka, explains, stress can weaken the body's immune system.
"Immunity can be compromised if someone has been under a period of stress, for example, or under more pressure at home or work," she says.
"The challenge comes when individuals do not counteract these periods with effective relaxation or rejuvenation techniques, causing the body to become completely exhausted and leaving the immune system vulnerable, which is when supplementing with immune-strengthening herbs can be beneficial."
As part of its portfolio, Pukka has developed specific products to support customers' immune systems. Pukka Elderberry Syrup, for example, uses elderberries as a potent hero ingredient.
"Elderberries contain anti-viral and anti-inflammatory constituents and are also high in antioxidants such as anthocyanins and natural vitamin C," says Pande.
"They are strong immune modulators that directly stimulate the immune system. Elderberries have demonstrated the ability to deactivate ten strains of the flu virus and also hasten recovery time."
Pukka's selection also features Andrographis, an ancient Ayurvedic immune system stimulant commonly known as the "king of bitters".
"Andrographis has strong anti-bacterial, anti-parasitic and anti-microbial properties, and has the ability to reduce the severity and duration of an infection,"
says Pande.
Products
Organic Raw Chia Seeds
Of the Earth Superfoods
Tel: 02073 879303
E-mail:  [email protected]
www.otesuperfoods.com
Of The Earth Superfoods specialise in 100% organic superfoods. Alongside their range of superfood powders and berries, Of The Earth produce several varieties of seeds; Chia, being one of their best sellers. Not only are Chia Seeds packed with plant-protein, fibre and antioxidants – more so than blueberries! – they are jam-packed with healthy fats, helping them gain a reputation as an aid in combating that nasty, dry winter skin. What's more, they're a powerful anti-inflammatory & incredibly hydrating – a definite must-have to get back that long-gone summer glow! Of The Earth Superfoods Chia Seeds 250g have a £4.49 RRP.
Fit for School
ProVen Probiotics,
Tel: 01639 825107
E-mail:  [email protected]
www.provenprobiotics.co.uk
ProVen Probiotics'Fit for School products have been developed based upon clinical research – when children took Fit for School daily for six months during school term time, absenteeism due to coughs and colds was reduced by 30%. Produced specifically for children, Fit for School is available in two forms – strawberry-flavoured chewable tablets and powder stick packs. Available in Boots and leading pharmacies and healthfood stores, both products contains 12.5 billion of the unique research-backed Lab4 Acidophilus and Bifidus friendly bacteria, combined with vitamin C and prebiotics, to help maintain immune function and general wellbeing. The stick packs also contain vitamin D.
Comvita Olive Leaf Extract Immune Support 15 Capsules
COMVITA
Tel: 01628 779460
E-mail:  [email protected]
www.comvita.co.uk
Olive Leaf boost – Comvita's Olive Leaf capsules are perfect for the season ahead. The new arrival comes in a handy travel size 15-day blister pack and just one softgel capsule a day provides 66mg Oleuropein, which gives 400% more antioxidant power than Vitamin C. Comvita's Olive Leaf is freshly picked to ensure the 12 naturally occurring polyphenolics are all captured. Specially formulated with zinc and copper means Olive Leaf Immune Support Capsules provide for the whole family, throughout the cold and flu season.  Get Olive Leaf Extract into your customers' daily routine in this winter season!
Zincovit®-C
HealthAid Ltd,
Tel: 0208 4263400
E-mail:  [email protected]
www.HealthAid.co.uk
Zincovit®– C  All year protection – A healthy, well-functioning immune system means having sufficient biological defences to fight infection. It's up to us, however to provide the body with the appropriate support it needs, through nutrition and supplementation. Zincovit ®– C comprehensive formulation provides all the richness and beneficial properties of Zinc, Vitamin C and Propolis in one great tasting lozenge. It works internally to help kick start your body's defence system, boost immunity and help fight against infection.  Zincovit ®– C retails at £6.99 for 60 lozenges. Contact HealthAid Ltd on 020 8426 3400 for purchase and stockist information or visit www.healthaid.co.uk
Winter Alert
Helios Homeopathy ltd
Tel: 01892 537254
E-mail: [email protected]
www.helios.co.uk
At Helios we are busy preparing homeopathic remedies for winter. Our trade range covers a wide variety of winter ailments from coughs, colds and flu to sore throats, sinusitis and much more. All our remedies and creams are made to traditional methods by hand and our products are backed by expert advice from our team of qualified homeopaths and comprehensive point of sale literature. Ensure your customers stay healthy this winter, naturally.
Nature's Answer Vitamin D3 Drops 4,000iu
Kinetic Natural Products Distributor
Tel: 08450 725825
E-mail:  [email protected]
www.kinetic4health.co.uk
Nature's Answer Vitamin D3 Drops in extra virgin olive oil offers 4000 IU per serving. The vitamin D is presented as cholecalciferol, sourced from lanolin. The product is also gluten free, alcohol, preservative and sweetener free. One bottle supplies 240 servings. Nature's Answer are the pioneers of low alcohol and alcohol free liquid herbal extracts, since 1972, unconditionally guaranteed.
Source Naturals Wellness Formula
Kinetic Natural Products Distributor
Tel: 08450 725825
E-mail:  [email protected]
www.kinetic4health.co.uk
Source Naturals Wellness Formula is a complex of over 30 powerful ingredients, including: vitamin A, C and D3, minerals Zinc, Selenium, Copper, herbal extracts including Garlic Bulb, Propolis Extract, Echinacea purpurea Root Extract, Elderberry Fruit Extract, Olive Leaf Extract, Eleuthero Root Extract, Elecampane Root, Citrus Bioflavonoid Complex, Goldenseal Root Extract, Angelica Root Extract, Astragalus Root Extract, Mullein Leaf, Pau D'Arco Bark Extract, Cayenne Fruit, Ginger Root Extract and Grape Seed Extract. These ingredients deliver a broad spectrum of antioxidants, and unlike single-action formulas the ingredients work together in synergy, unlocking the power of these botanicals.
Lamberts® Liquid Imuno-Strength® Elderberry, Rosehip and Blackcurrant Concentrates
Lamberts Healthcare Ltd
Tel: : 01892 554313
E-mail:  [email protected]
www.lambertshealthcare.co.uk
Imuno-Strength® is a tasty natural blend of elderberry, rosehip and blackcurrant concentrates carefully formulated to retain the nutritive properties of the fruits. These three fruits are all exceptionally rich sources of important compounds called flavonoids, including anthocyanidins that are known potent antioxidants.To maximise antioxidant defences, plant-derived antioxidants should be incorporated into our regimes. Anthocyanidins are physiologically active in both lipid and aqueous environments in the body, which makes their overall antioxidant properties many times that of vitamin C or vitamin E.  Recommend to those 5 years and upwards whose immune system is under pressure and requires a boost.
Pukka Elderberry Syrup
Pukka Herbs Ltd
Tel: 0845 3751744
E-mail:  [email protected]
www.pukkaherbs.com
Pukka's Elderberry Syrup is a delicious elixir to clear and soothe the respiratory system. The highly concentrated formula (6:1 juice), contains powerful immunity boosting elderberries. Packed with antioxidant Vitamin C, they deactivate 10 strains of flu virus (5x more than the flu vaccine) and hasten recovery time. Manuka honey (14+) contains additional anti-bacterial properties while Horseradish opens the sinuses, Peppermint oil cools and Licorice soothes like an internal balm. The formula is suitable for the whole family age 2+. Elderberry Syrup is just one product in Pukka's organic seasonal range, supporting your customers' needs throughout the winter. – Trade reference only. 
Ultra Potent Probiotic
Renew Life UK
Tel: 0800 7076671
E-mail: [email protected]
www.renewlife.co.uk
Ultimate Flora Ultra Potent is a 100 billion one a day probiotic, formulated with 10 specific strains for people who are currently using or have recently used antibiotics (contains antibiotic resistant bacteria). Also for severe digestive issues including infections, oral infections, low immunity, colds and flu. Our unique enteric coating delivery system ensures 100% delivery of 50 billion Lactobacilli and 50 billion Bifidobacteria, offering complete support and recovery to the entire intestinal tract following illness or imbalance. Suitable while pregnant and breastfeeding, dairy, soy and additive free.
Bee Energised and Bee Prepared immune formula
Unbeelievable Health
Tel: 02079 932471
www.unbeelievablehealth.com
Put some buzz in your sales! Over 90% of reviews rate Unbeelievable's supplements 5 stars. The plant based targeted formulas combine highest quality nutrients with proven benefits, which are not usually found in a regular diet. They are vegetarian & Free From. Bee Prepared immune formulas are recommended by nutritionists for colds, flu, travel & more and combine bee propolis, black elderberry, olive leaf, beta glucans, reishi, astaxanthin and more. NEW Bee Energised helps provide energy and focus, without the jitters and crashes. Benefits build with time to help resolve ongoing issues of fatigue. It combines organic bee pollen, matcha, spirulina and more.
Horseradish and Garlic Complex
Viridian Nutrition
Tel: 01327 878050
E-mail:  [email protected]
www.viridian-nutrition.com
Providing high strength horseradish and garlic extracts alongside vitamin C and zinc which help contribute to normal function of the immune system. This product provides 1000mg of Vitamin C and 30mg of Zinc per day. Vitamin C aids in the maintenance of the immune system including during and after intense physical exercise.Horseradish and Garlic Complex is part of the 180+ range of nutritional supplements from the ethical vitamin company, Viridian Nutrition, founded on the principles of Purity, the Environment and Community. Non-GM, non-irradiated, allergen-free, against animal testing.
Immunace Extra
Vitabiotics
Tel: 0208 9552686
E-mail:  [email protected]
www.immunace.com
Developed by Vitabiotics' experts, Immunace Extra Protection is a comprehensive multivitamin providing you with all the benefits of the original Immunace, with higher daily levels of vitamin D at 1000IU. Vitamin D, as well as zinc and selenium, contribute to the normal function of the immune system. It also includes vitamins C & E which contribute to the protection of cells from oxidative stress. Immunace Extra Protection combines a synergistic combination of nutrients such as natural lycopene, l-carnitine, resveratrol, astaxanthin, and alpha lipoic acid.