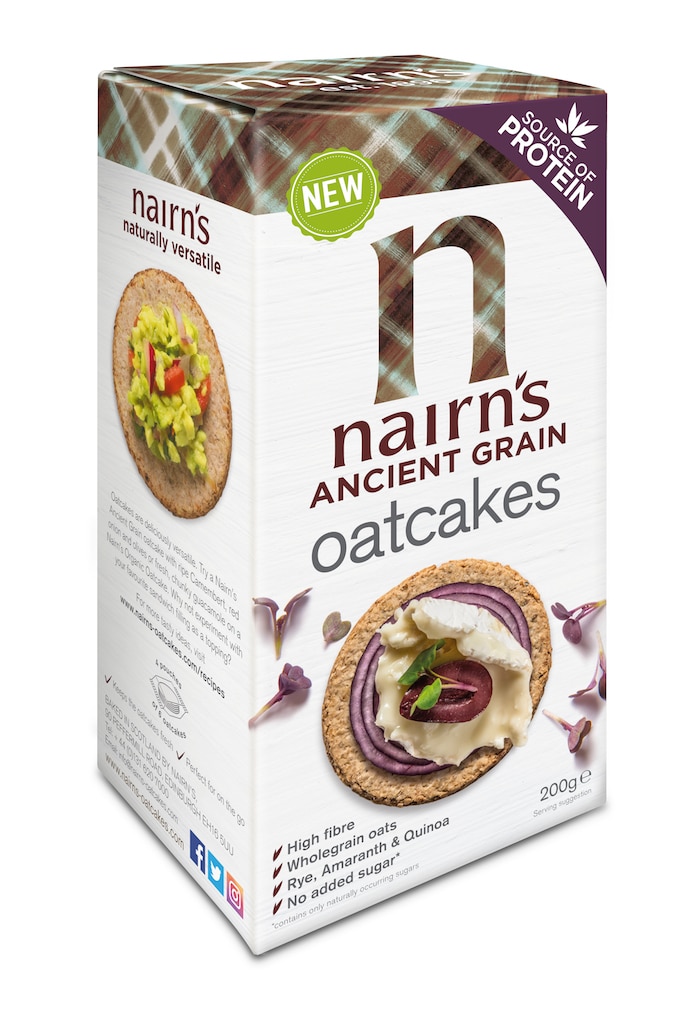 Nairn's is offering up a new oatcake variety as well as a three-strong range of on-the-go Oat Bars for healthier snacking.
Along with wholegrain oats, which are a rich source of vitamins, minerals and complex carbohydrates, the new Ancient Grain Oatcakes are enriched with high-fibre rye – a recognized prebiotic and good source of iron, magnesium and zinc. Amaranth is also included; high in fibre, naturally gluten-free, protein-packed grain, it also contains potassium, calcium, phosphorous, manganese and magnesium. Finally, quinoa adds vitamins, minerals and antioxidants to the mix, and is one of the few plant foods that contain all nine essential amino acids.
"Ancient grains are considered to have been little changed by selective breeding over recent millennia, and as such, have higher resources of many trace elements, especially immune and energy boosting vitamins B and C, and mood enhancing minerals magnesium, iron and zinc," says nutritionist Alix Woods. "The complex carbohydrate content of rye, amaranth and quinoa in particular all have a low glycaemic index (GI), which ensures a stable, steady energy and good mood. What's more, these grains are an excellent source of protein, making them suitable for vegans and vegetarians, and as the grains are mostly unchanged in nature, people who have sensitivities to wheat and gluten often better tolerate them."
Nairn's Ancient Grain Oatcakes come in a 200g pack with four pouches of six oatcakes.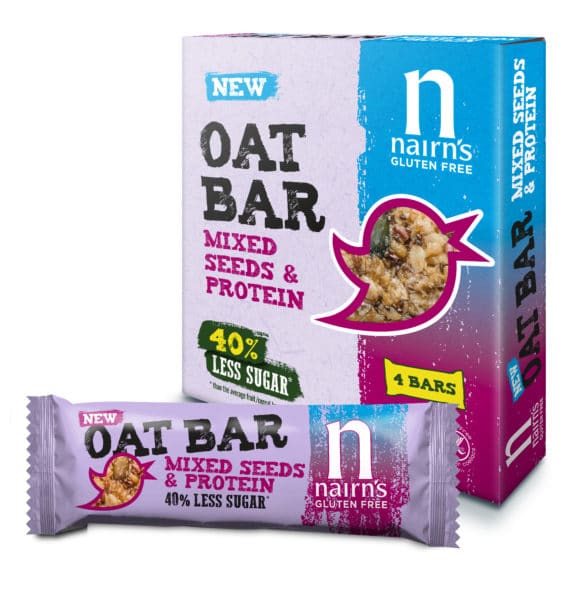 The brand has also introduced a new range of flapjack-style Oat Bars in three flavours: Apple & Cinnamon for a mid morning pick-me-up; Orange & Cacao for a healthy chocolate alternative; and Mixed Seeds & Protein, positioned as being perfect pre- or post-gym.
Gluten-free, vegan and with 40% less sugar than the average fruit or cereal bar, each Oat Bar is made with a handful of natural ingredients and over 40% oats.
The 40g bars are available in packs of four.