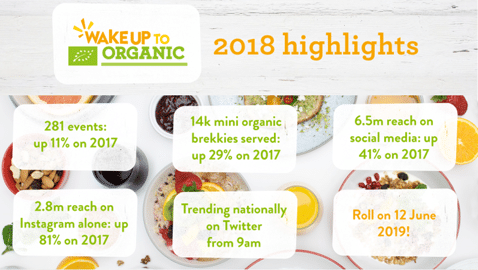 The Organic Trade Board (OTB) has called the 2018 Wake up to Organic campaign its 'biggest and most successful event yet', with engagement on all levels up from last year.
At the final count, 281 events were held nationwide – up 11% from 2017 – in which retailers served up some 14,000 mini organic breakfasts (an increase from last year of 29%). The samples were enjoyed by consumers of all ages, including a 97-year-old fan of organic food who visited Matta's International Foods in Liverpool.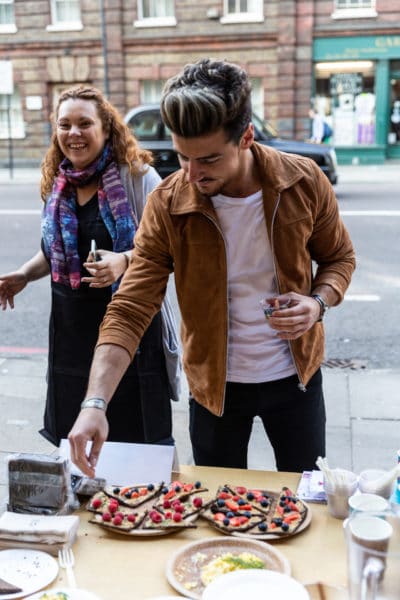 On a digital level, the campaign saw its social media reach hit the 6.5 million mark, up 41% from one year ago; this digital upsurge included an explosion of activity on Instagram, which saw 2.8 million users reached, ad well as on Twitter, where #WakeUpToOrganic was in the top ten trending hashtags nationally from early morning to lunchtime. Local independents also enjoyed coverage by regional press in the lead up to the event.
The OTB confirms that every region of the UK was covered, with stores around the country offering their own take on organic 'tasty treats', and sharing 'what makes them happy about growing, making and selling organic food and drink'.
What we were really pleased about was the initiative the stores took
This year's campaign was once again supported by a number of brands who provided samples for stores to use as ingredients – samples which were well received by consumers; in London's Spitalfields markets, As Nature Intended saw queues stretching up the street.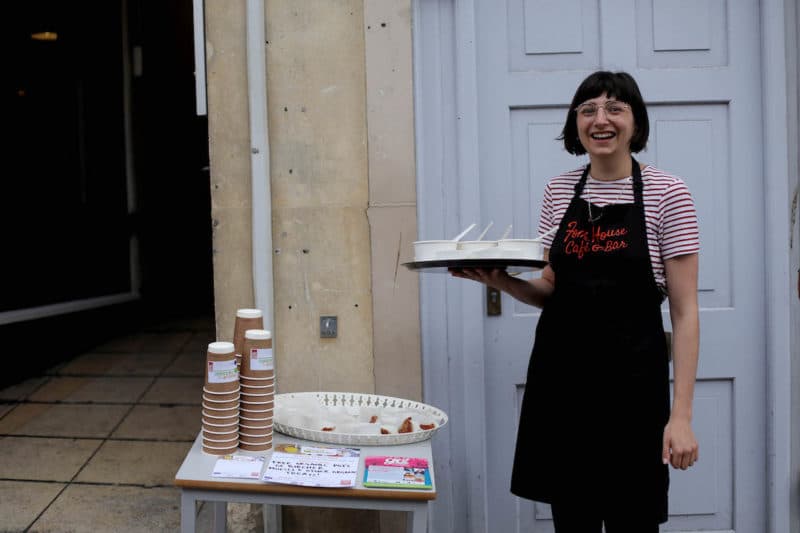 Aileen Nicol, campaign director, Organic UK, says "The collective effort of the organic community can really make a difference to the potential for organic in the UK by helping consumers make a choice for organic, every day and forever.
"What we were really pleased about was the initiative the stores took to really take on the core event and idea and make it work for them. [We're] delighted to have all regions involved this year across the country and of course we couldn't have done it without the support of our members who gave samples for tasters, ran their own events and generally made lots of noise about the day!"
Throughout the morning NPN visited several stores taking part across the south east, including: Black Radish; Down to Earth; Infinity Foods; Rainbow Organic Chocolates; Gratitude Tree Grocers; Kernel of Hove; and Seasons in Forest Row, where marketing manager Bonnie Ellis outlined the store's breakfast offerings in the below video. "We're trying to open up different doorways to people who have never tried organic food before. Once they try it they realize that the benefits of it are greater and it tastes an awful lot nicer," said Ellis.
Matthew Lamb, owner Down to Earth, Hove, takes part in Wake up to Organic every year, to 'support organic' and 'raise the profile'. Lamb caters to rush hour consumers with chia seed puddings – "A favourite of mine" – and desserts containing oats. "We do smoothies because they're always really popular, particularly when we tweet and re-tweet during the morning, we'll get businesses who know we're here quickly rush up and take two or three for their workmates."
Of the campaign as a whole, Lamb says: "One day isn't going to change anything too much, but it'll bring a few more people in, it's fun and the customers who come along get a little 'thank you' with a nice free breakfast."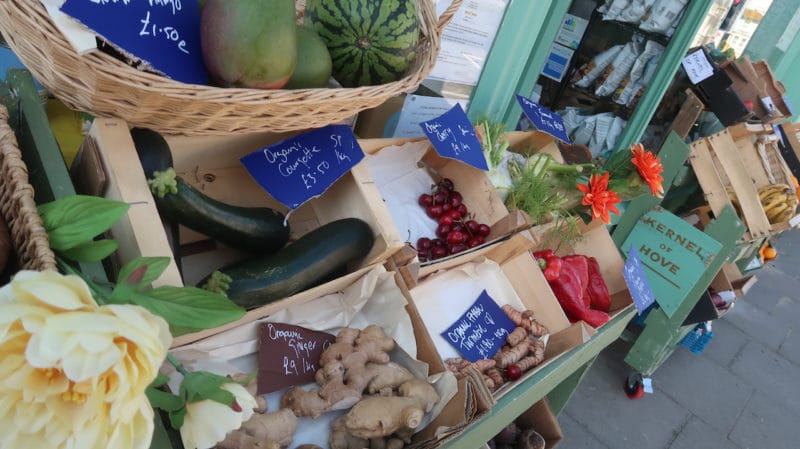 At Gratitude Tree Grocers, owner Victoria Meek reflects on the 2017 event: "It was very busy. I was a really good success I would say. People really enjoyed it; we had a lot of fun." Meek says 'getting the message of organic out there' is important. "It's not something to be scared of, it doesn't necessarily have to be expensive – I think those are all questions people have. [Wake up to Organic] just gets the conversation going about organic in general."
Wake up to Organic gets the conversation going about organic
Louise Stack, Kernel of Hove owner, has supported the initiative since opening the store last year. "Anything that raises awareness of organic is a good thing. A lot of our customers support all the organic fruit and veg, so they're well aware of the organic way of life." Offering customers the chance to win an organic hamper, Stack also gave away samples of Pukka tea and organic oat bars to further promote the cause.
The 2019 Wake up to Organic event has been set for Wednesday 12 June 2019. To find out more about taking part visit www.wakeuptoorganic.co.uk.