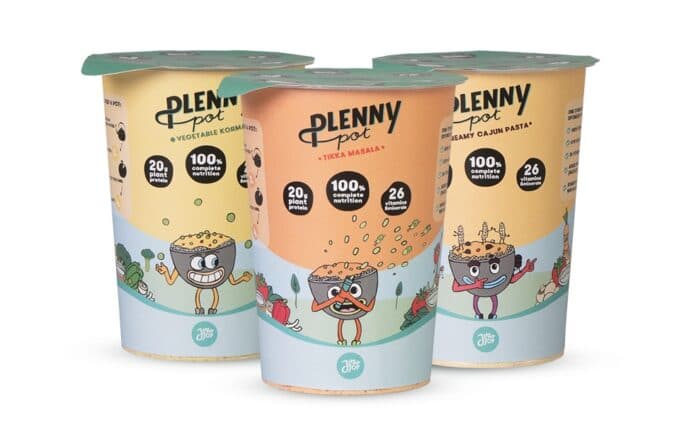 Plant-based food brand Jimmy Joy has created a range of Plenny Pot instant savoury meals in Creamy Cajun Pasta, Tikka Masala Lentils and Vegetable Korma Rice varieties.
Described as healthy, convenient and nutritionally complete hot meals, Plenny Pot meals are high in protein, low in sugar and a source of fibre. They contain probiotics and prebiotics as well as all 26 essential vitamins and minerals, and provide consumers with a 400kcal meal, including 20g protein, 45-52g carbohydrates, 11-13g fat, and 6.5-12g fibre.
Each Plenny Pot is made with 100% plant-based, wholefood and natural ingredients: the Creamy Cajun Pasta combines pasta with black beans, mushroom, onion, pepper and a blend of herbs; Tikka Masala Lentils contains green lentils, white rice, pea and soya proteins and spices including cumin and paprika; and the Vegetable Korma Rice blends white rice, with pea and soya proteins and turmeric.
"We're delighted to be launching our first ever instant hot meal, which is another exciting step in our commitment to providing people with the healthiest, most convenient meals possible – with minimal impact on the planet," comments CEO and founder Joey van Koningsbruggen. "We're extremely proud of the new Plenny Pot and we're confident it's the most nutritious and delicious product of its kind. Simply put, the Plenny Pot is the healthiest meal you can prepare in minutes. We cannot wait for people to try it."