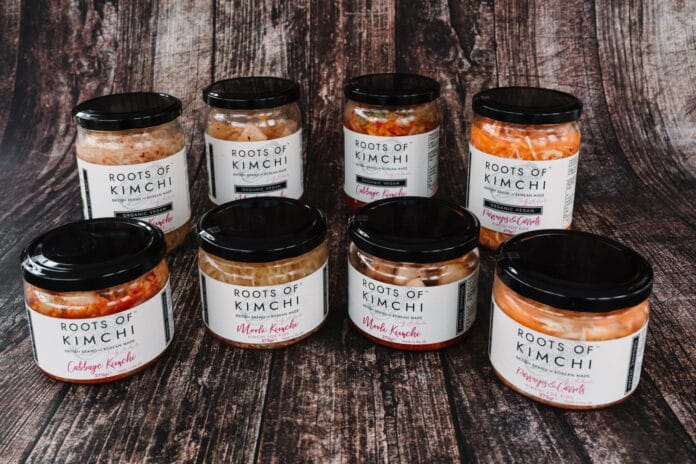 Roots of Kimchi is a newly launched company producing authentic kimchi using fresh, natural ingredients and traditional family recipes to bring 'the true flavours of Korean kimchi' to British consumers.
Described as 'a perfect fusion of Korean heritage and modern British artisan production', Roots of Kimchi offers both organic (certfied by the Organic Food Federation) and non-organic options in a range produced in small batches by a Korean chef in the UK. There is even an option created especially for children's palates.
The initial offer, which is available in 275g and 475g glass jars, comprises:
Organic Vegan Cabbage Kimchi – the staple Korean kimchi with bold, rich, wholesome flavours
Organic Vegan Mooli Kimchi – another favourite from the tables of South Korea, this is crunchy and slightly sweet
Organic Vegan Mooli Kimchi for Kids – designed especially for children, this offers a slight twist on traditional radish kimchi and is made from crispy shredded organic mooli
Organic Vegan Parsnips & Carrots Kimchi – naturally sweet and crunchy
Vegan Cabbage Kimchi
Vegan Mooli Kimchi.
Roots of Kimchi is the brainchild of Midlands-based entrepreneur Robert Peacock and Korean-born chef Seo, who identified a gap in the market for traditional organic Korean kimchi in the UK market.
"Many British people will never have heard of kimchi, but we're determined to change that," explains Peacock. "Not only is it delicious and bursting with flavour, but it offers a host of nutritional advantages as part of a balanced diet. Our Kimchi for Kids is also a particularly good way to encourage children to consume more vegetables, as it's a fun and tasty new food for them to try."
Adds Julia Davies, nutritional therapist and consultant to Roots of Kimchi: "I often recommend kimchi to my clients as a way of introducing wholesome, nutritious vegetables to their regime, and because the positive impact of kimchi on the gut and the immune system is so profound. Gut health is more important than ever these days and the market really needed an organic range of authentic kimchi. It's fantastic that the Roots of Kimchi team has delivered it. I particularly like that the range includes kimchi for children, too."