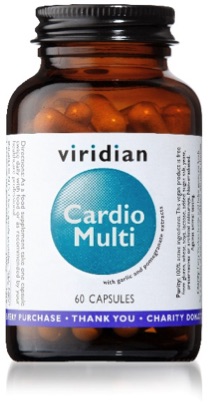 Viridian Nutrition says it is putting heart health at the top of the agenda with the recent launch of its Cardio Multi.
A finalist in the Natural & Organic Awards Europe this year in the Best New Supplement category, the vegan formulation features a blend of supportive vitamins, minerals and phytonutrients to promote cardiovascular health and function.
The carefully selected ingredients in the multivitamin and mineral complex have been scientifically studied with regards to improving blood lipid profiles, promoting endothelial health and maintaining vascular function, says the brand, and features pomegranate and garlic extracts.
Cardio Multi complies with EFSA claims regulations and includes vitamin B1, which contributes to the normal function of the heart.
The product is available in bottles of 60 capsules.
The launch of the new product coincides with the announcement that Viridian is reducing packaging on 35% of the company's 318 products, resulting in a 12.5 tonne reduction in total packaging weight in 2019.
Of the lines, 111 will shrink to a smaller size bottle, but capsule counts won't be changing. Viridian will continue to use amber glass, protecting the contents from heat and light. Viridian has also been transitioning the tamper-evident over-seal on bottles from polyethylene terephthalate (PET) to plant-based polylactic acid (PLA).