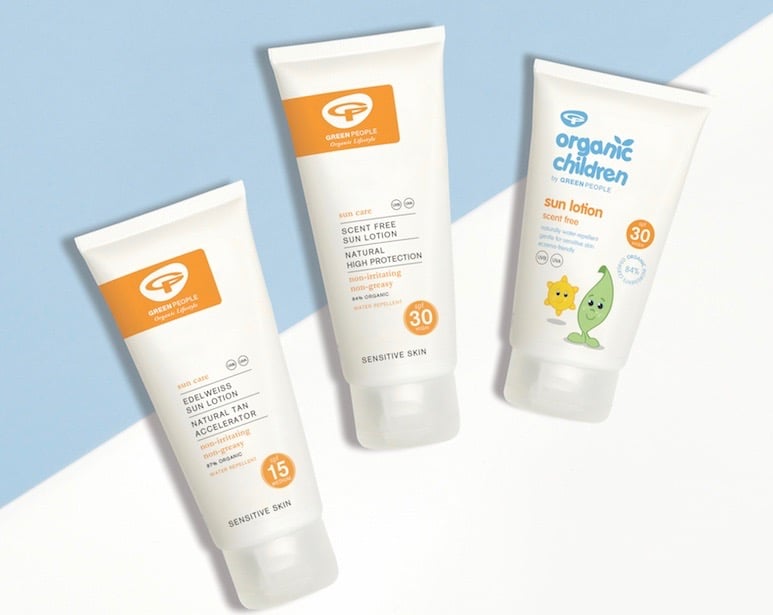 Green People has improved its sun care lotion range in time for the summer season, harnessing the benefits of free-radical fighter myrrh and UV protection booster edelweiss.
The improvements include: a new silky smooth texture designed to feel soft and comforting on the skin, with no greasiness; improved antioxidants at optimum levels; a higher percentage of certified organic ingredients; and the inclusion of soothing aloe vera to help create a hydrating skin feel.
The newly formulated range comprises:
Scent Free Sun Lotion SPF 30 – formulated using aloe vera, edelweiss, green tea and beeswax, the new formulation contains 84% certified organic agricultural ingredients. The high-factor, fragrance-free lotion is rich in natural antioxidants and perfect for those with sensitive skin.
Sun Lotion SPF 15 with Natural Tan Accelerator combines aloe vera, edelweiss, green tea and avocado. Containing 87% certified organic agricultural ingredients it has been approved by the Vegetarian Society. Ideal as an everyday SPF, the lotion is blended with inositol, a naturally occurring nutrient derived from the fruit of the carob tree which stimulates the formulation of melanin, resulting in a faster and deeper developing tan. The moisture-retaining formulation is ideal for those prone to eczema and psoriasis.
Organic Children Scent Free Sun Lotion SPF 30 uses aloe vera, edelweiss and beeswax to protect little ones from the sun's harmful rays. Ideal for sensitive skin and those prone to prickly heat, this natural lotion offers 97% UVB protection.
With every purchase of Scent Free Sun Lotion SPF 30 (200ml) and Organic Children Sun Lotion SPF 30 Scent Free (150ml), Green People will donate 30p to the Marine Conservation Society to help protect our shorelines.