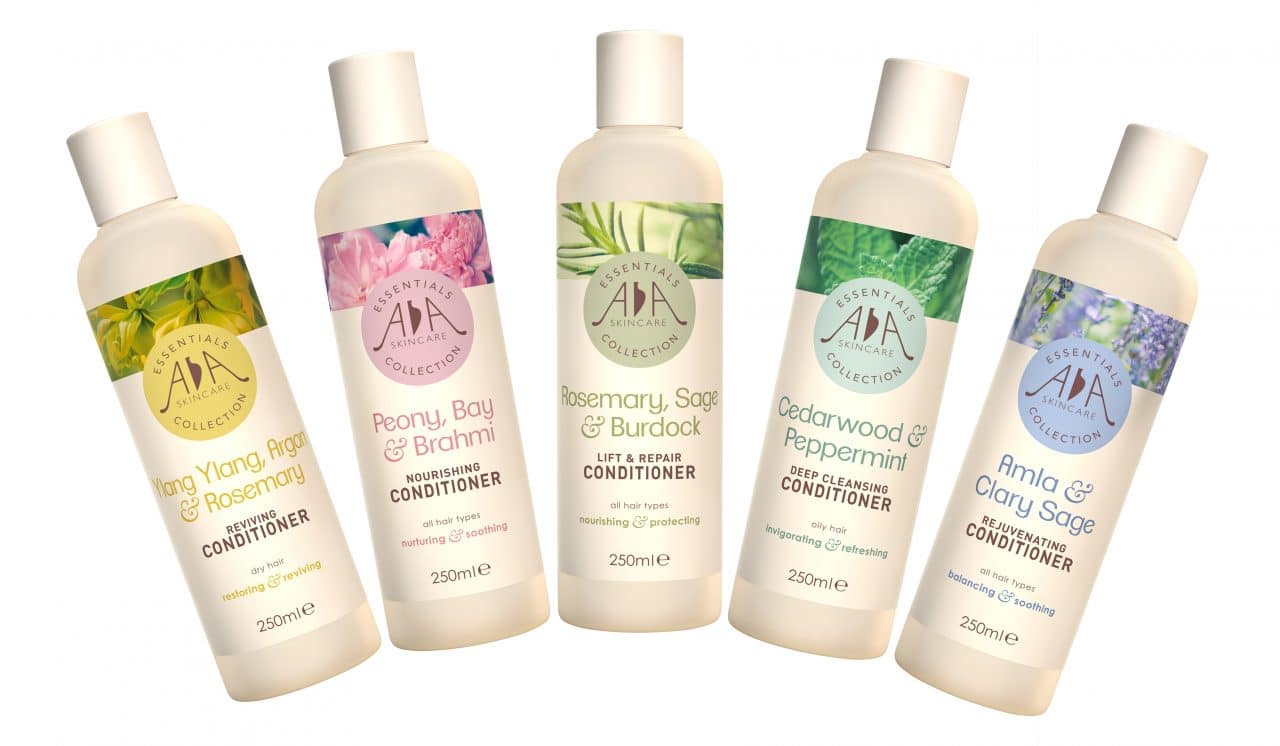 AA Skincare's latest addition is a range of five, plant-inspired natural conditioners featuring holistic, Ayurvedic herb powders designed to boost hair health.
The conditioners combine essential oils and natural extracts with healing herb powders, such as rejuvenating brahmi to thicken hair, vitamin C rich alma to strengthen roots, conditioning bhringraj to encourage hair growth, and tulsi to aid scalp irritations.
Rosemary, Sage & Burdock Lift & Repair Conditioner is an antioxidant rich conditioner for all hair types to help repair damaged hair and promote a healthy scalp. It combines rosemary and sage essential oils with amino acid and calcium-rich burdock to boost hair follicle growth and strength along with basil, bay laurel and geranium.
Amla & Clary Sage Rejuvenating Conditioner is a balancing and moisturizing conditioner with vitamin C rich amla (Indian gooseberry), clary sage and bhringraj powder to nourish all hair types and strengthen roots.
Peony, Bay & Brahmi Nourishing Conditioner is a calming and balancing conditioner with anti-inflammatory natural peony extract and tulsi powder to help boost hair growth and maintain scalp health for all hair types
Ylang Ylang, Argan & Rosemary Reviving Conditioner is nutrient rich to help repair split ends and encourage softness, shine and volume for dry hair. Nourishing and balancing ylang ylang encourages a healthy scalp while conditioning argan oil and nutrient-rich cucumber extract help repair split ends.
Cedarwood & Peppermint Deep Cleansing Conditioner is an invigorating, naturally antimicrobial conditioner for oily hair, which also adds volume and shine. It contains hydrolysed wheat, soya and corn protein which are all rich in amino acids to strengthen, condition and add shine to hair as well as to help retain moisture and boost growth.
Commenting on the new conditioners, Woody Evans, director at AA Skincare, says: "Our new, plant-inspired conditioners leave hair healthy, soft and manageable and complete our aromatic haircare range – all featuring Ayurveda herb powders, time-tested, holistic ingredients that have played a part in healthy haircare in India for more than 5,000 years.  From solving scalp problems through nourishing hair to promoting growth, our new range will help condition and protect hair as well as boost scalp health."
The range is free from parabens, sulphates and artificial fragrances and packaging is fully recyclable.