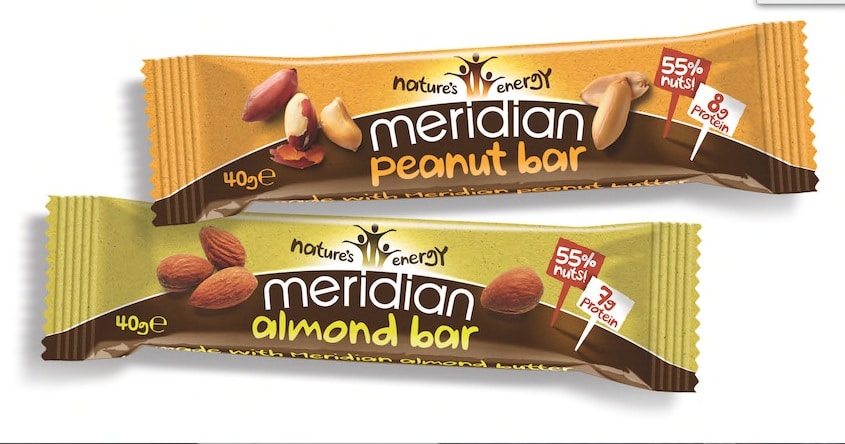 Nut and seed butter specialist Meridian Foods is making its first push into the health snacks category with the launch of two protein-rich nut bars.
The new bars – Meridian Peanut Bar and Meridian Almond Bar – are made with the company's own nut butters and will appear on shelf in Holland & Barrett and independent health stores from April.
The 40g bars are suitable for vegans and are gluten, dairy, soya and wheat-free. Protein (8g in the  peanut bar, 7g in the almond bar) is provided naturally from Meridian's roasted nuts and not by the added processed protein found in many protein and recovery bars.
Darren Robinson, sales manager at Meridian Foods comments: "We are the first peanut butter brand to move into the healthy snack bar sector and believe that consumers will appreciate the simple goodness that can be found in the new bars.
Meridian has teamed up with registered nutritionist, Anita Bean, a sports nutrition specialist and author of The Complete Guide to Sports Nutrition, to launch the product.  Bean comments: "These bars are an ideal recovery food as they provide protein and carbohydrate, a combination that promotes speedy muscle repair after exercising, and replenishes muscle fuel."
Meridian has seen sales of its nut butters soar by 90% year on year according to the latest Nielsen* figures. Demand for alternatives to peanut butter unusual nut butters like almond and cashew is at an all-time high and the British-owned company says it is expanding to keep up with demand at its production facility in north Wales.
The news bars will retail at £1.19 for the Peanut Bar and £1.49 for Almond Bar.