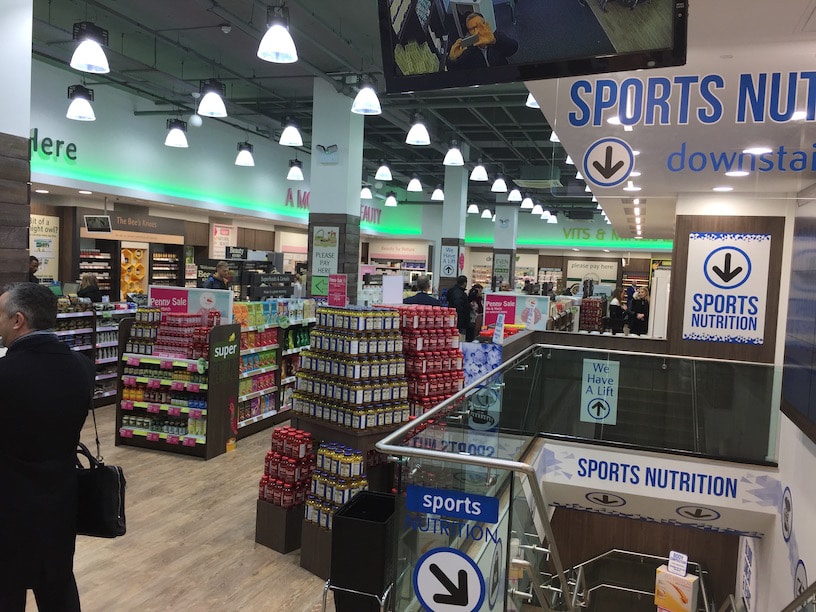 Holland & Barrett International opened a new flagship store at Marble Arch in London this week (Thursday 19 January).
At 6,000 sq ft, the new store – the fourth to be badged as Holland & Barrett More – is the retailer's biggest.
Continuing the new contemporary look and feel created for the first Holland & Barrett More store in Chester, Marble Arch adds bold new colour accents to offset the signature dark wood theme.
Holland & Barrett has been attaching increasing importance to the trend in experiential retail. It says the More format allows it to experiment with new shopping concepts – several of which have proved successful in Chester, including vegan nail bars, on-the-go protein shake stations and fruit and nut pick n mix stations.
The Marble Arch store features a range of on-the-go products intended to suit busy London lifestyles as well as a whole floor of sports nutrition products, where consultations can be booked with the store's in-house nutritionist and body analysis service. H&B says the aim is to increase accessibility to a larger and broader audience, "moving away from the reputation of sports nutrition as a niche area".
A large supplements and remedies section is, unusually, located at the back of the store. At Marble Arch, food is brought to the front and given high prominence. In addition to a deep range of branded foods and a chilled and frozen offer, an olive bar and 'cereals to go' station signal new foodie intentions.
Beauty and spa also gets special attention and incorporates a range of interactive features, including a large Beauty Kitchen feature, nail and make-up bars and 'Scent-sensation' fixture.
The opening of the Marble Arch flagship store follows a long period of consistent growth for the Nuneaton-based international retailer. It currently opens around 50 new stores a year in the UK and Ireland in addition to its rapid expansion programme for owned and franchised stores across its 11 overseas markets. There are now over 1,100 stores under the brand globally, of which more than 300 are located in markets as diverse as Kuwait and India, Singapore and China.
Holland & Barrett International's CEO Peter Aldis, said: "Today's opening marks an important milestone in our ambition to be an international business and brand that generates £1 billion in sales by 2020.  Holland & Barrett Marble Arch is five times larger than our average stores and being able to open in such a premium central London location shows our confidence in the growing demand for our innovative health and wellness propositions on the high street."
"We are particularly proud to be announcing our healthy beauty range is now 100% microplastics-free. We were the first high street retailer to ban plastic bags and the first to ban parabens and sodium lauryl sulphates from all of our beauty products.  Consumers have responded very positively to our broad ethical positioning in the beauty sector where we regularly outperform the market and where sales now account for in excess of 10% of turnover."
" … it is the younger beauty consumer who has the greatest propensity to cross-shop our store"
Speaking to NPN for an upcoming interview, Aldis said that Holland & Barrett's big push into natural beauty was helping it reach a younger, female customer. "We know that from our 10 million-strong loyalty programme, and it is the younger beauty consumer who has the greatest propensity to cross-shop our store."
Commenting on the H&B store-within-a-store programme with Tesco announced last year, Aldis said: "With Tesco, our ambition is to create opportunity for footfall that doesn't involve cannibalising our other stores. We know from our experience to date that it is dedicated Tesco consumers go out of town shopping we're getting – most people shopping in these stores don't have one of your loyalty cards already. So we're fishing in a fresh pond. But it's great for Tesco too because Holland & Barrett is a strong brand  and it stands for quality, an ethos that we believe in, and products that we passionately believe in as an industry."