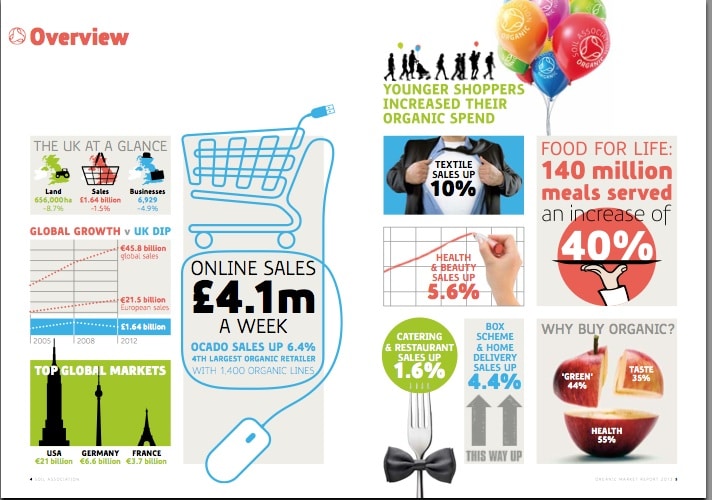 The latest Organic Market Report confirms that the sector faces challenges but also reveals signs of revival – and offers the prospect that independents could lead organic back to growth.
The latest Soil Association Organic Market Report shows that total organic sales in the UK fell by 1.5% to £1.64 billion in 2012.
Set alongside concerns about falling UK organic production and a faltering commitment to the category from the multiples, that top-line figure from the just published 2013 report doesn't at first sight look very heartening
But delve a little deeper into the data and more encouraging signs emerge – and for independent retailers, box schemes and specialist organic brands the story is really quite a positive one. All saw an increase in sales in 2013. Other positives include a recession-busting performance from the organic textiles (up 10%) and health & beauty  (up 5.6%) categories.
Britain v. the rest of the world
This year's Organic Market Report highlights again the sharply contrasting fortunes of the UK organic scene compared to, well, almost everywhere else in the world. In fact, global sales of organic have increased by 25% since the start of the economic downturn in 2008, virtually the same percentage of the decrease in UK sales over the same period.
The Soil Association believes these figures show that long-term prospects for the UK organic scene is good if Britain can learn from what is done differently in Europe. Stronger governmental and institutional support for organic would be a big help, it says, but the industry will need to communicate the benefits of organic better to consumers "by telling a distinctive but simple story that positions organic as a natural, common-sense, value-for-money choice".
Retail rivalry
Supermarkets remain the dominant retail channel for organic sales, accounting for 70.7% of total sales. In 2012 the major multiples recorded organic sales of £1.16 billion, down 2.4% on 2011. The Soil Association says that a "disproportionate reaction" by some supermarkets – who slashed availability of organic lines – is continuing to depress sales. But there is a striking difference between the performance of supermarket own-label organic lines (down 11.2%) and branded products (up 2.2%). This indicates that if the supermarkets made a renewed investment in their own-label organic offer there is a real opportunity to rebuild sales.
Online opportunity
The additional silver lining here is that as shelf-space for organic is cut by supermarkets, so online sales are booming. Among the multiples, Ocado – which now lists 1,400 organic products – saw organic sales rise 6.4%. Box scheme-based operators are doing even better, with Abel & Cole (whose growing range includes dried goods, meat and fish, and cleaning products) up 20% and Riverford up 8%.
While overall, independents recorded a more modest 1.0% increase in sales, many indies – particularly specialist retailers in urban areas – reported very respectable growth as they have picked up customers from the supermarkets.
Organic to the core
The report shows that a 'committed core' of organic consumers continues to account for a large proportion of organic purchases. A third of shoppers account for well over three-quarters of spending (85%), while just 6% of shoppers are responsible for half of all sales. Younger shoppers – ethically aware under-35s – spent more on organic in 2012 (accounting for16% of total purchases). Students also revealed themselves to be another important group. But middle-income C1 shoppers spent less, in line with the characterisation of the 'squeezed middle'. Geographically, London and the South East are the biggest organic hot spots, commanding 45% of all organic sales.
Reasons for buying
The biggest motivations for buying organic are about 'me and my family' (healthier, fewer chemicals, unprocessed etc), with more altruistic values (better for the environment, kinder to animals) coming a little further down the table.
But organic consumers are also becoming more interested in food quality, provenance and buying local – and they are twice as likely as the average shopper to buy Fairtrade products. Occasional users are more likely to buy organic as treats or for special occasion cooking.
Bullish brands
Sales of branded organic products were up in 2012. Jim Twine, the Soil Association's business development director (interviewed opposite), told NP: "The brands have succeeded because of their ability to tell a story and make organic the essential underpinning value – a form of reassurance if you like – not the whole story, so they will talk up taste, quality, heritage and so on".

"The brands have succeeded because of their ability to tell a story and make organic the essential underpinning value – a form of reassurance if you like – not the whole story, so they will talk up taste, quality, heritage and so on"

Recipe for revival
The Soil Association says that restoring growth in the organic market will require significant support from Government. "It's high time that our politicians looked long and hard at how the organic sector is supported in Continental Europe," it says. And it calls for a commitment from all links in the supply chain".
The organic charity also urges processors and producers to keep on communicating the organic message, and the big retailers to invest more in their own-label ranges and provide greater promotional support for organic. And it's asking organic shoppers to "go the extra mile to support their local organic shops – "it's a case of 'use me' or 'lose me' for smaller local retailers and producers; they need committed consumers to survive."