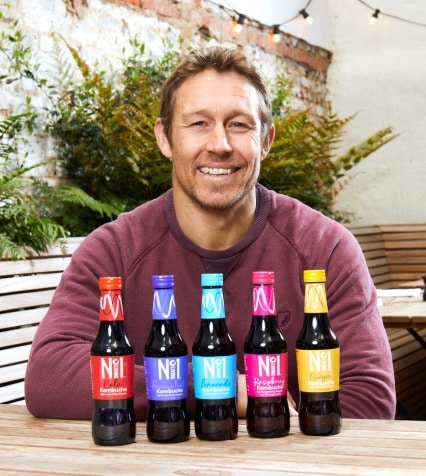 Jonny Wilkinson (pictured) has launched No.1 Living, a rebrand and extension of his original No.1 Kombucha range. With two new SKUs — Cola Kombucha and Lemonade Kombucha — the range is now certified organic.
Vivera has announced the introduction of its 100% fat-free vegan Bacon Pieces to the UK, initially exclusive to Sainsbury's supermarkets.
Captain Kombucha has created two new flavours of its naturally fermented drinks range: Cayenne Pepper and Pineapple Peach, available in 400ml bottles.
Natures Plus newly launched Collagen Peptides contain the six major collagen types in a powder form for easy and quick absorption. The product offers 10g of collagen per scoop.
Plamil's three new 35g snack bars have no added sugar and are available in Finest Dark Chocolate; Espresso Dark Chocolate; and Cool Mint Dark Chocolate.
New from Biotiful Dairy comes Kefir Quark with Compote in three variants: Kefir Quark with Strawberry & Rhubarb Compote; Kefir Quark with Raspberry Compote; and Kefir Quark with Black Cherry Compote.
The Collective has launched a limited edition Piña Colada Gourmet Live Yoghurt, the first in its line-up of cocktail-inspired flavours that form part of its new Happy Hour campaign.
Booja-Booja has won four Academy of ChocolateBronze Awards for its Hazelnut Crunch, Almond Salted Caramel, Around Midnight Espresso and Fine de Champagne Organic Chocolate Truffles.
Morrisons has become the first major retailer in the UK to stock Loma Linda's plant-based seafood alternative TUNO.
Sunflower Family has introduced a new Organic Sunflower Mince, a high protein meat-mince alternative that is made from 100% organic sunflower seeds and needs no pre-soaking.