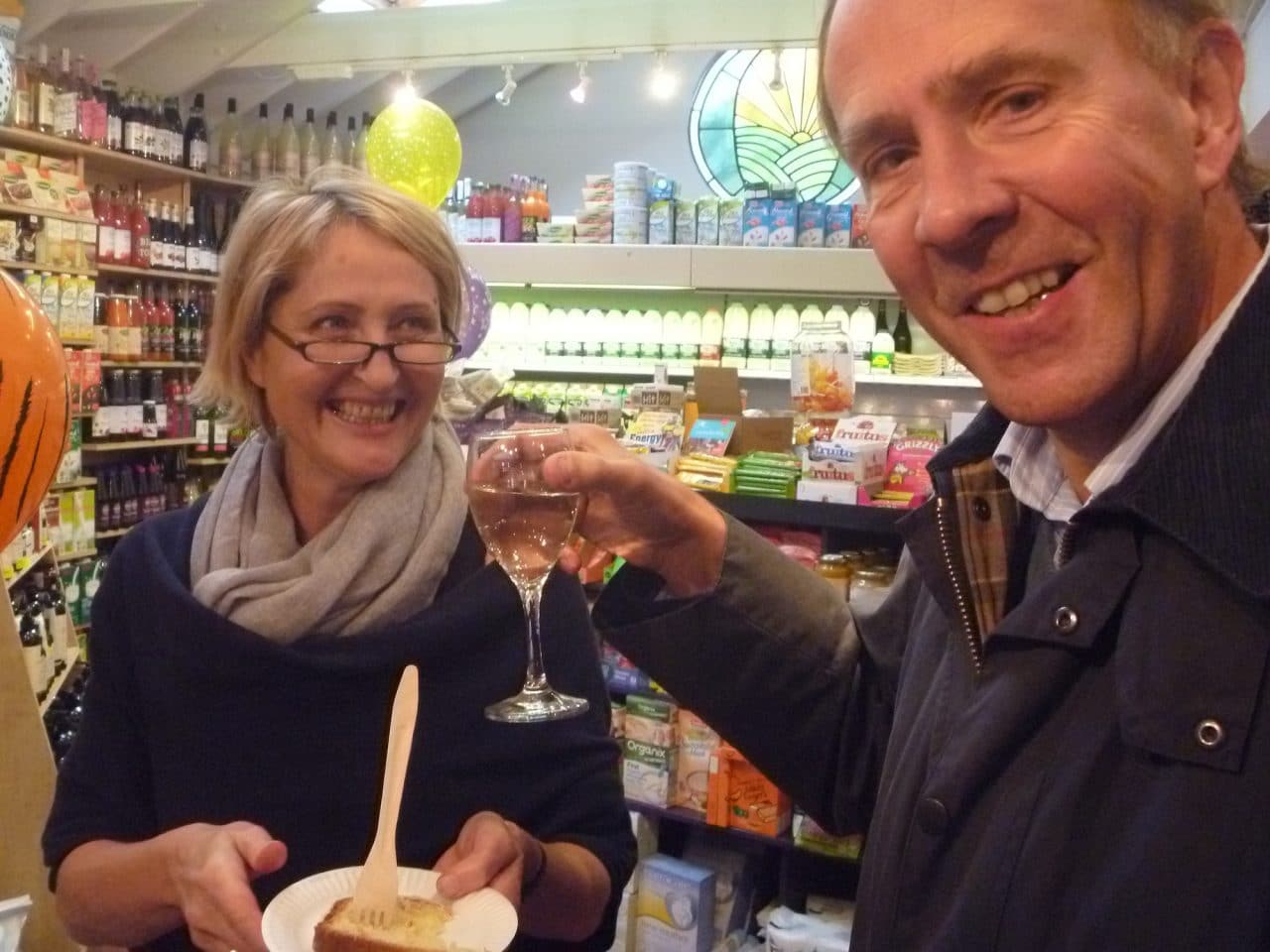 Michael Wale recently paid a visit to Oliver's Wholefood Store in Kew, West London, to join in the 25th anniversary celebrations and talk to owner Sara Novakovic about her time in the industry
Oliver's Wholefoods Store, run by Sara Novakovic, will be 25 years old this year and just before Christmas it staged a celebration to register this fact with its customers.
Home-made cake and organic wine was handed to shoppers as they crowded in for their Saturday shop. Some of the customers at the celebration were at the shop the first day Sara tentatively opened the doors. Among these was film producer and advertising executive Bill Shepherd, who shops regularly there for his actress wife Dame Eileen Atkins.
He recalled: "It was the right sort of time. People like myself were in search of organic food and couldn't find it. The thing I thought at the time was how terrific Sara was. It was like she had opened up a new country."
"I had been managing a health food shop in Fulham, and Oliver the guy who ran it said he'd like to go into management with me," explained Sara. "I agreed, but the day we exchanged contracts on the shop Oliver was diagnosed with pancreatic cancer. He died within four months and I had to buy out the executor, which I did by borrowing money from my friends. I didn't know how to run a business, I just knew how to run a shop."
When it opened, Oliver's was a quarter of the size it is today. The property is leased, but Sara has been able to enlarge it by buying the next door shop's lease and building on a piece of waste land owned by the landlord at the back of the shop.
The start saw it as basically a wholefood store rather than the model it is today – where 90% of what is sold is organic – because Sara could not find enough organic suppliers, even of basics like sugar and milk.
She feels what really turned matters around for her store in a big way was the outbreak of BSE in 1996: "It was the beginning of people not trusting the food industry," she said.
Of the store today, Sara says: "I think we've got the best organic range. People come from miles away to shop here." She also thinks that there is "a big food conversation" happening in the country. "Every time you switch on television there is a programme about food being cooked by chefs. 20 years ago all of us daring to have a conversation about food were thought to be extremists or mad. Hugh Fearnley Whittingstall has done an enormous amount to make people aware of where their food comes from, such as pushing free-range chickens and eggs. Food is the new rock n' roll."
Looking at the shelves in the shop stacked with every sort of organic food you should ever want, you wonder why the organic industry as a whole felt the effects of the financial squeeze so much. Sara's view is that the Blair Government missed a trick when they should have taken more notice of the then leader of the Soil Association, Patrick Holden, who himself became friendly with Blair. She thinks organic was allowed to become a 'lifestyle' and that when the financial crunch came the 'lifestyle' dropped it.
She also believes that the "big boys" entered the market. "Like Heinz producing organic tomato sauce. A lot of people stopped trusting organic. I think people are more interested in 'local' than organic." With this in mind, she sources from as many local suppliers, usually organic, as possible.
Sara has just become a director of the locally-based charity Cultivate London, based in Brentford, a mere crow's fly from her shop in Kew. Cultivate London employs and trains unemployed young people, preparing them for possible employment in horticulture.
The charity grows food on disused land in West London, where it erects polytunnels and raised beds. Sara enthuses: "I'm already their biggest customer. I buy a lot of their bagged salad, and it sells really well."
Sara sees her connection with Cultivate London as the way her future lies. The shop will still come first, but she points out that "there's a big food movement happening in London, employing people who perhaps could not be employed before. They enjoy growing food and seeing the results. This can also lead to possible permanent employment.
Meanwhile, not only was there a choice of home-made cake and a delicious organic Prosecco at the Oliver's party, but packed goody bags as well. These are also handed out at Christmas, with Sara explaining the reasoning for doing so: "We get as many of our suppliers as possible to give us their products to put in the bags.  Often customers are tasting something they have not bought before, but will buy in the future, so it's good for the producers as well as the shop."
Yet more proof that Sara Novakovic knows how to make organic saleable and successful.