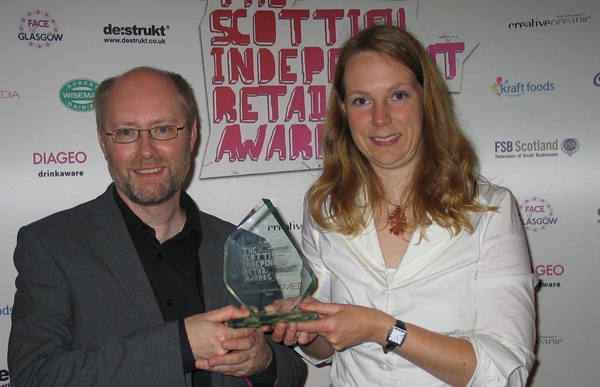 Stirling Health Store has scooped the award for 'Best Scottish Independent Retailer Health & Lifestyle 2012'.
The prestigious awards, now in their third year, aim to highlight the value of independent retailers to their communities, showcasing and rewarding entrepreneurial spirit and business.
Stirling Heath Store has been serving the people of Stirling for over 30 years and owner Josine Atsma says she is delighted that the store team's hard work has paid off. The store was nominated for the same award last year but was pipped to the post by Hannover Health from Edinburgh.
Atsma told us: "I'm so proud to have won this award, especially since I only took over the shop last year April. Together with the shop's manager, Stuart Ainslie, we had a great evening – and even better when we heard we had won!"
Describing the store, she added: "We are quite a small shop (around 660 sq ft) but we sell a wide range of foods, supplements, toiletries and homebrew. We aim to give a personal and well-informed advice and the customers who voted for us say they appreciate the wide range of organic and dietary foods and the friendly atmosphere. I have also set up a group of independent retailers (CISS), which the judges might have liked.