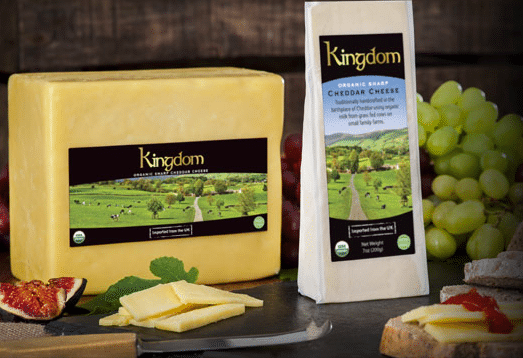 Wyke Farms and The Organic Milk Suppliers Cooperative (OMSCo), have announced that they are deepening their partnership to expand organic cheese production, distribution and sales.
Wyke Farms, the UK's largest independent milk processor and producers of renewable energy, and and OMSCo plan to more than treble their already extensive range of organic cheese, that totalled over 1000 tonnes last year. The new arrangement will see Wyke Farms sourcing all the milk requirements for organic cheese production from OMSCo, whilst OMSCo will increase its range of specialist organic cheese made by Wyke Farms for export markets, and also take a share in the ownership of bulk cheddar stocks for a proportion of domestic and export sales.
The additional milk will allow Wyke Farms and OMSCo to capitalise on the growth of the organic market on a global scale both to EU spec and USDA spec; something unattainable previously due to restricted milk supplies. The arrangement also allows Wyke and OMSCo to jointly own the maturing cheese stock so that cheddar stock can be built to supply a world market looking for longer matured cheddars with more flavour.
Rich Clothier, managing director and third generation family member at Wyke Farms, comments: "This arrangement means that Wyke and OMSCo have a fit for the future vehicle to supply the best quality organic cheddars to the world market. Our combined scale and efficiency makes us the logical supply partners for organic cheddar. It gives us the capacity and milk supply necessary to expand organic cheese production rapidly. It also gives us access to OMSCo's different milk types to produce organic cheddar with different attributes and with access to different markets. It will complement our existing business which currently produces over 14,000 tonnes of cheddar annually, entirely from our own source of renewable energy."
OMSCo's managing director, Richard Hampton says: "OMSCo has for a long time supplied raw milk to Wyke for organic cheese making, and Wyke Farms have also produced organic cheese, skimmed milk and butter on our behalf using our specialist milk types for markets such as the US, where we have a unique accreditation and access. This new chapter presents an exciting opportunity to drive our joint business together, supporting the development of cheese stocks as well as allowing us to further develop our supplies of UK organic whey for use in our rapidly expanding specialist ingredients business. This is an example of OMSCO working more closely with our markets and end users of organic products across the globe."
Picture: OMSCO's Kingdom brand of cheeses aimed at export markets