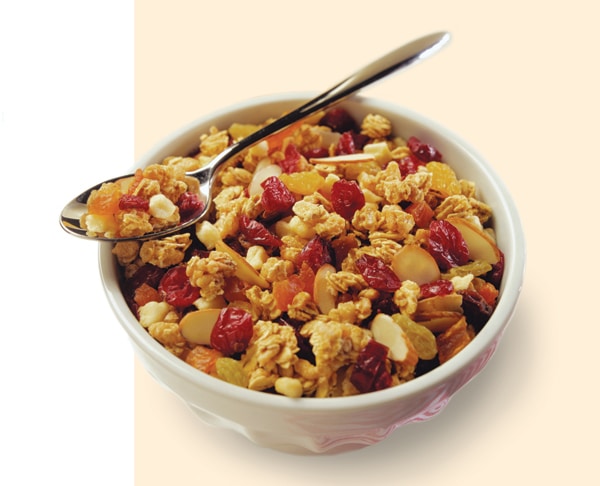 When it comes to breakfast products health store customers are looking for something different. Jim Manson looks at what's hot at the breakfast club.
What's there to say about the breakfast category — It's just mueslis and oats isn't it?
That's a reaction you still come across occasionally. But most natural products retailers recognise that, if you get the breakfast category right (which means offering your customers something different ), you'll be doing your bottom line a big favour.
A staggering 94% of breakfast cereals are sold by supermarkets. Comments Camilla Barnard at porridge and muesli brand Rude Health: "The most likely explanation for this extraordinary grip the supermarkets have on the category is that these products are a true staple, something people grab off the shelf every time they do their weekly shop. But whatever the reason, the reality is that people often buy breakfast cereals in sleepwalk mode."
That, says Barnard, means that you need to do even more to capture the customer's interest. So what do health store retailers need to be doing to make the breakfast category work for them? "It's always going to be down to the style of the individual store, but I think for independents it's about offering a different proposition. It might health, it might be indulgence."
View from the shop floor
Comments Julie Godwin of Natural Health in Hertford and Welwyn: "People who come into Natural Health are coming in mainly for health reasons. So we see a lot of interest in healthier grains — spelt, quinoa and so on. Quite a few of our customers want to mix their own mueslis, adding flax seed and hemp. We do well with dried fruit and berries, for example, gojis. So giving customers the wherewithall to make custom breakfasts — that meet their own health needs — is important.
"Of the branded products, we're doing well with Nature's Path, but some of the other better-known brands — the ones in all the supermarkets! — don't really work for us"
Alan Martin at Food for Thought in Kingston and Guildford adds: "We try to match up our offer with our customers' needs and interests. We are very keen on the GL system — as distinct from GI — and have worked with Patrick Holford in this area. So we like the Lizi's range which uses well-balanced low-GL ingredients.
Alan Martin also believes that in a crowded market breakfast products need a standout feature, or 'plus factor'.
On the go
One plus factor is convenience. But until recently, this has largely manifested itself in the form of bars. But young brand Grasshopper has been breaking the mould with its new 'porridge in a pot' products.
Grasshopper currently has three such products — Cinnamon & Raisin, Chocolate (made using Green & Black's chocolate) and Coconut & Date. All three products are organic and retail at £1.99.
"Natural and organic flakes, puffs and crunches are the closest thing to mainstream breakfast cereals. But that's usually where the similarity ends — the strength of these products in the health food setting are their nutritional credentials"
The range is sold on its combination of convenience format and natural ingredients. Comments co-founder Fleur Emery: "We originally made the products because we wanted something to take with us when we went surfing and camping. With the Grasshopper pots everything is there — you just add hot water. So the products really appeal to people with an active lifestyle — but also those who want a healthy breakfast at their desk."
The reinvention of porridge
The porridge revival has been the standout feature of the last couple of years in the breakfast category. And it's showing no obvious signs of slowing down — "porridge is selling like hot cakes!" confirms Goodwin.
Rude Health's Camilla Barnard says the current popularity of porridge is partly about revival, partly about reinvention. She says: "Traditional porridge is fantastic — we have our Daily Oats — but there's a growing interest in speciality porridges. So premium products with really delicious and healthy bends of seeds, fruits and grains are all popular. Our Fruity Date product is selling four times as much this winter, and our Top Banana is also doing well (organic jumbo oats topped off with gooey Fairtade banana, hazelnuts and maple flakes)."
Other than the cold weather, interest in porridge is being stimulated by events such as the Golden Spurtle (a spurtle being a traditional porridge spoon), aka the World Porridge Championships. This takes place — where else — in Scotland, but there is now a London event to cater for porridge devotees south of the border.
Muesli belt
Muesli remains a health food staple, whether it's make-your-own or branded. Key brands for the retailers we spoke to included Alara, Pertwood and Dorest Cereals.
One muesli range that has had a makeover this winter is Suma's. The most obvious change is the packaging — the whole range has been repackaged into boxes. This is aimed at making the packaging completely recyclable (it's also made of recycled materials), and store better on shelf. But the changes don't just stop there — there are three new delicious recipes in the form of Super 4U Berry Muesli, Vine Fruit Muesli and Omega Muesli (with a blend of linseeds, pumpkin, sesame and sunflower seeds giving the latter its omega credentials."
Going for Granola
Britons are continuing to get a taste for Granola. One of the big (and nicest) success stories here is that of the Lizi's range (mentioned earlier).
New brand on the block Perfekt has been attracting a lot of interest. Launched by Karolina Gardiner, the five-product-strong range combines "nutrient rich, low GI ingredients in the ideal ratio of protein, essential fats and carbohydrates". This emphasis on nutritional profiling has grabbed the attention of food and health writers, while slick packaging and branding is ensuring the range stands out on shelf.
Pertwood Organic also has its Organic Granola with Sultanas and Nuts — all toasted with coconut and honey.
Flakes, puffs and crunches
Natural and organic flakes, puffs and crunches are the closest thing to mainstream breakfast cereals. But that's usually where the similarity ends — the strength of these products in the health food setting are their nutritional credentials. It might be organic, lower-sugar, salt or gluten-free, or various combinations of these.
These products also appeal to children and are a good way to encourage heathier eating. The Nature's Path and Envirokidz ranges perform well here, while Doves Farm and Rude Health offer puffs and flakes with adult appeal.