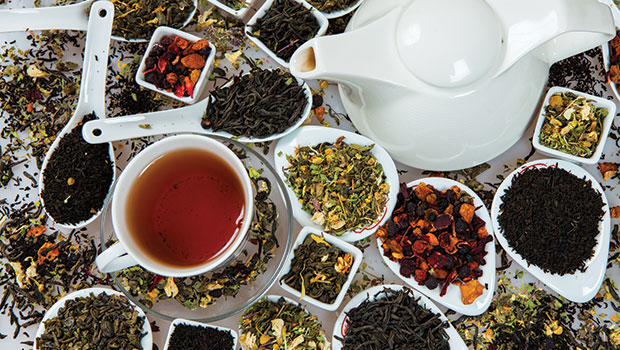 While sales of black tea falter, the market for health and wellness teas is flourishing as consumers continue to demand more from their brew. Jane Wolfe mugs up on the functional tea sector
The health-giving properties of tea are well known, with studies showing that regular consumption can offer benefits including lowered cholesterol, improved cardiovascular and cognitive function, reduced inflammation and help with weight management. 
However, according to Kantar Worldpanel, in 2017-18 Britons drank almost 870 million fewer cups of tea compared with 2016-17 – a fall attributed to a decline in traditional black tea sales. But luckily for health stores, green, herbal and functional teas are experiencing growth, and a steady flow of new and innovative products are coming to market to meet consumer demand for condition-specific beverages.
There certainly are an ever increasing number of functional teas available to cater for particular health concerns or to give an extra boost when needed, through the inclusion of herbs, superfoods and/or vitamins. With varieties tackling issues ranging from stress to sleep, slimming to beauty, digestion to energy, there's something to appeal to every customer.
Fringe benefits
Mintel research has found that health or functional benefits provided by tea garner high interest from tea drinkers, with 72% interested in at least one benefit. "While herbal teas have a long tradition of being used as remedies, operators in green and black tea have started eyeing up the wellness market, launching teas with added herbs, vitamins or minerals that have EFSA-approved claims," it says.
The rising trends towards more health-conscious diets and lifestyle means the market for functional teas is growing rapidly. Without doubt millennials are driving the growth as they are typically more health conscious – seeking better quality and more ethical products
It seems the younger generation is most keen on the health benefits provided by tea, with 84% of 16-34s selecting at least one claim, says Mintel. But while those over 55 aren't so interested in functional claims overall, their interest is on par with younger consumers when it comes to digestive health, heart health and brain/cognitive health.
De-stressing/calming is the function that attracts most interest, adds Mintel, (31% of tea drinkers), with interest highest among women and young people, peaking at 45% among women aged 16-24; and again teas with detox or metabolism-boosting benefits resonate mostly with young women, peaking at 31% and 37% respectively among women aged 16-24 (the group typically being the most likely to diet). 
"The rising trends towards more health-conscious diets and lifestyle means the market for functional teas is growing rapidly," explains Suranga Herath, CEO, English Tea Shop, whose Wellness Tea collection includes Energise Me, Sleepy Me and Detox Me. "Without doubt millennials are driving the growth as they are typically more health conscious – seeking better quality and more ethical products." 
Louise Cheadle, co-founder of certified plastic-free brand teapigs, concurs: "Alternatives to standard black teas have really started to grow in recent years. More and more consumers are looking for drinks that give them specific health benefits, and demand for healthy green and herbal teas is growing, especially amongst younger tea drinkers."
Changing perceptions
This trend has resulted in a shift in perception of tea, and new ventures are appearing, says Herath, including tea pubs. "Additionally, more people are purchasing speciality and functional tea from coffee shops, with figures from Allegra World Coffee Portal showing sales growth of more than 10% in 2017," he says.
While mainstream tea as a whole is declining, customers are more interested in provenance, health and quality. There is also more of a cross over between the world of pharmacy, health food and wellness fixtures in food halls. Consumers are again looking for a natural remedy to medicine
"The fact that retailers (both large and small) have pinpointed a functional category shows that they are identifying functional teas as a sector in itself," adds Cheadle. "Products that were previously only seen in more specialist health stores like Whole Foods Market are now making their way into the mainstream multiples market. Coffee shops and cafés are also reflecting this by popping functional teas on their regular menus too."
"Coffee was quick to reinvent itself by adding the cool factor, introducing variety, appealing to new audiences and capturing the imagination of the consumer by talking about provenance," she adds. "While mainstream tea as a whole is declining, customers are more interested in provenance, health and quality. There is also more of a cross over between the world of pharmacy, health food and wellness fixtures in food halls. Consumers are again looking for a natural remedy to medicine, and businesses are wisely adding these products to their shelves and menus."
Cheadle has noticed three key trends people are looking for in drinks: energy, sleep and cleansing. "Retailers and café owners now seem much keener to promote these products – especially in January or leading up to the summer when many people are on health kicks." With this in mind, Teapigs recently launched a range of feel-good teas, which include Snooze, Up Beet and Clean N Green.
A record cuppa
Guinness World Record athlete Tom Whittle is the driving force behind one of the latest brands to enter this sector. The Athletic Tea Co produces tea blends based on yerba mate and specifically designed to enhance sporting performance.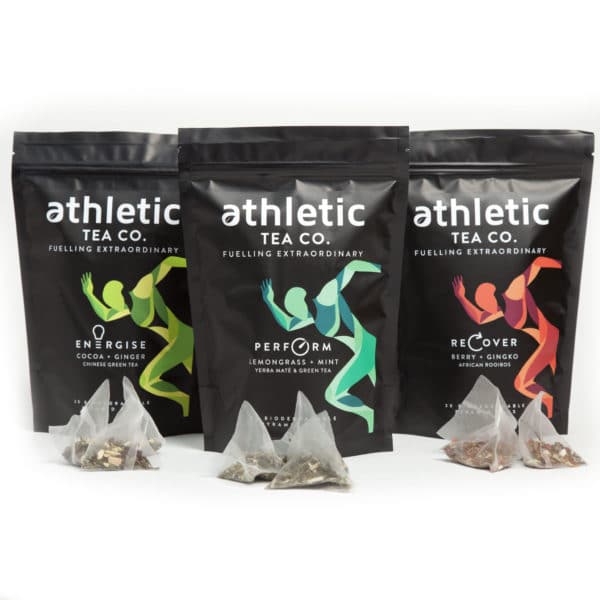 When cycling the length of South America for charity in 2017, Whittle struggled to cope with the spikes and slumps in energy that coffee and sugar-based drinks created, but when he reached Argentina he discovered yerba mate. "The caffeine in yerba mate is released over a much longer period, avoiding jittery shakes and creating a calm and focused athlete," explains Whittle. 
"As soon as I got back home I teamed up with leading nutritionists and tea tasters to create Athletic Tea. We tried over 500 blends with the goal of creating a slow, steady release of energy for everyday athletes."
To test the effectiveness of the blends ahead of launch, Whittle used them during his attempt at completing 17 marathons in under 12 days to set a new world record for the fastest crossing of Iceland. "Using the teas, I didn't suffer from any crashes and noticed a marked improvement in comparison with taking coffee and sugar-based drinks. I beat the record by two days."
The range has been used by elite sports teams, including Manchester United, Manchester City, Tottenham Hotspur, GB Triathlon and Wales Rugby Union.
Much ado about matcha
The market for matcha is booming too, with a raft of products being launched that incorporate the tea in some way, and even matcha cafés are opening (see Retail News p11). Its popularity may well be due to media focus on its high content of vitamins, minerals and amino acids. More specifically its very high antioxidant content (137 times more in regular green tea) has led it to be used in a number of studies into cancer.
Scientists at the University of Salford have found that matcha green tea (MGT) halts the growth of breast cancer stem cells, with Michael Lisanti, Professor of Translational Medicine at the university, stating that the study results were 'consistent with the idea that MGT may have significant therapeutic potential'.
The product used in the tests was provided by Katherine Swift, founder of organic Japanese matcha brand OMGTea. After her mother was diagnosed with breast cancer, Swift became involved in supporting Lisanti's research. "Professor Lisanti has a real interest in antioxidants, and I knew there was an antioxidant in green tea called EGCG that had been shown to fight different types of age-related diseases including cancer," says Swift. "I wanted mum to drink the green tea with the most EGCG in it, and because of the way it is processed and cultivated, matcha was that tea. I had no intention of setting up a green tea company, but it gave us energy, we felt so good, we felt like we were doing something really positive for our health."
She adds: "Matcha is also known to increase energy levels, regulate blood sugar levels and lower cholesterol, and has the potential to be anti-ageing and detoxifying. We have also been involved in research with Chichester University which shows that matcha also has the potential to increase fat oxidation."
Reading the leaves
When it comes to the future of the functional tea sector, the outlook appears rosy. "The functional sector will continue to rise due to premiumization; there are no limits to this as tea can be paired with almost any ingredient, meaning the possibilities for innovation are endless," Herath says. "Another factor driving growth is gifting culture. No other beverage is used as a gift like tea, and the industry has an exciting opportunity to emerge as a favourite in the 'gift yourself' and 'gift your loved ones' categories."
"The average tea drinker now wants more than just a 'milk with two sugars' kind of experience – they know more about tea, they expect better quality and are happy to pay a bit more for it," says Cheadle. "This consumer demand will continue to buoy the sector while people seek products offering them functional health benefits and the chance of 'clean drinking'."
Kombucha: a fermented marvel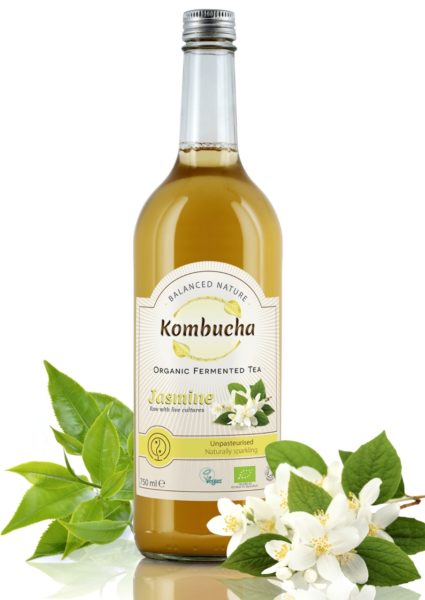 Known as 'the tea of immortality', kombucha's health benefits are increasingly gaining recognition, and one brand which prides itself on producing the drink using an age-old technique to 'ensure the purest form of this fermented marvel' is Balanced Nature.
Following massive growth in the US, Canada and Australia, kombucha is now one of the most rapidly growing drinks in the UK, says brand co-founder Julia Karpovic. "With consumption of alcohol decreasing by 30% last year alone, more people are looking for non-alcoholic drinks. Healthy, sparkling and refreshing, kombucha is estimated to experience growth of over 25% per annum in the UK," she explains.
"Kombucha is filled with minerals, vitamins, organic acids, probiotics and nutrients indispensable for the proper functioning of the body. It thoroughly purifies, strengthens and, above all, stimulates your entire body to function properly. 
"It is a strong antioxidant and also augments the alkaline character of the body. An acid overload in the body may disturb its proper functioning and create favourable conditions for various diseases to develop. Re-establishing the acid-base homeostasis is therefore crucial. Kombucha performs this function perfectly."
NEW LOOK: Clearspring Japanese Organic Premium Matcha Green Tea Powder 40g
Clearspring Ltd
Tel: +44 (0)20 8749 1781
E-mail:  [email protected]
www.clearspring.co.uk 
Unrivalled in quality, Clearspring Japanese Organic Premium Grade Matcha is a finely ground great tea powder made from the finest green tea leaves that have been shade-grown in a tea garden high in the hills of Uji in Kyoto, Japan by a third generation family producer. Matcha's vivid green colour and slightly sweet, rich and smooth flavour make it the most prized amongst Japanese teas.  Clearspring's Premium Grade Matcha now has a new and improved look with sleek black packaging to make it stand out from the crowds! RRP £10.99 per 40g Also, available in Single Serve 1g Shots and Ceremonial Grade. 
New Organic Herbal Infusions from Dragonfly Tea
Dragonfly Tea
Tel: 01635 278 648
E-mail:  [email protected]
www.dragonflytea.com 
At Dragonfly, we are an independent family company rooted in generations of tea expertise. Inspired by our passion for sharing artisan teas from around the world, our new organic herbal infusions celebrate some of the great botanical and wellness traditions. Herb Garden Digestif blends reviving European Botanicals, perfect to cleanse the palate and aid digestion. From the rich herbal traditions of the Mediterranean basin comes Night Sky Calm, with a soothing floral softness to allow for restful sleep. And Golden Balance Detox draws on the warming herbs and spices championed by the Ayurvedic traditions to help body and mind maintain harmony. 
Organic Green Tea, Turmeric & Matcha
Herbal Health Ltd – Qi Teas
Tel: 01580 713613
E-mail:  [email protected]
www.qi-teas.com
Turmeric has been used for centuries in Asia for its medicinal properties, we have blended it with our Organic green tea, Ginger and boosted it with our Premium Matcha powder for an extra zing resulting in a delicious warming blend, which is an ideal comforting brew for the cold winter months.  Qi is an independent, family-owned brand, we trade directly with our tea farmers and process them at the teagardens straight after picking to preserve all their natural goodness and ensure they are brought to you as fresh as possible.  All our teas are purchased under Fairtrade conditions and Vegan registered.
Organic Ultimate Beauty Tea
Viridian Nutrition
Tel: 01327 878050
Viridian Nutrition's Ultimate Beauty Tea is an organic cleansing beverage for everyday consumption. A sweet and aromatic blend of botanicals including Calendula officinalis, Glycyrrhiza glabra root, Matricaria recutita, Hibiscus, Rosa damascene and Galium aperine. 50g loose-leaf. Certified 100% organic by the Soil Association and naturally caffeine-free. Partner with Ultimate Beauty Complex or Ultimate Beauty Skin Hydration capsules and Ultimate Beauty Oil. Part of the 200+ range from ethical vitamin company, Viridian Nutrition, founded on the principles of Purity, Environment and Charity. Dedicated to the continued success of the specialist health food store.
teapigs Advent Calendar
teapigs
Tel: 0208 568 1322
E-mail:  [email protected]
www.teapigs.co.uk
Hands down the most highly requested item in teapigs history, the UK's leading premium tea company are THRILLED to reveal that the hugely anticipated teapigs advent calendar will be hitting shelves in time for Christmas 2018! 
The teapigs advent calendar has an RRP of £35 which makes it a great way to boost basket spend pre-Christmas. With 24 teas in total, it's the perfect advent calendar to keep tea fans going through winter and a must have for teapigs everywhere!