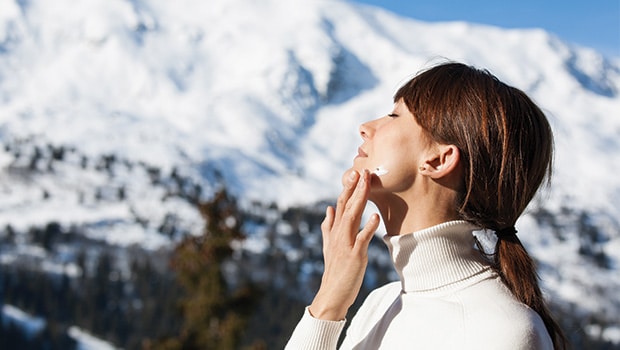 From plummeting temperatures to party trends, Matt Chittock discovers how natural and organic brands are helping shoppers renew and replenish stressed-out skin through the long, cold winter months
As beauty comes in from the cold, the conversation pivots from flaunting skin in the sun to protection from the big freeze. And this winter, natural and organic brands are pulling out all the stops to help consumers look fierce in the frost (or at least semi-decent as they sneeze their way into the office). 
"Winter can play havoc with your skin," explains organic make-up expert Laura Jane Sessions. "Seasonal illnesses combined with the changeable weather and central heating cause their fair share of trouble, and skin frequently feels chapped, dry, itchy and flaky."
For natural brands that focus on problem skin, this makes winter a busy time of year.
"Winter is a really huge season for us," says Weze McIntosh, managing director at Pure Potions. "All of our products are aimed at people with eczema or sensitive skin, and winter is the time when these conditions can get particularly bad. Even simple things, like wearing heavier clothes, can make them worse."
One of Pure Potions' biggest lines is its Skin Salvation Kit, which offers a selection of products to provide deep healing for the face and body. Naturally, one of the brand's top sellers is moisturizer, which offers instantly powerful hydration for wind-lashed complexions.
"I'd always advise people to carry around a really intensive moisturizer with them," adds McIntosh. We have a 100ml size Skin Salvation Daily Moisturizing Cream you can pop in your handbag for when you're out and about in winter. For people with dry skin it's important to use something fast so it breaks the itch/scratch cycle – so it's perfect."
"People definitely want more intense moisturizing products in winter," agrees Joanne Hill, owner of lead-ing natural beauty retailer Amaranth in Bramhall. "The big one is still Weleda Skin Food. It's great for dry hands, knees – anything. All the areas that just get dried out."
Oils well
As the temperature plummets, many consumers plump for the consolation of an indulgently rich cream. Yet there's also an important place for oils in the winter skincare sector too.
"Essential oils are a big part of what we do," says Jo Chidley from Beauty Kitchen. "Some people think that creams feel nicer against the skin, but there's evidence that oils are absorbed faster. Plus, there are other benefits as well. For example, our essential oils help revive the skin overnight, and it's not just topical. The natural scent helps people sleep deeper. 
"Of course, customers can use both. They can put on the oil first, then top with a cream if they like the feel."
Thanks to a super-scorching summer, sun protection could well be front of mind for shoppers right up until Halloween. There's already a raft of skincare products that offer SPF protection, but there's still confusion over what level we should be wearing. 
SPF confusion
According to Mintel, 40% of female facial skincare users find it difficult to know which level of sun protection to use on a daily basis. This is despite the fact that consumers believe sun exposure has the greatest impact on the appearance of their skin.
"There are different schools of thought with regards to using an SPF in the winter," says Sessions. "Spending time outside in snowy and icy conditions can increase your risk
of sunburn as shortwave radiation known as UVB – which is the cause of redness and sunburn – can still reach the Earth's surface in the winter months. Plus, although the sun's rays may not be burning you, they could still be damaging your skin, even in the winter." 
For daily use, Sessions suggests using an SPF15 – going up to SPF 30 if customers are going to be doing higher altitude activities, like skiing.  
Chidley agrees that SPF is essential (even at the brand's HQ in sun-starved Scotland). This strategy goes hand in hand with protecting extremities that get exposure to biting cold, as well as warming rays.
"Think about protecting lips, but also eyebrows, eye lids – even the back of your ears," she says. "Basically, all the extremities that are exposed to the cold that you don't necessarily think about."
Party on
Of course, winter isn't solely about battling the elements and central heating. With Christmas celebrations coming up in the calendar it's time for shoppers to get their sparkle on for the seasonal social whirl.
Traditionally, the organic and natural sector has enjoyed a reputation for healing, not hedonism. But, with natural make-up now comparable to synthetics, there's an excellent offer available to party animals.
"There are some great new products starting to arrive for Christmas," explains Hill. "In particular, I really like INIKA Organic's new Baked Contour Duo, which helps people get
their party contouring naturally. It does an excellent Baked Mineral Illuminisor as well, to bring out a bit of sparkle. Also, Dr Hauschka has launched an Illuminating Fluid, which is some-thing else that's fantastic for parties."
One party trend that's shown no sign of stopping in the near future is unicorn make-up. This fun, glitter-laden and rainbow-hued look has gone from festival fields, via endless online tutorials, to dominate Instagram.
A key way to conjure your inner unicorn is to go nuts with the glitter, and this year the type of glitter you're using matters more than ever. As the war on plastics continues apace, more than 60 festivals, including Bestival and End of the Road, have committed to ban single-use plastics from their sites. This includes glitter, since most of the commercially-available sparkly stuff is made from a form of microplastic.
"Glitter is really huge right now," says organic make-up artist Lou Dartford. "There's been a rush to bring out biodegradable glitters, but it can be hard to find a company that's reputable. Plus, many brands are quietly phasing out traditional glitter for something more sustainable, so stockists don't want to get caught with old stock." She points towards Glitterlution and Eco Stardust as two brands whose ethics shine alongside their products.
With unicorns leading the charge to make cosmetics more cosmic, other brands are doubling down on the day-glo with on-trend new age-inspired products. For instance, Pacifica's Gem Water uses a 'crystal-infused' selling point (and rainbow-inspired packaging) to stand out from the crowd.
All in the preparation
Before the party kicks off, there's a wealth of products available to help consumers get ready for the social media spotlight. Hill says that as November comes around, rejuvenating masks start to fly off the shelves for use as part of people's pre-party rituals.
"I think that most people feel that in winter skin can feel a little dull," she says. "So masks are great to use, to lift the skin so it's less sallow. They're the kind of thing you can put on when you get home from work before you get ready for a party – it's just a smart way to give yourself a boost.
"My current favourite is Nourish's Probiotic Multi-mineral Repair Mask, which is really rejuvenating."
Mintel highlights another consumer concern which might inform future winter skincare launches: blue light from electronic devices. It points out that there's growing evidence that exposure to high energy visible light (HEVL) might add fine lines and wrinkles to phone addicts' faces. So maybe next year we can expect a flurry of launches to address the issue.
"I've been reading about that a lot and it's definitely an issue," says Chidley. "Although I have seen the science, it's not something we'd look to focus on with our products yet, but we could do for the future."
New Products from Atlantis Skincare
Atlantis Skincare
E-mail:  [email protected]
www.atlantisskincare.com 
Atlantis Skincare is an award-winning natural skincare brand, perfect for those that take a holistic approach to life.  It has launched three new stand-out products – Glowing Skin Serum Gel (£65), Velvet Skin Serum for Dry Skin (£65) and Glowing Skin Luxury Body Oil (£55). Handmade in the beautiful Bath countryside, Atlantis Skincare is renowned for transforming everyday beauty rituals into deeply therapeutic experiences.  The three new products join the original range of Cleansing Milk, Toner, Day Cream, Eyecream, Night Elixir, Face Mask and Stretch Mark Oil. Atlantis Skincare is vegan friendly, cruelty-free and passionate about sustainability. www.atlantisskincare.com.  
Ellie & Carl Skin Botanicals
Ellie & Carl Skin Botanicals
Tel: +356 2704 1216
E-mail:  [email protected]
www.elliecarl.com
Ellie & Carl offers a wide range of Collections of Serums, Face Masks and Body Oils for different skin needs. With high levels of actives, the products deliver maximum results and a long-term healthy relationship with the skin. The luxurious products work in harmony with the skin and leaves it hydrated, smooth, soft and balanced. Ellie & Carl is a premium brand creating original formulas with exquisite botanicals. The products are available at www.elliecarl.com for worldwide shipping. 
FRUU fruitilicious lip balms
FRUU Cosmetics
Tel: 07770 881 181
E-mail:  [email protected]
www.fruuurskin.com
Restore your perfect kiss with our vegan and sustainable FRUU lip balms!  By incorporating sustainable by-product extracts from strawberry, mango, coconut, banana and Aloe Vera, we create amazing lip balms that are buttery, enriching, and long-lasting yet with little environmental impact.   Our hundreds of reviews averaging 4.5 stars simply speak for itself. Our essential oil-free lip balms are also safe for children and pregnant women.  Allergen-free and fragrance-free variants are available for the most sensitive skin.  They are one of the best-selling products in the vegan product category and appeals to age 3-60. PETA vegan and cruelty-free.  Distributer wanted!
Green People Anti-Ageing Facial Oil
Green People
Tel: 01403 740350
E-mail:  [email protected]
www.greenpeople.co.uk
As the nights draw in, soothe and nourish even the most delicate skin with Green People's Anti-Ageing Facial Oil. A light, non-pore blocking oil for face, neck and décolletage, this luxuriously hydrating certified organic oil reduces water loss, promotes elasticity and plumps the skin. Lecithin creates an extra silky skin feel whilst Vitamin E, Rosehip, Jojoba and nutrient-rich Avocado oil combine to create a youth-boosting formula.  Combine with Hydrating Firming Serum the perfect combination for soft, toned skin and the perfect primer for Green People's organic mineral make-up. Certified organic. 
Hope's Relief Intensive Dry Skin Rescue Cream
Mahi Naturals Ltd
Tel: 0208 886 4001
E-mail:  [email protected]
www.mahinaturals.com
The changing weather can often cause skin problems to flare up, so avoid unsightly dry skin and soothe eczema with Hope's Relief Intensive Dry Skin Rescue Cream.  No.1 in Australia, the multi-award winning product helps relieve itchy, dry skin and is specially formulated for skin prone to eczema, psoriasis and dermatitis. Hope's Relief is clinically proven to increase hydration in the skin for up to 24hours following a single application. It is an effective, natural alternative to cortisone for use on face and body and the whole range is safe for babies, children and adults. 
Baked Illuminisor
INIKA Organic
Tel: 0201 713 0149
E-mail:  [email protected]
www.inikaorganic.com/uk
This luxurious illuminisor is baked on a terracotta tile in Tuscany, Italy. The artisanal process transforms a creamy formula into a fabulously convenient solid form. The velvety-soft powder provides the colour payoff of a loose mineral powder with the mess-free ease of a baked powder and without any chemical pressing agent. Pure, light-diffusing minerals provide an irresistible radiance and sheer luminosity. Apply to the high planes of the face for a subtle glow and beautifully natural look, or build up to create an ethereal glow.
Deep Blue C Facial Oil 30ml
Inner Senses
Tel: 0333 987 4585
E-mail:  [email protected]
www.innersenses.co.uk
A daily treatment oil specifically formulated to help manage, prevent and heal oily, breakout prone and sensitive skin. Packed full of soothing, naturally antiseptic and healing ingredients, including Black Cumin, Pomegranate, Turmeric and Tamanu, combined with a trio of potent blue oils – Blue Yarrow, Blue Tansy and Blue Chamomile – which incorporates powerful anti-inflammatory chamazulene, to calm irritation. Vitamin C-rich antioxidants, Prickly Pear and Baobab, help heal, regenerate and protect the skin, whilst revealing a smoother, clearer and more toned complexion. 97.5% organic and 100% natural. Trade Price £21 (minimum 10 units). RRP £42.
Jason – C-Effect Moisturising Cream
Kinetic Natural Products Distributor
Tel: 08450 725 825
E-mail:  [email protected]
www.kinetic4health.co.uk
The Jason C-Effects formula is an ultra-rich daily remedy, shown to significantly reduce the visible signs of aging. Infused with a powerful multi-antioxidant complex of Ester-C, Vitamin C, Thioctic Acid, Vitamin E and Green Tea, C-Effects helps minimize the aging effects of free radical damage and promotes healthy cell regeneration. Leaving your skin softer, smoother and rejuvenated.  Vegan/Vegetarian Friendly, Contains No Parabens or Phthalates & Always 100% Cruelty Free.  
Antipodes – Halo Skin Brightening Facial Mud Mask
Kinetic Natural Products Distributor
Tel: 08450 725 825
E-mail:  [email protected]
www.kinetic4health.co.uk
Featuring mineral-rich mud from New Zealand's dramatic volcanic plateau, this divinely scented mask with a pure plant fragrance of vanilla pod, raspberry seed and musk, is an effective way to instantly freshen and illuminate your skin.  Halo features skin-brightening compounds to achieve your lightest, brightest skin quickly and effectively.  Revolutionary antioxidant compound Vinanza Grape & Kiwi has been clinically shown to lighten skin by targeting the over-production of melanin that can lead to freckling, pigmentation and uneven skin tone.  
Antipodes – Ruby Red Lipstick
Kinetic Natural Products Distributor
Tel: 08450 725 825
E-mail:  [email protected]
www.kinetic4health.co.uk
Discover lipsticks so healthy you could almost eat them. The Moisture-Boost Natural Lipsticks from Antipodes are superior to others on the market for two reasons: 1. So healthy. Natural, healthy, edible ingredients make these lipsticks safer to wear. 2. Moisture-boosting. Nutrient-rich pure plant oils mean these lipsticks actually condition as they colour.  Abandon the ordinary and adorn your lips with this rich tint.  
Clin D'oeil No.2 Eyeshadow Palette
Zao Essence of Nature UK Ltd
Tel: 0845 163 0047
E-mail: [email protected]
www.zaomakeup.co.uk
Zao is launching Clin d'oeil, a refillable palette of 10 sumptuous eyeshadows for the festive season. Certified organic to COSMOS standards, it is also 100% natural, vegan and cruelty free certified. Encased in sustainable and stylish bamboo, this palette is plastic free, a gift that ticks all the boxes for every ultimate eco-conscious consumer. Clin D'oeil eyeshadow palette No.1 was a sell-out in 2016. The versatile, highly-pigmented and ultra-pearly shades are perfect for creating different looks for every party occasion. The palette includes a panoramic mirror and double-tipped Orbit and Shading Brush for on-the-go applications. Due for release on 6th November, reserve your Christmas stock now with a pre-order discount.