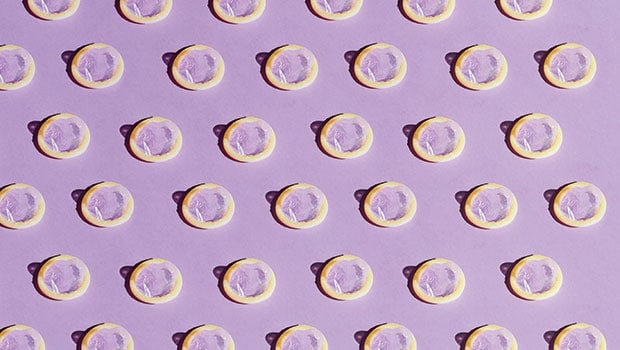 With consumers thinking more about their impact on the environment, it's no surprise that the environmental impact of their sex lives is also coming into question. With a range of sustainable sex products cropping up on bedside tables, Sharna Waid investigates which brands are championing the alternatives and whether it's an area worth investing in for Valentine's Day 
In a world where health and ethics matter, the war on single-use plastics is being supported by a raft of zero waste stores opening around the country and a growing consumer movement which is here to stay. Whether fully-fledged zero waste devotees or low-waste novices, more consumers are questioning every aspect of their lifestyle choices – and we mean every aspect – including their sex lives.
For these people, having a healthy sex life means a reduced amount of single-use waste, and so products like condoms and lubricants naturally come under scrutiny for their life span and questionable ingredients. Nitrosamines and animal by-products such as casein used in high-street branded condoms are unpalatable for many vegans or health advocates, while being covered in spermicide, polyurethane or lubricants may affect biodegradability.
But one thing's for sure: condoms are an effective method for preventing pregnancy and sexually transmitted infections. Fortunately for eco-consumers, multiple brands have created safer, more sustainable alternatives with ethical supply chains and less additives that are as effective as their mainstream counterparts.  
One of these is German brand HANX, which makes condoms out of natural rubber, corn starch powder and silicon oil. The chemical input is as low as possible, while still ensuring safety. They do not contain animal by-products and are certified by The Vegan Society. 
"Consumers are increasingly becoming aware of the impact their purchase decisions have on the environment; they're also more aware of the influence their decisions have on businesses and brands. 69% of consumers are looking for a safer, more natural condom option," says Emma Holmes, brand executive at HANX. 
"All HANX products are vegan and biodegradable – unlike many other ultra-thin condoms which are made from plastic – and are free from unnecessary nasty chemicals like glycerin and benzocaine which upset … pH balance. Our lubricants contain lactic acid which helps maintain a woman's natural balance. It's a basic right to know what you're putting into your body, and by offering full transparency our consumers can make educated decisions about their health," adds Holmes.
Body-friendly lubricants are also on the rise, as many sex products contain parabens, linked to reproductive issues and hormone imbalance; some are also oil-based and unsafe to use with condoms.
The HANX offer extends to a water-based lubricant to go with its condoms, which doesn't compromise the balance of the female intimate area. Fair Squared, meanwhile, has introduced a water soluble NATRUE-certified organic gel that's a 2-in-1 product, used to relieve dryness and discomfort, while enhancing pleasure and sensitivity. Other brands offering natural alternatives include Sylk, Sliquid Organics and The YES YES Company, which has a certified organic water-based lubricant.
So, with a range of safer, planet-friendly brands emerging, there's no reason why consumers can't live by their ethics in all areas of their life – from the early hours to the
after hours.
View from the zero waste store
Andy Tyrrell, owner of Zero Waste, Eastbourne, tells us his views on stocking sustainable sex products for his customers: "We only currently stock menstrual cups because sexual health products are still quite a new territory for us. Our main concern would be considering the full life cycle of the product. Some areas, as we know, are harder to find solutions for – and zero waste, sustainable condoms is certainly one of them!
Our aim is to find solutions for all areas of our customer's life and our aim is to reduce the need for ongoing waste as much as possible.
"We would consider sustainable brands if they tick all the boxes and the supply chain aligns with our ethics. Most importantly, though, as a zero waste shop we would have to question whether the product and the packaging is fully home compostable and whether the materials are sourced ethically.
"We would actually be more interested in stocking natural cycle thermometers, which now come with an app where women can monitor their cycles naturally and reduce the need for disposable products. We do however have a lot of vegan customers come through our doors, so vegan condoms are something we would consider stocking."
Bee energised energy & focus
Unbeelievable Health
E-mail:  [email protected]
www.unbeelievablehealth.com
2 ingredients shown in studies to aid male & female sexual health (& menopause symptoms) are bee pollen & ginseng. Bee Energised which is researched and formulated by nutritionists, contains both as well as other nutrients with proven benefits including organic matcha & spirulina plus rose hips, rosemary extract, B vitamins & l-theanine rich green tea. They are 'Free from' & Vegetarian & capsule contents may also be opened into juice & more. Bee Energised is helpful when experiencing fatigue or brain fog, for sports & fitness training, jet lag, exams & more- including helping you get your bedroom buzz back!
FSC Horny Goat Weed Herbal Complex
FSC
Tel: 0800 083 0356
E-mail:  [email protected]
www.fscsupplements.com
Horny Goat Weed has been used as a powerful, natural aphrodisiac for hundreds of years. The unusual use for this plant was discovered by a farmer in china who noticed an increase in sexual behaviour in some of his goats and realised that these goats were eating the weed 'Epimedium'. Swallow one capsule daily. For best results, swallow an additional four capsules with a drink an hour before required, preferably on an empty stomach. Suitable for vegans.
Fair Squared Original Condoms
Pravera
Tel: 01557 870 203
E-mail:  [email protected]
www.fair-squared.co.uk
Play Fair with FAIR SQUARED! These certified Fairtrade condoms are made from ethically sourced Fair Rubber and are produced without cruelty to animals, are registered with the Vegan Society and are C02 neutral. FAIR SQUARED believe in safe sex, fair payment to their Fairtrade partners and a responsibility to our environment. These fair Condoms are free from casein; a protein in cow's milk which in commonly used in condoms world-wide, are plastic and chemical-free; making them fully biodegradable, and each condom is C02 neutralised through reforestation projects. Available in Original, Ultra Thin, Sensitive Dry, Max Perform and XL.
Kamasutra, Pure Organic Shilajit Resin, Premium Alkaline Water
Blackresin Ltd
Tel: 01204 214 017
E-mail: [email protected]
[email protected]
www.blackresin.com
www.darkh2o.com
A lot needs to happen to get aroused for both men and women. Our nervous system, cardiovascular system, penis or vagina all need to work in perfect harmony. Psychological factors such as PTSD, HSDD anxiety and stress. As well as physiological factors including high blood pressure, smoking and diabetes, all known causes of erectile dysfunction in men, or sexual interest/arousal disorder in women. Both are a commonplace and complex. Luckily, the solution to ED & FSIAD can be treated by making healthier lifestyle choices and by taking Kamasutra. You can augment and heighten your sexual experience further with a course of our pure organic shilajit resin combined with darkH2O water. We offer two different options for Kamasutra, one for males and one for females. In both product the active ingredient is monoatomic gold. No more excuses, just natural vegan solutions.
Bladapure
World Foods Brand Management Ltd
Tel: 01782 366080
Bladapure is a unique food supplement which combines the effectiveness of D-Mannose with Organic prebiotic inulin, Organic cranberry and key nutrients to create an inhospitable environment for bacteria which can cause Cystitis and bladder discomfort. Sexual contact can increase the likelihood of Cystitis as intercourse can introduce bacteria into the urinary tract. Available in 100% active clean fill capsules or a delicious pure powder, Bladapure provides 100% active ingredients with no fillers, flavours, binding agents and including organic ingredients where available to provide a pure and natural solution to help maintain a healthy urinary tract
Prices: Bladapure Powder  Trade £13.93     RRP £24.95     Bladapure capsules Trade £11.14     RRP £19.95    Available from all leading wholesalers