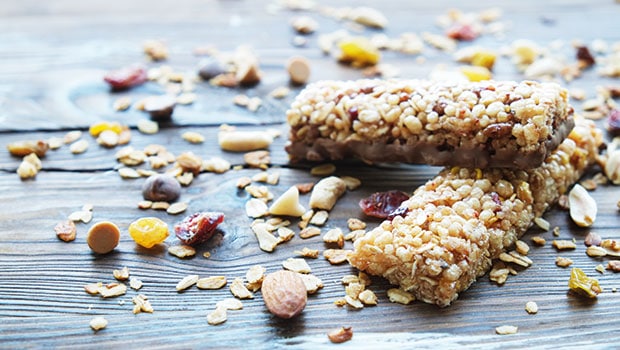 We're all familiar with the old adage 'breakfast like a king, lunch like a prince and dine like a pauper', but truth be told we are more likely to do the exact opposite. Jane Wolfe finds out how retailers can offer consumers easy, convenient and healthy ways to start the morning
For years breakfast has been firmly established – mainly through the sage advice of advertising gurus – as the most important meal of the day. Think back to the Egg Marketing Board's 'Go to work on an egg' slogan in the 1950s or Ready Brek's claim of providing 'Central heating for kids'.
And with recent research finding that a higher protein breakfast can help with weight loss or that missing out on breakfast may be associated with a significantly higher risk of heart disease, obesity and diabetes, there are even more reasons to fuel up for the day. According to Mintel, the message seems to be getting through, as it claims breakfast is now eaten by 95% of the UK population.
However, the research company also highlights generational differences in morning eating habits, with younger consumers far more likely to consume breakfast out of the home – often when on the move – than older generations. Young people's tendency to snack is being reflected in their disinclination to have one large breakfast, preferring to graze on more snacky breakfast products throughout the morning.
Kantar Worldpanel data indicates a rise in those grabbing a breakfast to go, with carry out breakfasts growing 9.5% from 2017 to 2018, hitting a whopping 263 million occasions. It adds that 40% of these on-the-move breakfasts were purchased by 16 to 34-year-olds, whose consumption of takeaway breakfasts rose 35% over the same period.
Kantar also highlights that millennials, who make up 23% of all breakfast consumers, are particularly interested in looking for health benefits when it comes to the first meal of the day, and the requirement for breakfasts to fulfil this criteria is therefore growing.
Busy, busy, busy
"Breakfast habits are becoming more fragmented," explains Mintel research analyst Anita Winther. "Busy lifestyles are seeing people skip this important meal, eat it on the go or graze their way through the morning, fuelling demand for convenient products that can be eaten quickly and easily. Meanwhile, when time permits, brunch offers an attractive opportunity for people to spend time enjoying their morning meal, helping to counterbalance the stress of everyday life."
"Busy lifestyles are seeing people skip this important meal, eat it on the go or graze their way through the morning"
Time-poor consumers can all too easily resort to unhealthy choices – grabbing a high-sugar snack bar or a breakfast pasty to bolt down while sitting on a double decker or the tube – but there is really no excuse for those in a rush or who just don't fancy a substantial breakfast not to get something nutritious first thing, even if it's while they're on the move. With the mass of healthy on-the-go options coming to market – from 'meal' bars to porridge pots and functional breakfast drinks – there's something for everyone in this innovative sector.
One brand which has recently entered the out-of-home breakfast sector is B.fresh. Having launched with a range of HPP juices, smoothies and juice shots, the company has now introduced a duo of bircher bowls using the juice from its own bespoke on-farm juicing facility.
"The breakfast-to-go market is back in growth," says B.fresh founder Philip Maddocks. "Choices are lacking when it comes to catering for the free-from market. This is why we decided to combine our juices with gluten-free British jumbo oats to create the two new plant-based bircher bowls – Berry Bircher and Apple Bircher. Extending our innovation into a breakfast-to-go product gives time-poor, health-conscious commuters and travellers a nourishing option with a clean and transparent ingredient list."
"We know millennials account for 23% of all breakfast consumers, and this is who we see as driving the growth of the sector," he adds. "Porridge is up 7.4% and fruit is up 8.5%. We also know that dairy-free and plant-based options are key for decision-making. We only expect this trend to continue as the population increasingly looks to adopt a more plant-based diet."
One potential problem with on-the-go products of any description, including breakfast items, is an excess of packaging. Plastic pots, spoons, wrappings – these are all things that consumers are becoming increasingly concerned about. So how does B.fresh address this? "Since the day we started we have been conscious of the plastic we use and sourced PET bottles with 25% recycled plastic which are fully recyclable," Maddocks responds. "For the bircher, we have found a supplier of pots which is manufacturing consciously for the environment and has designed pots that can be reused (they are dishwasher safe and can be used in the microwave). They are, of course, fully recyclable too."
Too niche?
Some brands which started out firmly cemented in the breakfast sector are now aiming to expand their appeal and avoid being hemmed into this area. For example, when Earlybirds launched with its Mango & Oats and Berry Bircher drinks it was with the aim of making 'people's mornings easier', but it is now seeking to position itself as an anytime snack drink.
"We very quickly realized we'd pigeon-holed ourselves into a category that within drinks is rather stagnant," says brand co-founder Rory Paterson. "I think it comes down to what has been on offer for consumers in the past and to this day. Cheap, whey-based products that were only being used to fill shelf space.
"Breakfast for many people has turned into a dynamic snacking occasion, often choosing smaller meals/snacks in the morning or nothing at all. We saw this as the perfect opportunity to move to become a filling, guilt-free snack. Not only that, our research showed that Earlybirds were being consumed throughout the day anyway as a satisfying snack – so the stars aligned! We see a real opportunity for us to be the bridge between a smoothie, which doesn't really fill you up and is packed with sugar, and a meal replacement, which is polarizing and definitely not for everyone.'
This resonates with B.Fresh too. "We're increasingly finding breakfast foods are consumed outside of the traditional time of the day, which is why we wanted to create a healthy snack product that can be enjoyed at other occasions through the day, as well as in the morning," explains Maddocks.
Back to basics
As well as offering customers the convenience of ready-made bars, pots and drinks to see their hunger satiated through to lunch, health food stores are the obvious natural home to the raw ingredients for those wanting to take their time and be a bit more creative. Why not display a few recipe ideas in store to inspire customers and encourage them to break their fast with something nutritious? This could be one of their New year's resolutions – to have a nourishing daily breakfast. Or you could link it with the Organic Trade Board's Wake Up To Organic event later in the year, grouping a few basic ingredients together and flagging them up on-shelf or at the end of aisle for ease of purchase.
A tasty breakfast burrito is easily knocked up with ingredients like black beans, jackfruit, sweet potatoes, avocados, tomatoes and sauerkraut packed into a tortilla wrap, and is easy to eat on the move. Breakfast bowls are another simple and nutritious option, using yoghurt mixed with seeds, nuts, oats, and superfoods. Get creative!
A SHOP WITH A VIEW
Not everyone is happy to become embroiled in the fast-paced, hectic lifestyle that is so often cited as being inevitable these days. With mindfulness becoming increasingly popular, many consumers make a conscious decision to take time out and enjoy a sit-down breakfast, savouring every mouthful, often with family and friends.
Rob Kneebone, manager of the Natural Store in Falmouth, says that his experience is that on-the-go breakfasting isn't a growth area in the store's more 'laid back' location. "There is, conversely, a growing habit of a more leisurely, casual weekend breakfast culture where people get together with their friends for a big sociable breakfast. We're not an on-the-go supporter as we don't think this a healthy choice. Time to eat, chew and digest slowly is fundamental for one's health and wellbeing."
When it comes to what his customers are looking for in a nutritious breakfast, Kneebone says: "I think the primary concern is for products low in added sugar, vegan milk alternatives, and those which are sustaining. People are looking for alternatives to the standard breakfast of days gone by (cereal) and are wanting to try a variety of grains and fruit for their breakfast, as well as eggs, avocados, etc.
In the breakfast area, the store's best-selling items are vegan scrambled egg alternatives, vegan black pudding, organic veg such as mushrooms, spinach and tomatoes, organic soughdough bread, overnight oats for bircher muesli/porridge, organic coffee and milk alternatives, with popular brands including Oatly, Alara, Bonsan and Taifun.
Alara Organic Scottish Oats Gluten Free Porridge
Alara Wholefoods Ltd
Tel: 02072 559978
E-mail:  [email protected]
www.alara.co.uk
Our award-winning kiln-dried and stone-milled organic oats are grown in Scotland where unspoiled nature, the long summer sun and fertile soils conspire to create an exceptional nutritional profile and great taste. Oats need 'stabilising' to prevent them turning rancid in storage. Traditional kiln-drying uses a dry heat to warm the oats creating a nutty flavour. In time, 'kilning' was replaced by a faster 'pressure steam' process which can lose soluble ingredients. Alara preserves tradition by stone-milling our oats in a 200 year old water-powered mill – the last remaining in Scotland. All the Alara products are plastic free and packed in home compostable film.
Nutiva Organic MCT Powder – NuMCT™
Kinetic Natural Products Distributor
Tel: 08450 725 825
E-mail:  [email protected]
www.kinetic4health.co.uk
The world's first organic MCT Powder –  NuMCT™ – made from Nutiva Organic MCT Oil from 100% organic virgin coconut oil. With added prebiotic acacia fibre (3g per serving) and a small amount of tapioca maltodextrin to ensure that the quality fats blend into any beverage.Delivers digestible fatty acids that quickly convert to ketones, giving the brain, muscles and other tissues fast and sustained energy. NuMCT™ is a creamy alternative to Nutiva Organic MCT Oil, which makes it the ideal addition to bulletproof coffee, and is also more gentle on the digestive system. Keto- and paleo- friendly.
Organic Traditions Probiotic Sorghum Cereal Chocolate Coconut Crunch
Kinetic Natural Products Distributor
Tel: 08450 725 825
E-mail:  [email protected]
www.kinetic4health.co.uk
Organic Traditions® Probiotic Cereal Chocolate Coconut Crunch is a combination of organic sorghum flakes, chia, cacao nibs, cacao powder, shredded coconut, hemp seeds, cinnamon and beneficial pre and probiotics. Packed with incredible seeds such as chia, flax and hemp, processed by a proprietary milling process that finely slices the chia and flax seeds without crushing them or forcing them through a mesh or sieve to minimise oxidation and degradation of nutrients. Provides 1.28g of omega 3s per serving and is a good source of fibre. With probiotic strain bacillus coagulans, which has excellent survivability and stability, safety and efficacy, and prebiotic acacia gum to create a synbiotic superfood formula.
Get Up and Go! with Carboslow®
HOLFORDirect
Tel: 0370 3341575
E-mail:  [email protected]
www.holfordirect.com
This delicious, nutritious breakfast is a combination of vitamins, minerals, essential fats, protein & fibre, and is designed to be mixed into a tasty shake with milk and berries. This new version supports healthy weight management with the addition of Carboslow (glucomannan derived from Konjac Root) and contains chromium and inulin for better blood glucose management. At only 4GL it is ideal for a weight loss programme and contributes to the maintenance of normal blood cholesterol levels. It's one of a range supporting the health focus of Patrick Holford's Hybrid Diet (www.hybriddiet.co.uk). Get Up and Go! ® also available.
ThatProtein – The Perfect Plant-Based Breakfast Boost
Wholesale Health Ltd
Tel: 01606 889 905
E-mail:  [email protected]
www.wholesalehealthltd.co.uk
Enjoy a healthy boost to the day with a scoop of ThatProtein's natural plant-based super protein in your smoothie or shake. ThatProtein is the UK's only 100% vegan protein brand to hold three of the Nourish Awards, as judged by a panel of industry experts, including Dragon's Den's Deborah Meaden.   Voted "Best Vegan Protein" and "Best Superfood" in the 2018/2019 Nourish Awards, ThatProtein's delicious flavours include Nutty Nutty Peanut Butter, Happy Happy Hemp and Baobab, I Heart Pumpkin and Chia Seeds, Blissful Brown Rice & Raw Cacao. Dairy-free. No refined sugars/added flavours. Ask for a free sample for your store. Recipe cards available.
Bonsan Organic Breakfast Scramble
Bonsan
Tel: 0208 547 2775
E-mail:  [email protected]
www.bonsan.co.uk
Make mornings more delicious with Bonsan Vegan Breakfast Scramble. Made from tofu and a subtle blend of spices, this vegan egg replacement is high in protein and a guaranteed winner served alongside freshly toasted sourdough and smashed avocado. Try it this Veganuary in place of egg for a quick and easy breakfast that'll keep everyone happy whether you're a vegan veteran or newbie.