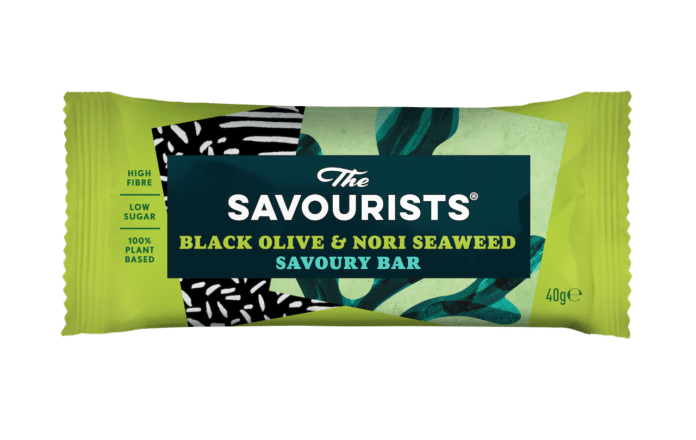 In what it says is a category first, 'challenger' snack brand The Savourists has launched an innovative line of savoury bars, with early listings in Planet Organic and Wholefoods as well as independent retailers.
The low-sugar, gluten-free bars are made with 'real food' and the brand says it's on a mission to take consumers taste buds on a savoury journey with two initial flavour combinations: Black Olive & Nori Seaweed and Sundried Tomato & Herb.
With flavours described as bold, layered, deep and oozing with umami, the tangy sundried tomato and rich, salty black olives and nori seaweed are combined with ancient grains including quinoa, puffed amaranth and sunflower seeds, to create bars full of fibre and plant-based protein.
"At The Savourists, we are on a mission to shake-up the on-the-go snacking aisle with an exciting new savoury snack bar proposition," explains brand founder Harry Turpin. "For too long, sweet has dominated, with hundreds of fruit and nut bars, often with misleading health messages and similar taste profiles. When you dig deeper into the nutritional content, some snack bars have as much as 17.7g of sugar per 35g, which is 50% of the entire bar!
"We want to evolve the category; that's why we've created The Savourists brand. Our savoury bars are low-sugar, use only the finest real ingredients and offer something completely new in terms of taste. We can't wait to hear what people think."
Turpin founded the brand in 2020 after spending five years at Cawston Press. Having had a 'lightbulb moment' when he saw the impact the sugar tax had, he says he identified an opportunity to innovate and refresh the snacking category with a healthy product that doesn't compromise on flavour.