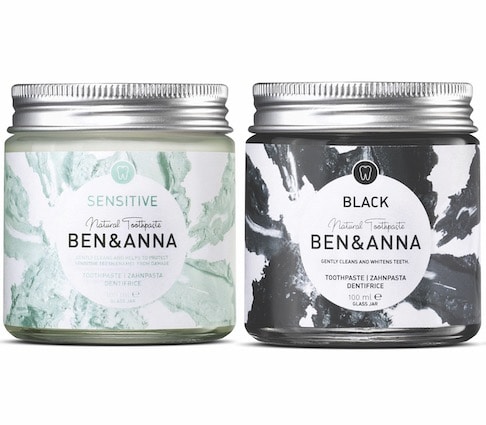 Organic and natural healthcare brand Ben & Anna has moved into the natural toothcare category through the creation of a vegan dental care range.
Packaged in recyclable glass containers with metal lids, the range combines natural and organic ingredients such as sea buckthorn, chamomile, activated charcoal, cinnamon and calcium for strong, shiny teeth and healthy gums.
The range includes:
Black Toothpaste (with activated charcoal) – activated charcoal naturally dissolves discoloration for bright white teeth, while sea buckthorn and chamomile protect teeth, and natural mint provides a kick of freshness
White Toothpaste — a whitening toothpaste with sage to add vitamin A and antioxidants, providing a protective shield against tooth decay and free radicals, and natural mint oil for freshness
Sensitive Toothpaste contains fine, hand-picked chamomile to thoroughly but gently clean teeth, and sea buckthorn to strengthen and protect
Cinnamon Tooth Powder uses a traditional recipe supplemented with sustainable active ingredients to provide an antibacterial effect and long lasting fresh breath, with added calcium to help protect against tooth decay
Black Tooth Powder contains activated charcoal particles to gently loosen discoloration, whilst cool mint provides extra-fresh breath.
All products are cruelty-free, certified by NATRUE and registered with The Vegan Society. The range is also free from any harmful or controversial ingredients such as phthalates, parabens, microplastics, SLS or formaldehydes.