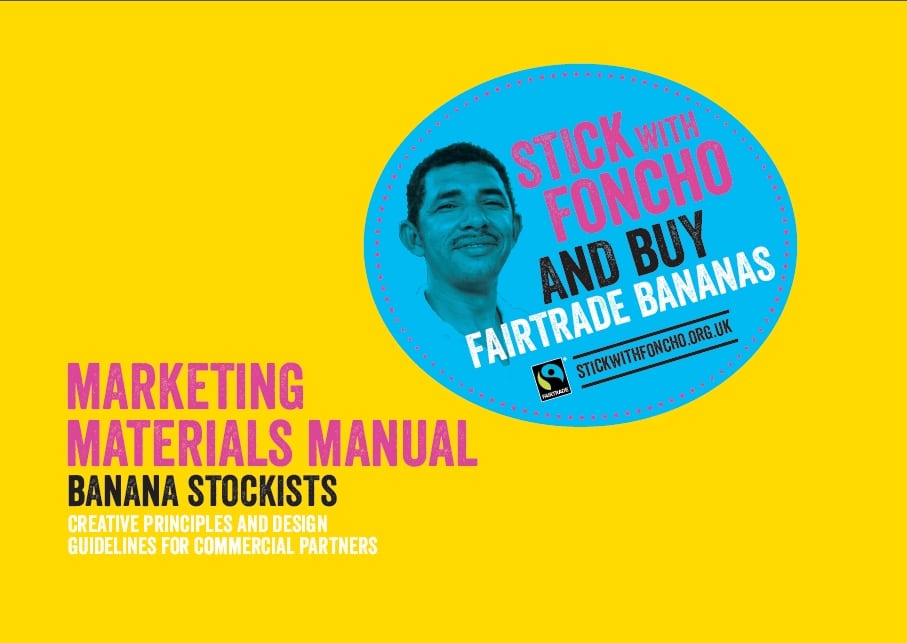 This year's Fairtrade Fortnight, taking place from 24 February to 9  March, coincides with the Fairtrade Foundation's 20th anniversary in the UK and will see the launch of a new stage of its Make Food Fair campaign to transform the banana industry and 'Abolish the Unfair Banana'.
The campaign aims to ensure that the millions of struggling banana farmers and workers at the sharp end of the supply chain get a fair deal. Even though over 1.2 billion Fairtrade bananas are sold annually in the UK, this still only represents one in three bananas in British shops being sold as Fairtrade.
Bananas are the most traded fruit in the world, but as global exports have grown, many farmers have suffered a cut in earnings in real terms and still don't earn enough to feed their families or enjoy basic education and healthcare.  Because supermarkets want to sell their customers the cheapest bananas possible, this puts severe pressure on growers.
Ashish Deo, commercial director at the Fairtrade Foundation, said:
"This year's campaign is about creating conditions for a fairer banana trade. Bananas are the UK's favourite fruit, but they are now sold so cheaply that many of the farmers and workers who produce them are being trapped in a cycle of poverty. We want to change that by engaging businesses and consumers to ensure producers get a fair share of the value."
Fairtrade-certified bananas ensure that a minimum price is paid to the farmer and this, says the Fairtrade Foundation, aims to cover the cost of sustainable production as well as a premium on top of this, regardless of what you are paying in the supermarket.
This year's campaign centres around Ableiro Alfonso 'Foncho' Cantillo Ruiz, a banana farmer from Colombia who is a member of the Coobafrio co-operative which has been producing Fairtrade bananas for two years. His father was a founder member of the co-op. The minimum price Foncho gets for his bananas has enabled him to send his daughter to college – something that was previously impossible.
However, in order to completely abolish the 'unfair banana', it isn't enough just to buy Fairtrade bananas, says the organisation. With this in mind, it has set up a petition aiming to persuade the UK Government to help end unfair pricing by supermarkets. This petition will be online from Fairtrade Fortnight onwards but stores can also gather signatures on special petition postcards available from the organisation's website.
Although the main focus of Fairtrade Fortnight this year is bananas, the annual event aims to increase shopper's awareness of Fairtrade in general and give retailers the opportunity to make the most of the campaign to promote their ranges and producers and to deliver compelling messages in-store and online.
"By supporting Fairtrade Fortnight 2014 businesses can show their commitment to those who produce the products we love – and there are still lots of reasons to get involved even if your business isn't in bananas," explains Deo.
"2014 is also 20 years of Fairtrade in the UK, and businesses can use the high profile of Fairtrade Fortnight, and this significant milestone, to showcase their commitments in a year where public support for Fairtrade will be greater than ever. This is a great opportunity for businesses to talk about the Fairtrade ranges they stock, and how they are contributing to fairer prices for farmers – something we know consumers care about."
Why not get creative and enter the Fairtrade Fortnight Campaign Awards this year? The three categories are: Most Creative Campaign; Best Outreach and Networking; and Best Media Campaign. For more details and to find out how your campaigning activities could be award-winning ones, visit fairtrade.org.uk/awards.
Fair's fair: retailer resources
As usual, the Fairtrade Foundation is providing an abundance of fantastic resources for retailers to help them get involved, publicise the event and make the most of their stores over the two-week event.
As well as the general Fairtrade Fortnight Marketing Materials Manual ­– a comprehensive guide to help retailers develop their own bespoke marketing materials, visually communicate the campaign and apply it to their stores – retailers can download a Stick with Foncho To Abolish Unfair Bananas Campaign Action Guide which gives background information about the banana industry as well as ideas to get stuck in and promote the campaign.
There is also an array of free merchandising materials available, including stickers, petition postcards, flags, posters and leaflets. All of these can be either downloaded or ordered from www.fairtrade.org.uk.