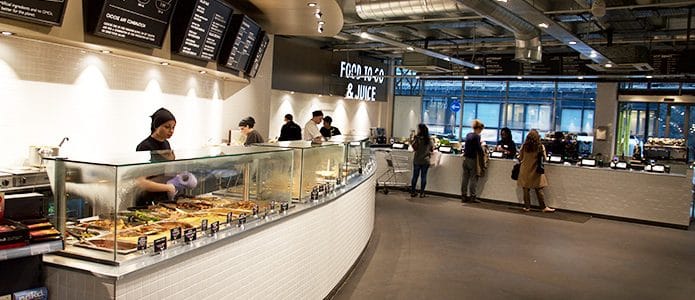 Organic food retailer Planet Organic says it has become the UK's first chain to achieve zero edible food waste.
The retailer, which operates seven supermarket-style stores across London, with a substantial food-to-go offer, teamed with the food sharing app Olio to achieve its goal. Since forming the partnership, it has distributed more than 55,000 portions of food.
Planet Organic has also become part of Olio's 'food waste heroes' (FWH) programme, a scheme which has already recruited more than 1,800 FWHs who currently 'rescue' unsold food from over 280 businesses.
Amran Ali, who volunteers for Olio, has been picking up food from the Devonshire Square and Essex Road branches of Planet Organic for seven months. She told the Huffington Post: "I have shared my collections with over 100 people in my local area – struggling single parents, the elderly, the disabled, the hungry and vulnerable have all benefited from the surplus food.
"I believe it's important to do what we can for others in need, and as a bonus we're helping the planet too."
Commenting on its partnership with Olio, Planet Organic CEO Peter Marsh told The Grocer:
"We work our socks off to minimize food waste in the first instance, but we do inevitably have some waste. We spent years scouring the market for a partner with the necessary food handling processes to redistribute this unavoidable waste, and Olio was the first we came across that had the necessary capabilities. We have seen some enormous benefits since embarking on our partnership, and if more companies engaged with this wonderful initiative the amount of food wasted could be dramatically reduced, not to mention the enormous impact it can have in addressing issues relating to poverty and hunger in communities.
In October 2018, Planet Organic – founded in 1995 by Renée Elliott – was acquired by consumer brands investor Inverleith LLP, which has pledged to double the retailer's store count over the next five years.