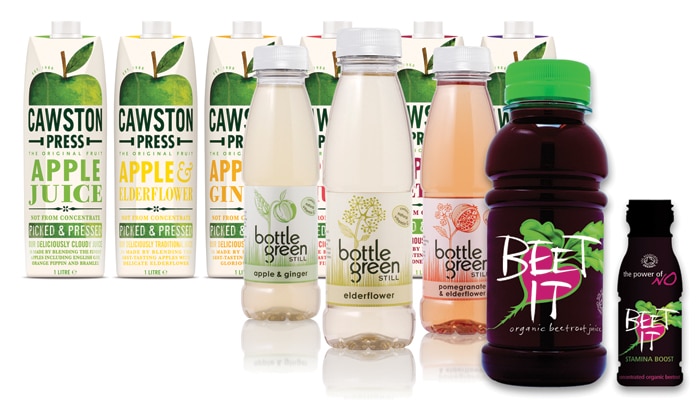 A splash of vegetable juice and a hint of healthiness gives the soft drinks market a little added sparkle in 2010, writes Julia Brandon.
The juices and soft drinks market is an essential category for any health store retailer, but in order to squeeze every last drop of profit out of the sector, it's important to stock a diverse range of beverages each with their own unique selling point. This is the conclusion drawn by a number of market researchers who claim that for retailers to succeed in getting customers to start buying out of the recession, products need a "clear and consistent message".According to a 2008 Mintel UK Smoothies report, growth of the £282 million category was primarily being driven by "increased household penetration". How-ever, the market researcher also stated that manufacturers needed to "extend their appeal among the over-45s" if household growth was to be sustained.
The point is…
The health factor associated with smoothies and fruit juices is an obvious selling point for this more mature demographic, but an accumulated host of different messages used to market 'healthy' soft drinks over 2009, such as low fat, free-from, fortified, organic and low GI only led to consumer confusion, says Mintel, so the key is to find one unique selling point on which to focus.One such example of this is Innocent Smoothies, the UK's smoothie market leader, which believes it can add at least £50 million of new sales to its portfolio by 2012 by strengthening its impulse sales team and field sales force, as reported in The Grocer last month. Backed by a £2 million pr and advertising campaign throughout 2010, the smoothie giant is said to be focusing on a core range of eight lines, including three smoothies and two orange juices. As part of the drive it's offering retailers new POS material, as well as discounts, and is said to be on course for its target of doubling 2009 sales by 2012.
Drink on the go
However, Innocent's appeal to the burgeoning food-to-go market is undoubtedly a contributing factor to its lasting success, and other brands are beginning to diversify into this lucrative sector. Bottlegreen, for example, is renowned for its premium range of natural cordials, of which it's just launched two new flavours — Strawberry & Elderflower and William's Pear & Elder-flower Cordial. But additionally it is now also venturing into the on-the-go market with its newly launched Still drinks. Cont-aining natural ingredients and available in three flavours, Bottlegreen Still drinks are "perfectly balanced to offer the ultimate light, refr-eshing and naturally tasty still drink", says account manager Hannah Baker.Cawston Press has also launched its new 'on the move' range in time for Spring/ Summer, touting the 250ml offerings as an easy and convenient way to get your five-a-day. Other 2010 launches for the iconic Bottlegreen brand include its new Squeezy Squash, which hits shelves this month. A revolutionary product for the UK squash market with its non-drip valve and containing only half the sugar of the average fruit juice, it is also made from 20% fruit juice and natural ingredients. "Squeezy Squash is the simple, natural choice for mums who are looking for a good quality, tasty and fun drink for kids," says Baker.
Early risersMintel also outlined in its 2008 report that consumption of smoothies and soft drinks occurs predominantly in the morning and midday. Directly targeting this valuable breakfast market with its new Premium Breakfast Juice is organic soft drink leader, Grove Fresh. Containing organic pink grapefuit, orange and apple juice, Grove Fresh Breakfast Juice sits alongside the brand's recently rebranded and repackaged range of premium organic fruit juice, which collectively claim a staggering 68% share of the chilled juice market. "We have recognised the need to provide more usage occasions throughout the day to drive demand for organic chilled juice," says David Patmore, Grove Fresh managing director. "These two new flavours represent an entirely new offering, giving our consumers even greater variety."
A little added sparkle
The soft drinks market is not complete without a little spar-kling refreshment, and new for 2010 comes Luscombe's delicious Cranberry Crush. Tea-med with Damascan rose water and Madagascan vanilla, it joins Luscmobe's existing and award-winning berry range, and aims to tap into the emerging trend for premium quality, non-alcoholic alternatives to wine. Not one to miss a trick, Grove Fresh has also launched a new Trad-itional Lemonade, which is said to boast the highest juice content for any lemonade on the market.
Vegetables are the new fruitA concerted push being made on all things healthy has significantly contributed to a rise in popularity of vegetable juice. And while elderflower is undoubtedly the bestselling fruit drink flavour, beetroot juice has become the vegetable of choice for both Cawston Press and James White Drinks. Cawston's Apple & Beetroot juice contains 12% beetroot juice to 88% apple, and is "designed to appeal to the sophisticated palettes of adults, as well as being ideal for families". But James White says, although taste and flavour remain critical to the success of a product, the large proportion of research investigating the health benefits of beetroot juice has accounted for its recent increase in sales. "Beetroot juice sales have increased strongly (20%) on the back of the research published on dietary nitrate/nitric oxide conversion on blood pressure and sports stamina research," says Lawrence Mallinson of James White Drinks. "This has introduced the idea of vegetable juices to a wider audience."Capitalising on said wider audience, James White's product development for 2010 includes its new Beet It shot — a concentrated organic beetroot stamina booster — said to be the first organic, all natural with no preservatives shot in the UK. "This is positioned as a sports supplement as much as a beetroot juice drink," says Mallinson. "The research findings have been very quickly taken up by the elite sports group with trials being carried out by the England rugby team, and cycling and swimming elites."