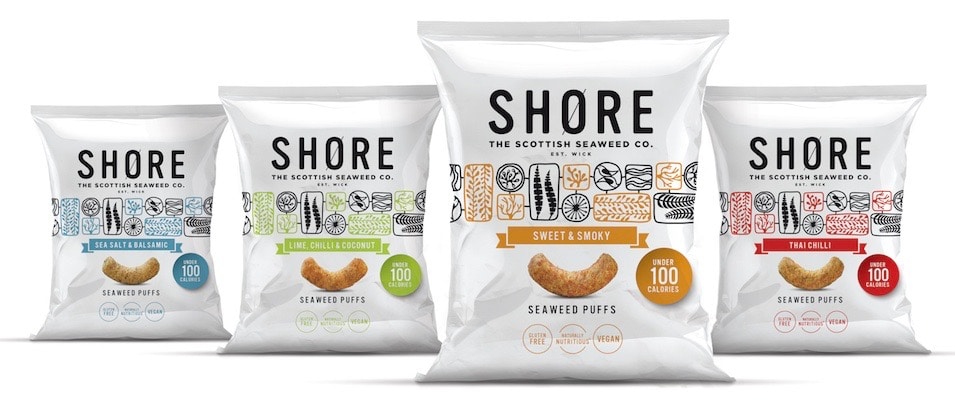 Seaweed is currently one of the hottest ingredient trends, and one of the latest products to utilize this nutritious vegetable is SHØRE's new Seaweed Puffs.
SHØRE Seaweed Puffs contain the equivalent over 6g of fresh Scottish sustainable seaweed in each bag and are made with Wick No 2 Seaweed Blend, exclusive to SHØRE.
The puffs, which consists of four flavours – Sea Salt & Balsamic, Sweet & Smoky, Lime, Chilli & Coconut and Thai Chilli – have less than 100 calories per 22.5g bag and are packed with nutrients, antioxidants, electrolytes, vitamins and minerals. They are high in iodine and a good source of fibre and are baked rather than fried. Gluten-free they are also suitable for vegans.
Nutritionist Fiona Lawson comments: "As well as providing a host of vitamins, seaweed also offers the broadest range of minerals found in any food. Examples include calcium, magnesium, potassium and iron. It is also a rich source of iodine, which contributes to normal energy-yielding metabolism."
SHØRE's seaweed is home-grown, sustainably sourced and hand-harvested from the waters around Wick on the far North Eastern tip of Scotland.