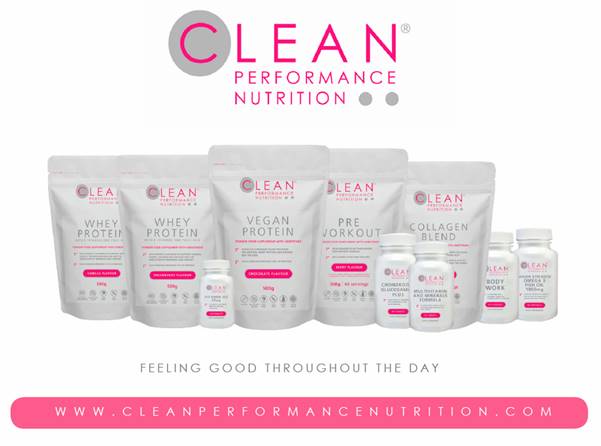 UK health supplements wholesaler HTC Health has expanded into the consumer market with the launch of its new sports nutrition brand, Clean Performance Nutrition.
Aiming to deliver a new concept to women looking for products to support their healthy lifestyles and help them get the best out of their fitness efforts, the Clean Performance Nutrition ethos is built around the view that 'less is more', with each product using minimum, high quality, ingredients.
The range includes:
Whey Protein powder, available in Strawberry and Vanilla, and containing B vitamins and folic acid designed to boost protein intake and help with mood and energy levels.
Collagen powder – an all-round anti-ageing and joint care combination containing hydrolysed marine collagen for enhanced bioavailability, offering support for hair, skin, nails and joints.
Clean Performance Nutrition's Chocolate Vegan Protein – a blend of pea, brown rice and hemp protein to give 26g of protein in each serving; it is soya-free and contains non GMO ingredients.
Supergreens powder in Chocolate Coconut flavour blends cleansing ingredients including spinach powder, kale powder, chlorella and spirulina.
To help burn fat and further aid weight loss, Body Work capsules combine scientifically proven ingredients to stimulate metabolism, including branded ingredient Greenselect Phytosome.
Designed to elevate energy levels, Pre Workout in Berry flavour contains beta-alanine and glutamine to help women get the most out of their workout session.
Despite today's consumers being more informed than ever before, we have demystified the complicated world of sports nutrition with simple and effective products in clear packaging that speaks to our consumer in understandable terms
In addition to the Sports Nutrition range is a health supplement range which includes Chondroitin Glucosamine Plus for joint care; Vitamin D3 for healthy bones; High Strength Omega 3 Fish Oil for heart and brain health; and an all-in-one Multivitamin & Minerals tablet for general wellbeing.
"Authenticity, ethics and provenance are growing in importance for consumers in the sports nutrition sector," says HTC Health's managing director, Peter Groves, commenting on the launch of the new brand. "They are now seeking brands that are transparent and honest in the ingredients that they use. We have a good grasp of the latest and emerging consumer trends and have not been able to identify a brand that demonstrates a real understanding of the female consumer. Despite today's consumers being more informed than ever before, we have demystified the complicated world of sports nutrition with simple and effective products in clear packaging that speaks to our consumer in understandable terms."