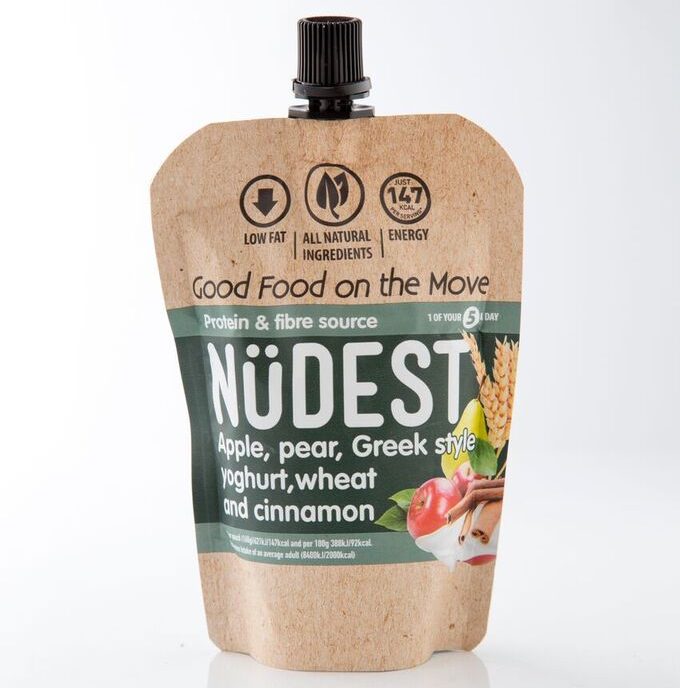 Aimed at those who want a tasty and nutritious snack on-the-go, NüDEST has launched, offering 100% natural fruit puree mixed with Greek-style yoghurt and whole grains.
Packed in a convenient pouch, NüDEST is described as being 'stripped bare from all the bad stuff', and contains no added sugar, preservatives, artificial colours or flavourings.
The initial offer comprises two flavours: Apple, Pear, Wheat & Cinnamon, said to be the perfect afternoon snack instead of a slice of apple pie; and Banana, Oats, Honey & Vanilla, positioned as a tasty breakfast or post workout fuel.
"After two years in development we are finally here and we couldn't be more excited about the launch of NüDEST," comments founder and CEO, Fiona Keane. "It comes at a perfect time too, when more and more of us are seeking foods with a convenience factor without scrimping on health, quality and taste. We've dedicated a lot of time into developing this unique product with the aim of creating something that is wholesome, handy and most importantly delicious. Focus group research has been so positive; the main feedback we keep hearing is just how great it tastes. It's so simple to use and easy to carry about, making the perfect pick-me-up snack, from busy professionals looking for an on-the-go breakfast to outdoor sports enthusiasts such as long distance cyclists and hikers seeking a tasty energy boost."